There's often much more to mold that what you can see at first glance. That unsightly spot on your wall may be only a small indication of what might be growing inside the walls or under items in your home or business. Mold grows quickly because the spores are everywhere in the air and feed on common household items like drywall, paper, and cardboard. Once they're exposed to a source of moisture, they can start growing in as little as 48 hours. Mold doesn't just ruin your property; it affects your health by irritating eyes, noses, and lungs as well as making existing allergies worse. That's why it's vital to call ServiceMaster by Disaster Associates, Inc. at the first sign of mold in your home or business in Dover, NH and surrounding areas. We test for mold and find it even in hidden places, and use the most effective equipment and products in the industry to eradicate all traces of it.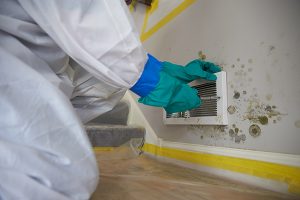 Mold grows quickly after any disaster that results in excess water. That's because the microscopic spores are everywhere in the air and there's no way to get rid of all of them, even with the best air purifiers. They feed off commonly found sources of cellulose, like paper, cardboard, and textiles, so all they need is moisture to grow. The professionals at ServiceMaster by Disaster Associates, Inc. use special equipment to locate mold even in hidden areas like inside walls, and we have extensive training to remove all traces of mold without spreading it or exposing ourselves or others to the dangerous spores. We'll eradicate the mold, rebuild and restore the damage it left behind, and repair the original source of excess moisture so it doesn't come back.
ServiceMaster by Disaster Associates, Inc.'s Mold Remediation Services include:
A full assessment of the affected area and any damage;
Developing a comprehensive plan to destroy the mold and restore all damaged elements and items;
Containing the mold so it can't spread further;
Remediation of all traces of the mold and repair/ reconstruction of the damage;
Copies of all paperwork for you and your insurance agent.
What To Do If You Find Mold
It's important to take mold seriously, but there's no need to panic. Call for mold remediation, and take these steps while you wait for us to arrive.
Open doors and windows to let in fresh air if the outside temperature is warm enough.
Wear protective eyewear and nonporous gloves when you're in the room with the mold growth, to prevent irritation and exposure.
Use a dehumidifier to lower the humidity in the room.
Check around for the source of the excess moisture. There may be a crack in the foundation, a broken window, or a leaking pipe. Until this problem is repaired, the mold can and probably will come back.
What Not To Do If You Find Mold
Don't paint over the growth. It doesn't kill the spores and the uneven texture makes the paint job look bad.
Don't spray cleaning products or bleach onto the mold. This can cause the spores to release into the air and spread.
Don't try to clean the mold by yourself. Without the right training and protective equipment, it's too easy to spread the spores or contaminate yourself.
Any time you find mold in your home or business in Dover, NH or the surrounding areas, don't hesitate to call the trained experts at ServiceMaster by Disaster Associates, Inc. We'll arrive fast to contain the spread of the mold and find it even in places like wall interiors. We'll eliminate all traces of it and restore all damaged building elements and contents. Call ServiceMaster by Disaster Associates, Inc. 24 hours a day, 7 days a week at (603) 967-4744 for comprehensive mold remediation.
---
Related Fire and Smoke Damage Repair Services
Mold Remediation Services  in Cambridge, MA
Mold Remediation and Removal in Derry, NH
Mold Remediation and Removal in Manchester, NH
Mold Remediation and Removal in Nashua, NH
Mold Remediation Services  in Peabody, MA
Mold Remediation and Removal in Rochester, NH
Mold Remediation and Removal Services in Stoneham, MA
---
Recent Reviews
More Reviews