ServiceMaster by Disaster Associates, Inc.
Hoarding is a difficult situation to understand. A hoarder has a compulsion to keep items in their home, usually in a completely unorganized way. The items often have little to no monetary or sentimental value, like newspapers, plastic bags, or DVDs. As these items pile up, the stacks cut off access to parts of the home and attract dust, rodents, and mold. This is a fire hazard as well as a health hazard. The hoarder needs to understand the consequences of these actions, so going in with trash bags is only a temporary solution that creates resentment and no long-term changes. Hoarding is a condition based in anxiety and has nothing to do with laziness or poor housekeeping skills.
Hoarding Cleanup in Dover, NH and the Surrounding Areas
ServiceMaster by Disaster Associates, Inc. offers compassionate hoarding cleaning services for people in Dover, NH and the surrounding areas who are struggling with this situation. We treat the individual with respect and involve them in the process as we remove unwanted items and clean the home. We have restored hoarding situations of all sizes and want to reassure both individuals and their loved ones that they are not alone, we understand.
There's much more to hoarding than just extreme clutter. Hoarders may want to seek help but not know where to look. They may be too embarrassed to have friends and family visit, so they withdraw socially. It may take family or friends to make arrangements for restoration because the hoarder may not realize there's a problem, or they may be too overwhelmed. The caring experts at ServiceMaster by Disaster Associates, Inc. will work with the hoarder and the family to create a comprehensive de-cluttering and cleaning plan.
ServiceMaster by Disaster Associates, Inc.'s Hoarding Cleaning Services include: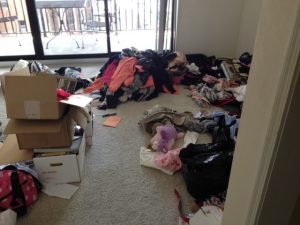 Sorting through items in the home and setting aside cash and valuables like jewelry, heirlooms, and art;
Donating unwanted items to charity;
Delivering items to designated family members;
Assisting with any paperwork for trustees, lawyers, or the court system;
Removing trash;
Cleaning, organizing, and sanitizing the home.
Our Complete Approach To Hoarding Cleaning
We take a 3-step approach to hoarding cleaning. We realize there's more to the process than just the actual cleaning, so we work to gain and maintain the trust of the hoarder throughout the restoration. By involving them in every step of the process, the hoarder feels a sense of control.
Step 1: Make a connection. We meet with the hoarder and the family to assess the situation and establish a feeling of trust. We work together to develop an agreement to clean and sanitize the home, and if necessary we can seek help from social services.
Step 2: Create and implement the cleaning plan. We'll develop a comprehensive plan to address the hoarding and remove the unwanted items to be donated, given away, or discarded. Once the home is de-cluttered, we'll clean and disinfect it, then reorganize it so the items stay that way.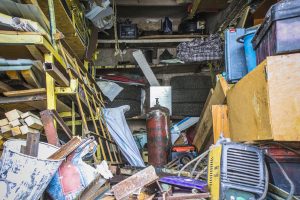 Step 3: Follow up. We'll create a simple maintenance plan to help the hoarder keep the home clean and organized. We offer short-term follow-ups to work through any problems that may arise. We make sure the individual will be able to keep up with the home, and is in complete control of the situation.
Hoarding is a sensitive situation, but there's no need to be embarrassed. The professionals at ServiceMaster by Disaster Associates, Inc. have dealt with this many times and treat each case with discretion and compassion. We work with hoarding situations of all sizes in Dover, NH and surrounding areas to de-clutter, clean, and restore them to safe living conditions again. Call ServiceMaster by Disaster Associates, Inc. 24 hours a day, 7 days a week, at (603) 967-4744 for compassionate, discreet hoarding restoration.
---
Related Hoarding Cleaning Services:
Hoarding Cleaning Services for Cambridge, MA
Hoarding Cleaning for Derry, NH
Hoarding and Estate Cleaning for Manchester, NH
Hoarding Cleaning for Nashua, NH
Hoarding Cleaning Services in Peabody, MA
Hoarding Cleaning Services for Rochester, NH
May 7, 2021
Christine Keenan
Stoneham, MA
April 27, 2021
Jodee Seitz Timothy Seitz
BOSTON, MA
We appreciated how quick the first group arrived to help mitigate the water/moisture from our home. Within an hour of calling our insurance company SM was there on a Sunday. I also appreciate that the demo crew covered my personal belongings with heavy plastic and made a plastic room in part of the house to try and keep items clean. We also thought SM did a good job cleaning up at the end of each day. And the demo crew was able to save our countertops which should be a big help savings wise during the rebuild.
See All Reviews