RestorationMaster
Severe hoarding tendencies are an issue for thousands across the nation, and they stem from a rather complicated disorder. Essentially, affected individuals will feel extreme anxiety, and even fear when it comes to throwing away belongings. This can lead to a variety of safety and health concerns for the individual and their loved ones. That is why we encourage you to contact RestorationMaster if you or a loved one is known to have hoarding tendencies. We provide hoarding and estate cleaning services to property owners in the Manchester, NH, area, and will return your home to a safe, livable state.
Hoarding scenarios are never easy to resolve because of the intense psychological burdens involved. Many cases, in fact, go unresolved for years because affected individuals are too embarrassed to seek help. This is why a support group of friends and/or family should approach the hoarder in an understanding way, and explain the dangers of their tendencies.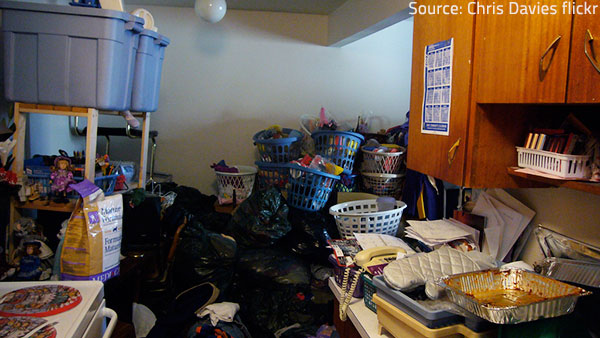 The Dangers of Hoarding in Manchester, NH
In many hoarding cases that we have worked on, belongings will be piled to the point that they impede traffic throughout the home, even presenting a tripping hazard. Individuals die every year by getting stuck beneath items or trapped in their homes during an emergency because of extreme clutter. There are also situations where health concerns, such as allergies, respiratory infections, and more come about because of dirt, dust, debris, mold, and pests making the hoarded items their home.
RestorationMaster Hoarding and Estate Cleaning Services in Manchester, NH
RestorationMaster is a highly trusted name in hoarding cleaning because of the respect and compassion we show affected individuals. We understand how difficult it can be to seek help in the first place and try to make the process as easy for you as possible. Additionally, our estate cleaning and restoration services are top-notch. Our technicians are among the best in the industry and will leave your home looking as good as new.
When you choose to work with us, you can expect the following:
To be treated with respect and compassion.
The saving of valuable jewelry, keepsakes, and other personal belongings.
Disposal and recycling of unwanted and unneeded items.
Donation of unwanted items that still hold value, and the delivery of belongings to family members.
Assistance with paperwork from lawyers, government agencies, trusts, etc.
Our 3-Step Approach to Hoarding Cleaning in Manchester, NH
To break down our hoarding and estate cleaning services another way, we have created a 3-phase approach.
Phase 1: Create a Personal Connection and Understanding
Assess the scope of the problem.
Establish a personal connection through mutual trust and respect with the affected individual before beginning cleaning services.
Reach an agreement to clean the home, and enlist assistance from social service professionals if necessary.
Phase 2: Create and Implement a Hoarding Cleaning Plan
Create a cleaning plan to eliminate unwanted and unneeded items.
Reorganize the home once items have been removed.
Assist with determining what to keep, donate, recycle, or dispose of.
Restore damaged items that are to be kept.
Phase 3: Follow Up
Give affected individuals a cleaning plan to follow after we leave.
Follow up in short-term intervals to ensure that they are following the cleaning plan.
Provide additional cleaning assistance if necessary.
Make certain that affected individuals have control of the cleaning process, and provide home restoration services if need be.
Contact Us 24/7
Hoarding tendencies can be extremely hazardous to affected individuals and their loved ones. This is why we go to such extremes to eliminate these concerns through our hoarding and estate cleaning services in Manchester, NH. Here at RestorationMaster, we work with affected individuals to get their lives back on track, and their homes in a safe, sanitary condition.
We are available 24 hours a day at (781) 604-1476 and proudly service property owners in the Manchester, NH, area.
---
Related Hoarding and Estate Cleaning Services: