RestorationMaster 
Hoarding is a very complicated disorder that is now viewed as a symptom of larger anxiety disorders and new information that has come out about hoarding has been used within the restoration industry to provide more effective hoarding cleaning services. It is important to help those that struggle with hoarding issues because their behavior can result in dangerous consequences. Affected individuals develop a fear or inability to throw away anything which results in a growing hoard of collected items that can restrict access to the home and create unsanitary living conditions by harboring mold and bacteria growth. RestorationMaster by Disaster Associates, Inc. provides hoarding cleaning services to help those in Stoneham, MA that are struggling with hoarding issues. We can help clean out and restore the homes of hoarders and we take an approach that involves the affected individual in the cleanup process.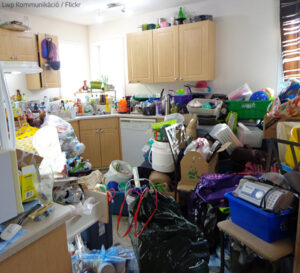 Hoarding Cleaning in Stoneham, MA
People that struggle with hoarding are often embarrassed by their situation and therefore will rarely reach out for help on their own accord. There is usually a friend or family member that intervenes to start the cleaning process and when this happens, it is important to let the individual know that there is nothing to be embarrassed about. Instead, the friend or family member should help the individual understand that they are living in hazardous conditions that must be restored for their safety. The technicians of RestorationMaster by Disaster Associates, Inc. are trained and certified to remove hoarded items from a home as well as clean and disinfect the area. Our hoarding cleaning services in Stoneham, MA include:
Saving valuable items such as jewelry, keepsakes, and others.
Disposing of unwanted items
Deciding which items can be recycled or thrown away
Donating unwanted items
Delivering items to family members
Help with paperwork from trusts, lawyers, and government agencies
3-Phase Hoarding Approach
RestorationMaster uses a 3-phase approach to hoarding cleaning that was developed by RestorationMaster Restore in collaboration with the owner of Clutter Cleaner and host of Hoarders Matt Paxton.
The main objective of this approach is to earn the trust and respect of the affected individual before any cleaning begins and to involve them heavily in the cleaning process. The 3 phases of our hoarding cleaning process include the following:
Phase 1: Creating a Personal Connection and Understanding
We start by assessing the scope of the problem.
We establish a feeling of mutual trust and respect with the affected individual before any cleaning.
We reach an agreement with the individual and their family to clean out the home and we may also enlist help from social service professionals in this stage if necessary.
Phase 2: Creating and Implementing a Cleaning Plan
We will help create a cleaning plan to eliminate unwanted hoarded items.
We can help reorganize the home once the hoard has been removed.
We will help make decisions about what items should be kept, donated, recycled, or thrown away. We clean and restore items that are kept.
Phase 3: Follow Up
We help create a plan for after the hoarding cleaning that the individual can follow to maintain their homes.
Our short-term follow-ups will ensure that the cleaning plan is being followed and we will provide more assistance if necessary.
We make sure the affected individual has control of the cleaning process and our technicians can effectively clean and restore homes after even the most extreme cases of hoarding.
Call us for Hoarding Cleanup in Stoneham, MA
The effects of hoarding can be very dangerous for the affected individual and their families which is why you should get help for a close friend or family member that struggles with hoarding. Our professionals at RestorationMaster by Disaster Associates, Inc. can help those that struggle with hoarding in Stoneham, MA remove and dispose of unnecessary items as well as clean and sanitize the home to restore safer living conditions.
You can call us 24 hours a day at (781) 604-1476 to learn more about our hoarding cleaning services.
---
Related Hoarding Cleaning Services