Few home disasters are as fearsome as a fire because they seriously threaten your health and safety while also causing extensive damage to the home. The fire itself causes damage by charring and the smoke, soot, and water left behind after the fire is put out will continue to cause additional damage until a professional can begin the restoration. ServiceMaster by Disaster Associates, Inc. provides fire and smoke damage restoration services to repair and restore fire damaged homes and buildings in Stoneham, MA. We are committed to completely restoring your home or office to its previous condition after a fire.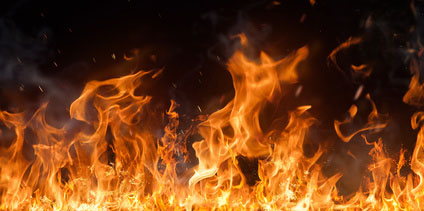 ServiceMaster by Disaster Associates in Stoneham, MA
The technicians of ServiceMaster by Disaster Associates, Inc. have the training and experience to provide effective fire and smoke damage restoration services using the latest in fire restoration technology and equipment. After a fire is put out, the water, soot, and smoke left behind will continue to spread throughout the building which can cause a range of problems such as permanent etching, odors, and mold growth. This makes it important to call us immediately after the fire is extinguished to help prevent more widespread damage. Our fire damage restoration process includes the following steps:
Emergency pre-cleaning
Content cleaning and pack-out
Wall and ceiling cleaning
Odor removal
What to Do in Case of Fire Damage
The corrosive byproducts, soot, and smoke from a fire can cause permanent damage within hours so make sure to contact ServiceMaster by Disaster Associates, Inc. as soon as possible.
Air out your home if the temperature is above 60 degrees by opening up your doors and windows.
Clean all Formica, aluminum, chrome, and porcelain fixtures to prevent etching and tarnishing.
Change the air filter in your furnace if it uses forced hot air.
Tape a damp cheesecloth over return and supply registers to remove soot from the air.
Open food packages should be thrown away.
If your power is out, clean out the inside of your refrigerator.
Keep all smoke damaged clothing to send to a restoration dry cleaner.
What NOT to Do in Case of Fire Damage
Do not touch walls, woodwork, or upholstery because the oil from your hands can cause additional damage.
Do not wash soot damaged walls because improper cleaning will make the problem worse.
Do not try to clean your carpeting or upholstery.
Do not use electrical appliances until they have been inspected by a professional.
Do not use ceiling fixtures if the ceiling is wet.
Fires can cause complicated and extensive damage that does not stop spreading when the fire is extinguished so make sure to call ServiceMaster by Disaster Associates, Inc. immediately after a fire. Our technicians are dedicated to restoring your home or building to its previous condition and we also work with local insurance providers to assist with your claims.
You can call us anytime at (781) 350-5510 for a free estimate for our fire damage restoration services in Stoneham, MA.
---
Related Fire and Smoke Damage Repair Services
Fire and Smoke Damage Restoration in Cambridge, MA
Fire and Smoke Damage Restoration in Derry, NH
Fire Damage Restoration in Dover, NH
Fire Damage Restoration in Manchester, NH
Fire Damage Restoration in Nashua, NH
Fire and Smoke Damage Restoration in Peabody, MA
---
Recent Reviews
More Reviews