RestorationMaster
It is difficult to imagine a natural disaster that is more dangerous and devastating than a fire. Fires can happen for many different reasons at almost any time, and they very quickly damage and destroy much of your property while putting you and those inside at risk for serious injury or death. Evacuating the building and having the fire put out is a huge relief, but the damage in your home or building can get much worse from the remaining smoke and corrosive byproducts. That is why you must call a fire damage restoration professional as soon as possible after the fire is put out. At RestorationMaster, we provide complete fire and smoke damage restoration services to help homes and businesses in Peabody, MA recover from the damage of a fire.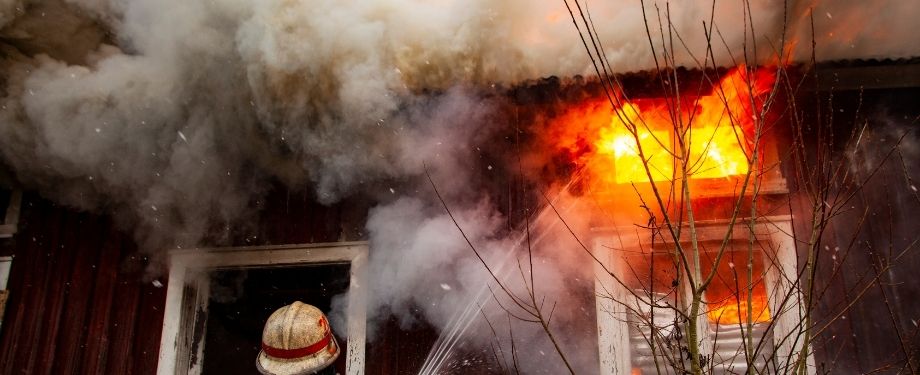 Fire Damage Cleanup in Peabody, MA
If you have experienced any type of fire on your property, it is important to remember that the damage will get worse after the fire is out.  The heat from the fire causes synthetic materials to release corrosive byproducts that along with soot, can cause discoloration and etching of various objects and materials.  The effects of soot and corrosive byproducts are likely to become permanent unless the affected materials are treated quickly.  The residual smoke is also a potential source of damage as the smoke residue is a corrosive byproduct and its odors can get absorbed into porous materials.  In many cases of fires, the secondary damage exceeds that caused by the fire itself.
Our technicians at RestorationMaster have dealt with all types of fire damage cases in commercial and residential settings.  We use the right cleaning products, equipment, and methods to repair damage caused by the fire and clean up the effects of soot and corrosive byproducts.  We understand that secondary damage from fires spreads quickly and we will arrive as soon as possible after your call to help contain the damage and begin the restoration.
Each case of fire damage is unique, but you can expect the following basic steps from our technicians:
Emergency pre-cleaning
Wall and ceiling cleaning
Deodorization
For fire and smoke damage restoration and cleanup services, contact RestorationMaster at (781) 604-1476.
What to Do in Case of Fire Damage in Peabody, MA
Call RestorationMaster as soon as you can after the fire is out to begin the cleanup and prevent permanent damage from smoke, soot, and corrosive byproducts.
Open the doors and windows to air out your home if the temperature is above 60 degrees.
Wipe off aluminum, chrome, porcelain, and Formica surfaces affected by soot.
If your furnace is a forced hot air furnace, change the air filter.
You can remove soot from the air in your home by taping a damp cheesecloth over the return and supply registers.
Throw away all exposed food.
If you lose power, clean out the inside of your refrigerator thoroughly.
Save smoke-damaged clothing and fabrics for restoration dry cleaning.
What Not to Do in Case of Fire
Do not touch porous materials like drywall, woodwork, or upholstery because the natural oils in your hand can penetrate these surfaces and worsen the damage.
Do not wash walls with soot damage because you can make the damage worse with improper cleaning methods.
Do not clean damaged carpeting or upholstery.
Do not use electrical appliances unless they have been inspected for safety.
Do not use ceiling fixtures that are on a wet ceiling.
Contact Us 24/7 for Fire Damage Restoration in Peabody, MA
Getting a fire on your property extinguished is a relief, but the nightmare is not quite over.  You must take action as soon as possible after the fire is out to help limit the spread of the secondary damage.  Our technicians know how to limit and restore damage caused by soot and corrosive byproducts, and we can also handle major repairs to fix the damage from the fire.
You can reach us for our fire damage restoration services in Peabody, MA, 24 hours a day at (781) 604-1476 for emergency assistance.
---
Related Fire and Smoke Damage Cleanup & Restoration Services