ServiceMaster by Disaster Associates Inc.
Carpet is a unique furnishing because it's often the biggest and most used furnishing in a space, but also the most neglected when it comes to providing maintenance.  In commercial and residential settings, the carpet experiences daily foot traffic that contributes to a buildup of dirt and debris, which can discolor or stain the carpet, and cause damage to the fibers.  Vacuuming the carpet regularly will help reduce some of the buildup, but only professional services can effectively remove the deepest embedded debris.  ServiceMaster by Disaster Associates Inc. provides professional carpet cleaning services in Peabody, MA to deep clean carpeting for homes and businesses.  Our technicians can remove stains and embedded debris using advanced cleaning methods which will help restore the original color and texture of your carpet.
Residential Carpet Cleaning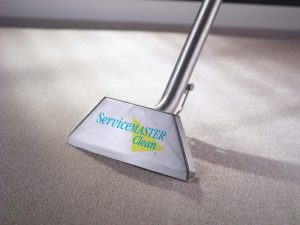 The carpet in your home has a major impact on the look and design of the interior. If your carpet is dirty or worn out, it can cause your entire home to seem dirty or poorly maintained. Hiring a professional to clean your carpet once a year will not only help maintain the appearance of your carpet, but also help extend its life by preventing wear and tear, like matting or deterioration. Our technicians can effectively clean all types of carpeting according to the manufacturer's instructions with our advanced equipment and cleaning methods.  We use powerful stain removers that are effective for lifting all types of stains, as well as the hot water extraction method to remove dirt and debris embedded in the fibers.
Our residential carpet cleaning services in Peabody, MA include the following steps:
Initial inspection and vacuuming of the carpet to remove loose debris.
Pre-treatment of spots and stains.
Thorough cleaning with the hot water extraction method which involves the application of a hot water and mild detergent solution that safely and effectively lifts embedded debris.
Treatment of lingering stains and grooming of the carpet fibers to improve drying and appearance.
Commercial Carpet Cleaning
Cleaning the carpet in your office or commercial space is important because it will contribute to a healthier and more comfortable environment for your employees.  Your guests and customers will also notice your well-maintained carpet which will give them a more positive impression of your business.  We understand that it can be difficult for businesses to effectively clean and maintain their own carpeting, which is why we provide regularly scheduled commercial carpet cleaning services in Peabody, MA.  You can set up regularly scheduled carpet cleaning services for a low monthly fee to prolong the life of the carpet and keep your office looking its best.
If the carpeting in your home or commercial building in Peabody, MA is noticeably dirty or stained, it may be time to contact ServiceMaster by Disaster Associates Inc. for our professional carpet cleaning services in Peabody, MA.  We can safely and effectively remove dirt and stains from any type of carpeting using proven methods and cleaning products.  You can reach us at (781) 350-5510 for more information about our carpet cleaning services in Peabody, MA.
---
Related Carpet Cleaning Services
Carpet Cleaning Services In Cambridge, MA
Carpet Cleaning Services for Dover, NH
ServiceMaster Carpet Cleaning – Manchester, NH
Carpet Cleaning Services for Nashua, NH
Carpet Cleaning Services for Rochester, NH
See All Reviews