Keeping the damage contained from a natural disaster is very difficult to do which means that many of your personal items will be affected when a disaster occurs.  Flooding, fires, and mold growth result in pervasive property damage and if your more delicate personal items like clothing, electronics, and other valuables are affected, they could become permanently damaged if they are not quickly cleaned and restored.  ServiceMaster by Disaster Associates, Inc. provides content cleaning and pack-out services with our disaster restoration services in Peabody, MA.  We will fully clean and restore your damaged items within your home, and we offer pack-out services to take your items to our facility for cleaning if your home is too heavily damaged.
Content Cleaning and Restoration in Peabody, MA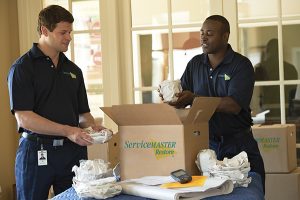 Enduring a natural disaster that has resulted in significant property damage is never easy, especially if it has damaged many of your personal belongings.  It is important to take note of your damaged items immediately after a disaster so you can make sure they are quickly cleaned and restored.  We offer content cleaning and restoration with each of our disaster restoration services to help clean and restore your damaged items before they become permanently damaged.  Our technicians use advanced cleaning methods and equipment to deodorize and restore your damaged items to their original condition.  If we cannot complete the content cleaning and restoration process in your home, we will take them to our facility with our pack-out services.
Pack-Out Services
There are many instances when a disaster leaves a home in an unsafe or unstable condition.  When this occurs, it is best for us to handle the cleaning and restoration of your content at our own facility.  Our technicians will carefully pack up your damaged items and we add each item to an electronic inventory that you will be able to access at any time.  Once the items reach our facility, they will be thoroughly cleaned and restored, and we will also store them while you wait for the repairs on your home to be finished.  We will deliver your items back to your home when you are ready to take them back.
If a disaster has caused widespread damage in your home and affected your personal belongings, you can trust our technicians at ServiceMaster by Disaster Associates, Inc. to effectively clean and restore your content as part of the overall disaster restoration.  We use the best cleaning methods and products available to restore all types of personal items and we are ready to provide pack-outs if necessary.  You can call us 24 hours a day at (781) 350-5510 for emergency restoration services in Peabody, MA.
---
Recent Reviews
More Reviews