RestorationMaster
Fires are one of those risks that every home and business owner is aware of but never expects to have happen on their property. The reality is that while they are rare, fires can be extremely damaging and life-threatening. This is why it is critical that you know what to do if a fire does take hold on your property.
First, you should dial 911 to combat the blaze.
Second, do what you can to make sure that everybody is accounted for.
Third, contact RestorationMaster to begin the fire damage cleanup and restoration process.
Our fire damage restoration and cleanup services in Manchester, NH, and the surrounding areas will limit the damage of fire, smoke, and soot while giving your belongings the best possible chance of avoiding permanent damage.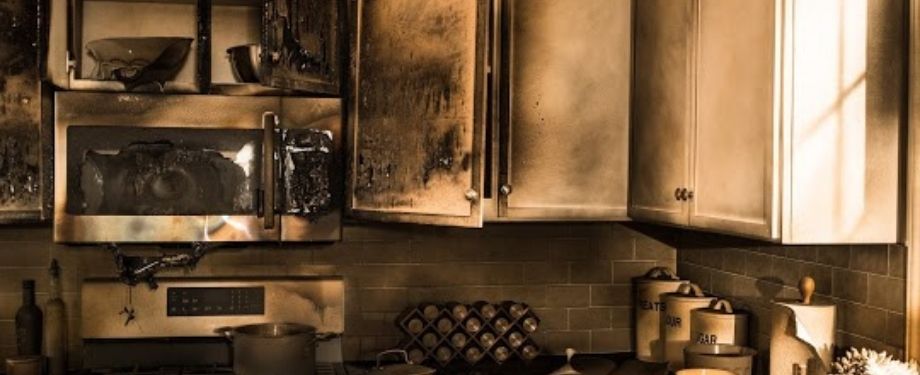 Fire and Smoke Damage in Manchester, NH
We all know the devastation that a fire can leave behind. Smoke, soot, and other corrosive byproducts that take shape as a result of the fire can be just as damaging. Even the water that is used to combat the conflagration can cause damage. The results of a fire can range from permanent etching and foul odors to mold growth and more.
Here at RestorationMaster, we can arrive within 2 to 4 hours of your call to provide full fire and smoke damage restoration and cleanup services. This includes limiting the spread of the damage, restoring structural elements of your property, and salvaging your furnishings and personal belongings to the fullest extent possible.
For fire and smoke damage restoration and cleanup services in Manchester, NH,  call RestorationMaster at (781) 604-1476.
RestorationMaster Fire and Smoke Damage Restoration & Cleanup Process
RestorationMaster is one of the most trusted names in the disaster restoration industry because of our comprehensive approach to reversing property damage. When you choose to utilize our fire and smoke damage restoration and cleanup services, you can expect the following:
Rapid Response: We are available 24 hours a day at (781) 604-1476, and can have a highly trained team of technicians on-site within 2 to 4 hours of your call.
Emergency Pre-Cleaning: We work as swiftly as possible to clean structural elements and personal items before permanent damage takes hold.
Content Cleaning and Pack-Out: We clean, deodorize, and restore all of your belongings on-site or at one of our facilities to the fullest extent possible.
Wall and Ceiling Cleaning: We clean and restore walls and ceilings to return your rooms to normal.
Restoration: We restore all affected areas to their original condition.
Odor Removal: We clean and deodorize affected areas, air spaces, and belongings.
Do's and Don'ts Following a Fire in Manchester, NH
Contact RestorationMaster as soon as possible to limit the extent of the damage, and restore your property and belongings.
Do not touch walls, woodwork, upholstery, etc. with your skin.
Don't attempt to clean soot off of walls, as this can increase damage if done improperly.
Refrain from attempting to clean carpeting or upholstery.
Avoid using electrical appliances until they have been professionally inspected.
Throw away any open food packages – do not keep or eat any food packages that are open.
Do not use ceiling fixtures if the ceiling is, or was, wet.
Open windows and doors (if outdoor conditions permit) in order to increase air circulation.
Change the air filter in your furnace if it uses forced hot air. Also, tape a damp
Clean Formica, chrome, aluminum, and porcelain fixtures to prevent etching and tarnishing.
Use cheesecloth over return and supply registers to remove soot from the air.
You may clean the inside of your refrigerator if the power has gone out.
Send smoke-damaged clothing to a restoration dry cleaner.
Contact Us 24/7 for Fire Damage Repair and Restoration in Manchester, NH
Fires are complex beasts that cause an array of issues, but we address them all through our fire and smoke damage restoration and cleanup services.
If you reside in Manchester, NH, or the surrounding areas, and have experienced a fire on your property, give us a call at (781) 604-1476.
Our representatives at RestorationMaster are available 24 hours a day.
---
Related Fire and Smoke Damage Restoration and Cleanup Services