Excess water can seep into your home or building in a number of ways including heavy rain, flooding, and leaking pipes or appliances and it can cause extensive property damage if ignored. Common building materials such as wood and drywall are absorbent and allow water to spread throughout the home or building leading to extensive structural damage as well as mold or mildew. ServiceMaster by Disaster Associates, Inc. provides water damage restoration services in Stoneham, MA as well as the surrounding areas in Essex and Middlesex counties. Our technicians arrive within 2 to 4 hours of your call to help mitigate the damage and prevent more costly structural problems.
Water Damage Restoration Services in Stoneham, MA
Water damage is one of those problems that may seem relatively minor but because it can spread through absorption, the visible water damage may just be a small part of the problem. The technicians of ServiceMaster by Disaster Associates, Inc. are properly trained and equipped to completely remove excess water and moisture as well as restore any resulting damage using the latest in water damage restoration technology. Every case of water damage is unique depending on the scope of the damage as well as the environment and we can restore any size water loss in commercial and residential settings.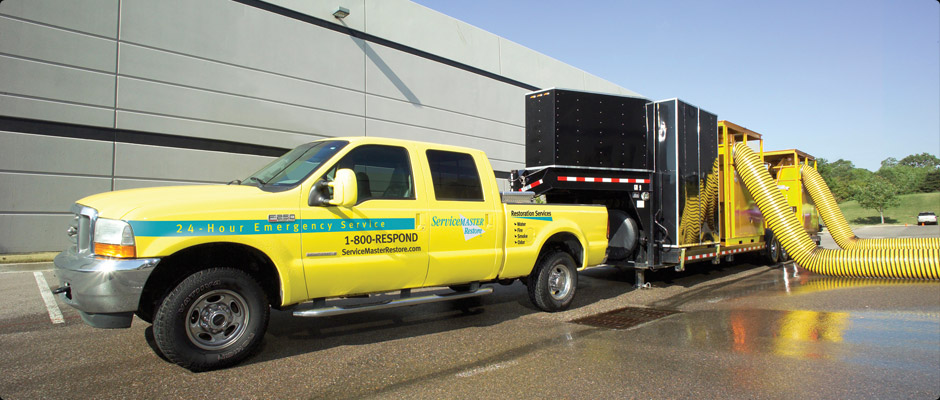 You can expect the following from our water damage restoration services:
Drying and dehumidification
Content cleaning and pack-out
Restoration of structural components and furnishings
Restoration of personal items including electronics and fine art
Carpet, rug, and upholstery cleaning
Document drying and recovery
Mold removal
What to Do in Case of Water Damage
Call ServiceMaster by Disaster Associates, Inc. for assistance immediately because water damage can spread and bacteria growth may begin within hours.
Mop or blot dry to remove as much water as possible.
Remove temporary floor coverings such as area rugs but do not attempt to remove permanent flooring or carpeting.
Keep draperies off the floor by putting them through a coat hanger and putting the hanger on the rod.
Wipe down wet furniture and prop up the cushions to dry, aluminum foil should be placed under all furniture legs.
Photos, paintings, and other similar objects should be put somewhere safe.
Keep water damaged books packed tightly on their shelves to prevent warping, we can restore books with a specialized drying process.
Open all closet and cabinet doors and drawers to help enhance the drying process.
What NOT to Do in Case of Water Damage
Do not walk into a room with standing water unless the power is shut off.
Do not attempt to remove excess water with a vacuum cleaner.
Do not remove permanent carpeting without professional help.
Do not use an electrical appliance while standing on a wet floor.
Do not attempt to clean up mold growth.
If your home or business in Stoneham, MA is affected by water damage, contact ServiceMaster by Disaster Associates, Inc. for our water damage restoration services. We provide free estimates for these services and we work with all major insurance providers to help coordinate payments and claims.
Our phone lines are open 24 hours a day at (781) 350-5510 to respond to water damage emergencies in the Stoneham, MA area.
---
Related Water Damage Repair Services
Water Damage Restoration in Cambridge, MA
Water Damage Restoration in Derry, NH
Flood Damage Cleanup in Dover, NH
Water Damage Restoration in Manchester, NH
Water Damage Restoration in Nashua, NH
Flood Damage Restoration in Peabody, MA
Flood Damage Cleanup in Rochester, NH
---
Recent Reviews
More Reviews