Water is the main culprit behind most disaster damage to homes and businesses. Smoke damage can only come from one source, but water damage can come from many sources. There may be flash flooding in your area during a storm. The sewer can back up because of extra usage over the holidays. Someone may forget to turn off the water before fixing a pipe. All of these situations and many others can lead to water in places you'd rather not have it. Excess water isn't something you can ignore because interiors of modern buildings are full of porous items, like drywall, insulation, and cushy furniture. The water soaks in and spreads further into the building, making the restoration process longer and more expensive. Mold starts to grow after about 48 hours, causing even more destruction and a new set of problems. ServiceMaster by Disaster Associates, Inc. provides the finest water damage restoration services possible to residential and commercial clients in Dover, NH and surrounding areas. We're on site within 2 hours of your call to stop the spread of the damage before it can cause more problems.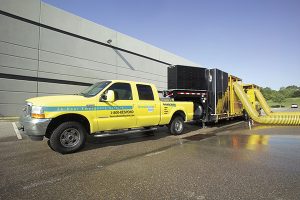 Don't wait and hope excess water will just go away because it needs to be removed from the building. It won't disappear; it will soak into furnishings and building materials, or evaporate and increase the humidity in your home and lead to mold growth. The experts at ServiceMaster by Disaster Associates, Inc. have years of training and experience working on disasters of all sizes, and we use only the most advanced products and equipment available to the industry to clean, restore, and repair all types of water damage.
ServiceMaster by Disaster Associates, Inc.'s Water Damage Restoration Services include:
Drying and dehumidifying;
Content cleaning and pack-out;
Mold remediation;
Restoring personal items, such as electronics, computers, and books;
Restoring furniture and structural elements;
Carpet and upholstery cleaning;
Document drying and recovery.
If You Find Excess Water On Your Property
Finding water inside your home or business isn't a happy experience, but it's important to stay calm. Don't overreact and try to clean it by yourself. Call a professional company like ServiceMaster by Disaster Associates, Inc. who has the equipment and experience to take care of the situation. While you're waiting, help us help you by doing a little prep work.
Open closet and cabinet doors and open drawers to allow airflow and prevent sticking.
Move art, photos, and valuables to another location, but leave books tightly packed on a shelf. We have special drying methods for books that will restore them without warping.
Prop up furniture cushions to allow air circulation and slip aluminum foil under furniture legs. Wipe down any wet spots.
If you have long curtains, slide the ends through a coat hanger and hang it from the curtain rod to keep the ends out of the water.
Remove temporary floor coverings, like rugs. Don't try to remove professionally installed carpet; professionals know how to remove it without causing further damage or stretching.
What Not To Do If You Find Excess Water
Never walk into a room that has standing water if the power is still on. It only takes a few minutes to turn off the power and avoid tragedy.
Don't use a household vacuum cleaner to remove excess water. They're designed to pick up dry items, like crumbs. Using them to clean up water is dangerous because they'll short out.
Don't remove permanently installed carpet by yourself because it can be torn or otherwise damaged and unable to be restored. It's best to let professionals remove them.
Don't use electrical appliances while standing on wet floors.
Don't try to clean mold by yourself. Household cleaners aren't strong enough to kill the growth and without the proper training and equipment, it's easy to spread the spores and expose yourself and others.
No matter how excess water gets inside your home or business in Dover, NH, ServiceMaster by Disaster Associates, Inc. will get it out. Our highly trained professionals will contain the spread of the water and remove it before mold can grow, and we work with your insurance company to make the paperwork go smoothly too.
Call ServiceMaster by Disaster Associates, Inc. 24 hours a day, 7 days a week at (603) 967-4744 for high quality water damage restoration.
---
Related Water Damage Repair Services
Water Damage Restoration in Cambridge, MA
Water Damage Restoration in Derry, NH
Water Damage Restoration in Manchester, NH
Water Damage Restoration in Nashua, NH
Flood Damage Restoration in Peabody, MA
Flood Damage Cleanup in Rochester, NH
Water Damage Restoration in Stoneham, MA
---
Recent Reviews
More Reviews