ServiceMaster by Disaster Associates, Inc.
Hoarding is usually triggered by a stressful or traumatic experience involving a bitter loss and a serious disruption of the normal lifestyle of the affected people. As a result, they start showing typical hoarding symptoms, such as avoidance, anxiety, indecisiveness, procrastination, perfectionism, and poor socialization skills. Hoarders cannot maintain their focus, analyze the available data, make informed decisions, or set priorities. They accumulate large amounts of useless items and get emotionally attached to them, without being able to organize their possessions and classify them according to their value.
Hoarding Cleaning in Cambridge, MA and Counties of Essex and Middlesex
Hoarders are afraid to throw anything away as they can't tell the difference between valuable or worthless. The piles of accumulated items keep getting larger and larger until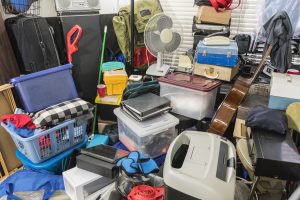 they block off most of the living space in the hoarders' homes. Cleaning becomes impossible, so lots of dirt and dust gather among the accumulated items and health risks drastically increase because of the resulting mold and bacteria growth, pest infestation, poor sanitary conditions, fire hazards, etc. To top it all, hoarders are usually embarrassed by their problem and avoid all social interaction. The situation is very dangerous and sensitive, so removing the hoard and cleaning the hoarders' homes is not enough to help them resume a normal lifestyle. Hoarding is a symptom of a larger anxiety disorder, so patience and compassion, as well as effective therapy, are required to help hoarders understand the severity of the situation and overcome their fears.
All the relevant information about hoarding has been used within the restoration industry to provide more effective hoarding cleaning services, involving a considerate and realistic approach. ServiceMaster by Disaster Associates, Inc. provides efficient hoarding and estate cleaning services in Cambridge, MA and the nearby counties of Essex and Middlesex. We have adopted an efficient three phase approach to hoarding cleaning that aims to develop decluttering habits and involves a consistent behavioral program in addition to the deep cleaning and tidying up of the hoarders' homes.
How ServiceMaster by Disaster Associates Can Help
It is important to help hoarders understand that there is nothing embarrassing about their problem and urgent measures must be taken to improve their poor living conditions. So, the technicians at ServiceMaster by Disaster Associates, Inc. will not only remove the built up clutter from the home of the hoarder and decontaminate the area, but will also encourage the affected person to maintain a clean living space and change his/her lifestyle.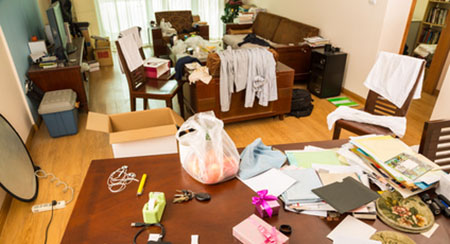 Our hoarding cleaning services include:
Removing the accumulated hoard and thoroughly cleaning the premises;
Salvaging items of high sentimental or monetary value, including jewelry, artwork, family heirlooms, etc., and distributing them to family members;
Disposing of worthless items and recycling the ones that can be recycled;
Cleaning useful items and distributing for donation the ones that the hoarders and their families don't need;
Preparation of official paperwork required from/for trusts, lawyers, and government agencies.
3-Phase Approach to Hoarding Cleaning
ServiceMaster by Disaster Associates, Inc. uses a unique 3-phrase approach to hoarding cleaning that was developed in collaboration between ServiceMaster Restore and the company Clutter Cleaner, owned by Matt Paxton (the host of Hoarders). The main objective of this approach is to involve the affected individuals in the cleaning process and to earn their trust and respect in order to motivate them for change and improvement. Our hoarding cleaning services include the following 3 steps:
Phase 1: Establishing a Personal Connection
We assess the extent of the hoarding problem and determine the type of hoarding behavior in the particular case;
We try to earn the trust and respect of the hoarder before starting the cleaning process;
We create a cleaning plan and coordinate it with the affected person and their family;
We can arrange for the professional assistance of a therapist in order to achieve a favorable outcome of the sensitive situation.
Phase 2: Creating and Implementing an Efficient Cleaning Plan
We create a detailed plan of the cleaning process to completely remove the accumulated items and sanitize the area;
We encourage the affected individual to actively participate in the cleaning process and help him/her realize how dangerous and unsanitary their living environment has become. We also sort out the hoarder's items and help him/her decide which items are really valuable and should be preserved and which ones are worthless and have to be disposed of. Our technicians can effectively clean and restore homes after even the most extreme cases of hoarding;
We thoroughly clean, sanitize, and restore the salvaged items before returning them to the family or delivering them for donation;
After the clutter is removed and the entire place is thoroughly cleaned, we can help reorganize the home and keep it neat and tidy.
Phase 3: Follow Up
After the deep cleaning, the hoarder's home is restored to a safe and sanitary condition. We help the affected person maintain a clean and clutter-free living space by providing him/her with a clear and easy-to follow maintenance plan;
We take care of the required paperwork from lawyers, trusts and government agencies;
We do short-term follow ups to ensure that the cleaning plan is being followed and provide further assistance whenever needed;
We arrange for effective treatment and therapy to help the affected people overcome their anxiety and restore their normal life.
The sooner you get help for a close friend or family member who struggles with hoarding, the more effective professional help will be – health problems and dangerous situations will be prevented. ServiceMaster by Disaster Associates, Inc. can help people who struggle with hoarding in Cambridge, MA. We not only remove and dispose of unnecessary items, clean and sanitize the home, and restore safe living conditions, but also help the hoarders overcome their anxiety and resume a normal life. You can reach us anytime at (781) 604-1476 for more information about our hoarding cleaning services.
---
Related Hoarding Cleaning Services:
Hoarding Cleaning for Derry, NH
Hoarding Cleaning for Dover, NH
Hoarding and Estate Cleaning for Manchester, NH
Hoarding Cleaning for Nashua, NH
Hoarding Cleaning Services in Peabody, MA
Hoarding Cleaning Services for Rochester, NH
January 21, 2023
Matt Nestor
North Andover, MA
See All Reviews