Responding to a Home Flood in the First 24 Hours
Ravaging floodwaters are destructive to properties, whether the flood source is rainwater, a plumbing malfunction, or other disastrous event. The first 24 hours after a home flood are critical. Homeowners are advised to respond swiftly and appropriately to minimize the ruin and preserve their safety.
Step 1: Stay Safe
A flood can wipe out parts of the home, leaving behind gaping holes in the floors, a cracked or loosened foundation, warped walls, broken glass and buckled flooring. Be cautious when re-entering the home. In fact, ensure safety by entering only when authorities deem it safe to do so.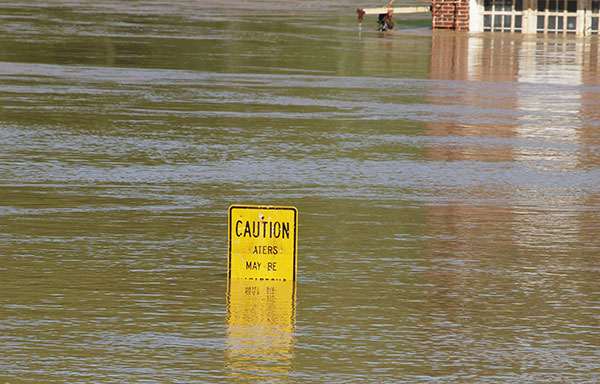 Floodwaters that have swept through a residence may have damaged utility lines, such as gas, sewer, water, and electricity. Contact the utility company upon suspecting damage. Prevent electrical shock by switching off the electricity (even if it is not operational) and water to the home.
Prevent a fire or electrical shock by avoiding turning on any flooded appliances. The electrical components of all appliances, as well as sewage and heating systems, must undergo a thorough cleaning, drying, and inspection by a licensed electrician prior to use.
Step 2: Document Evidence
Insurance companies require documentation of the flood damage in order to process the claim. Record the destruction via pictures or video. Digital records are recommended, since they are stored and accessed electronically. Repairing the damage before documenting it can decrease the amount of coverage.
Step 3: Notify Insurance
Immediately after the flood, notify the insurer about the damage. Flood insurance through the National Flood Insurance Program is handled through private insurers, making it convenient to contact the latter for claims. Work with the insurer to pinpoint the cause of the flood and level of coverage.
The insurance agent may direct the homeowner to wait for an adjuster prior to starting repairs. Follow the agent's directions carefully and take detailed notes of each call. But be aware that a basic flood insurance policy will unlikely cover temporary housing in the event the property is uninhabitable.
Flood policies generally cover the physical structure of the home and its plumbing, foundation, electrical systems, and heating units. Personal contents coverage is included, and payouts are based on actual cash value. Insurance protects possessions, like electronics and furniture, and some valuables, such as artwork.
Step 4: Protect Inhabitants
Even if the floodwater is clear, it may teem with noxious pollutants that can bring on sickness and infections. Until officials declare the water is safe to drink, boil all water prior to consuming it. Toss out the food items that have come int contact with the floodwater.
Wading through floodwaters is a safety hazard. Waist-high waterproof boots or waders are recommended when entering the water during cleanup efforts. Wear rubber gloves and safety goggles as protection against the ill effects of waterborne bacteria. Keep children out of the contaminated areas.
Step 5: Begin Cleanup
If the water levels are high, cleanup will require specialized equipment. Wet/dry shop vacs, dehumidifiers, fans, heaters, and submersible pumps can be rented from a local hardware store. Buckets, plastic garbage bags, and mops are also necessary for the cleanup process.
Keep in mind that a safe flood cleanup is a very slow and gradual process. Drain only one-third of the volume of water from the premises each day. Removing the water any faster can cause the water-saturated ground to force the walls or floors to dangerously buckle.
Empty standing water from the home using buckets. Be careful to avoid injury, especially since water is extremely heavy. One cubic foot of water carries a weight of ten pounds. Hoisting buckets full of water up and down a flight of stairs can cause serious injury if care is not taken.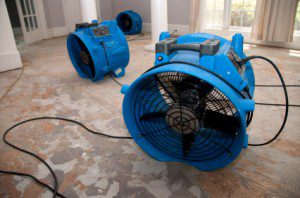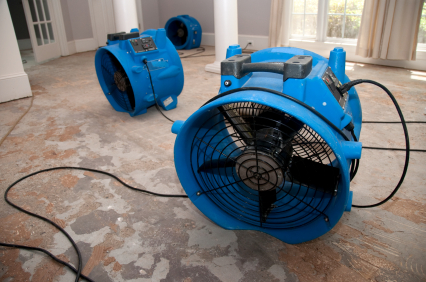 Step 6: Prevent Mold Growth
If weather permits, open the doors and windows to circulate fresh air inside the water-logged property and aid in the drying process. Also, run dehumidifiers to suction out excess water from the air. Do not heat the home to over 40 degrees Fahrenheit until the moisture is eliminated.
Mold spores can latch onto damp belongings within 24 to 48 hours. Carpeting that has been drenched in floodwater, for instance, should be discarded for two reasons: 1) The fibers are contaminated by floodwater; and 2) Damp carpeting is a hotbed for mold colonies.
Minimize mold infiltration by setting up fans throughout the damp areas. Surfaces showing evidence of mold growth may be cleaned with a mix of bleach and a non-ammonia detergent. A water damage restoration company may be hired to remove the mold completely.
Step 7: Secure the Home
A flooded home sustains several weak points. Windows may be broken, and the roof may undergo damage. Protect the home from further ruin by boarding up the broken windows, and by laying tarp over the damaged rooftop. Securing the home also prevents wild animals and intruders from entering.
Recovering from a home flood is no easy task, which is why we recommend keeping the contact information of a disaster restoration professional in your emergency bag. Skilled specialists from water damage restoration companies can arrive within one to two hours of your call to assess the damage.
The water damage cleanup procedure includes a thorough drying and dehumidification of the premises. Affected goods may require content cleaning and pack out. These technicians are proficient in cleaning upholstery, as well as carpeting that has been damp for less than two days.
Along with the restoration of structural components and personal items, like electronics and fine art, experienced technicians can recover and dry documents. Their proven process also includes an extensive cleanup of mold growth inside the property.