For those affected, hoarding is an extremely sensitive issue; it is often more complex than needing help with the cleanup process. They have formed a unique bond with each of their possessions; therefore, it has become extremely difficult for the individual to let them go. However, as the number of belongings continues to grow, the effects it has on the individual as well as others residing on the property can be severe.
However, they are most often not aware or too embarrassed of their situation to reach out for help. As they will need the help of a loved one during the process, it is important to reach out to them right away. As soon as they are ready for professional help, call NuEra Restoration and Remodeling for assistance with the cleanup process in the Des Plaines, IL area. Our technicians have years of experience in working with countless individuals in overcoming their situations while providing quality cleanup services.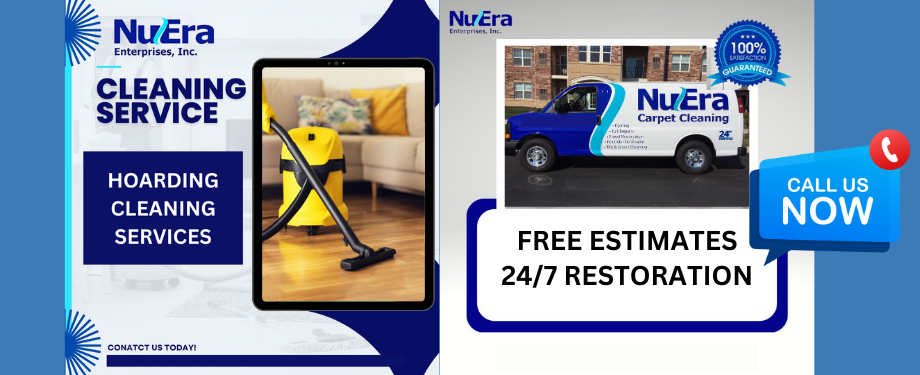 Damaging Effects of Hoarding
Depending on the individual, the hoarded mess can include a wide array of items, such as knick-knacks, magazines, books, pets, Tupperware, and many more. Although the affected individual is usually not aware of their situation, the effects can also pose a serious threat to their safety as well as others living within the home. By creating slip-and-trip hazards, fire risks, and the potential for mold to occur, the home is no longer considered a safe environment. This is why we must be contacted right away to ensure that they are not at risk for any disastrous situations.
Watch RestorationMaster video for more information on disinfection services
Establishing a Relationship
When called for professional cleaning services, the technicians at NuEra Restoration and Remodeling will first establish a relationship with the individual. This will allow them to trust that we are here to help, improving their living situation to provide a safe and healthy environment again. Once they are comfortable with us entering their home, we will work with them to remove all unnecessary items.
All of the following procedures are covered during our hoarding cleanup services:
Immediate Response and Clear Communication: As we understand that the individual is at risk due to their situation, we will arrive right away, providing open communication at all times. Upon the first visit, our goal is to establish a professional relationship with them so we can start the cleanup process as soon as possible.
Removing Unnecessary Items: After a relationship has been established, we will begin sorting the items into separate categories and prepare them for proper disposal. We will then put the individual in charge of the process, not throwing away anything without their approval.
Complete Cleaning and Restoration: After all unwanted items have been donated or thrown away, our technicians will then start cleaning all areas within the home. We will also remediate any cases of mold, restore water damage, remove biohazardous materials, and deodorize the property.
Assistance with Documentation: Our technicians will assist with any trusts, attorneys, or government agencies to allow the affected individual some peace of mind during the transition.
Call Us for a Free Estimate for Hoarding Cleanup Services in Des Plaines, IL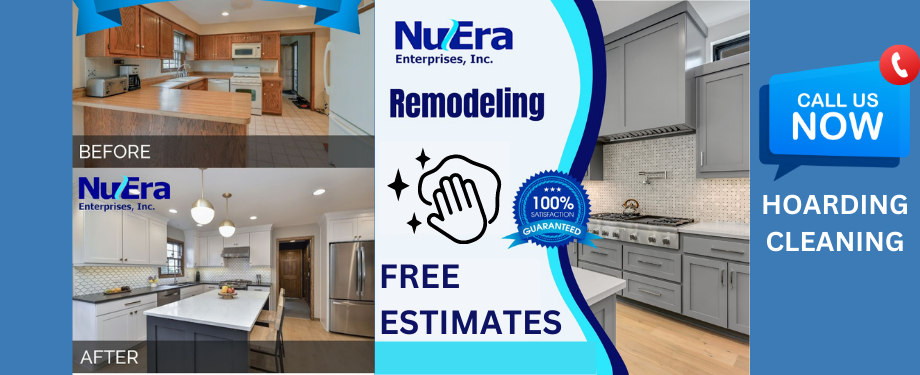 In order to resolve their situations, it is important to establish a unique bond with the individual who has been affected by hoarding. As they will require patience and understanding, a professional hoarding cleanup team must work with respect when providing the service. NuEra Restoration and Remodeling puts this rule in the highest regards when helping the individual overcome their situation. We will ensure that their property will provide a safe and sanitary living condition once again while working with a sense of compassion.
If you have a loved one who has been affected by hoarding in the Des Plaines, IL area, call NuEra Restoration and Remodeling at (630) 656-9915 for professional cleanup services.
Related Hoarding Cleaning Services
Trusted Hoarding Cleaning Technicians in Elk Grove Village, IL
Licensed Hoarder Clean Up in Downers Grove, IL
5-star Hoarder Cleaning Services in Mt. Prospect, IL
Top Hoarder Cleanup Professionals in Hoffman Estates, IL
Certified Hoarder Cleaning Team in Schaumburg, IL
---
Recent Reviews
Review by Kiara Robinson
Rating

"Professionalism, Punctuality, Quality, Responsiveness, Value Clint and his team were AWESOME!!! He was very considerate of my time and space. I was very frustrated when he arrived & when he left I felt happy and relieved that my issue was resolved! He made sure to clean everything with non-toxic chemicals so that my kids would be safe, he explained everything he was doing and executed it perfectly. I had a leak in my ceiling and sewage water everywhere. He put in the time and hard work to disinfect, clean, and dry everything throughly. He was quick, efficient, and respectful! I would definitely recommend his services to anyone who has an issue in their space. Thank you Clint."
---
Review by Sara Ofenloch
Rating

"Our technician Alec came in and re-padded the carpet that had been torn up last week due to water damage. He was so friendly and talkative, and worked very quickly to get the job done! In and out within 30 minutes so that I could get on with my day. Would definitely recommend. Thanks Alec!"
---
Review by Saima I
Rating

"After our apartment flooded on Chirstmas Eve, we were worried about dry wall repairs and patches, and disgusted by the stench. NuEra handled our dry wall replacement and patching and our carpets. We didn't get a business card from the man who worked on our walls and ceilings, but he did so without his partner that day. We are so grateful! After the drywall repairs, our carpets were cleaned so thoroughly and efficiently. Alex treated the carpet and scrubbed it out well before applying the deodorizer and scrubbing that in. He even got out a bright yellow stain from the water that had leaked in. It's such a relief to no longer live in a stinky apartment! Alex and Nick were wonderful! Thank you so much!"
---
See All Reviews