For those affected, hoarding is an extremely sensitive issue; it is often more complex than needing help with the cleanup process. They have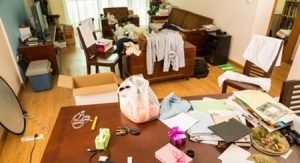 formed a unique bond with each of their possessions; therefore, it has become extremely difficult for the individual to let them go. However, as the number of belongings continues to grow, the effects it has on the individual as well as others residing on the property can be severe.
However, they are most often not aware or too embarrassed of their situation to reach out for help. As they will need the help of a loved one during the process, it is important to reach out to them right away. As soon as they are ready for professional help, call ServiceMaster by Metzler for assistance with the cleanup process in the Des Plaines, IL area. Our technicians have years of experience in working with countless individuals in overcoming their situations while providing quality cleanup services.
Damaging Effects of Hoarding
Depending on the individual, the hoarded mess can include a wide array of items, such as knick-knacks, magazines, books, pets, Tupperware, and many more. Although the affected individual is usually not aware of their situation, the effects can also pose a serious threat to their safety as well as others living within the home. By creating slip-and-trip hazards, fire risks, and potential for mold to occur, the home is no longer considered a safe environment. This is why we must be contacted right away to ensure that they are not at risk for any disastrous situations.
Establishing a Relationship
When called for professional cleaning services, the technicians at ServiceMaster by Metzler will first establish a relationship with the individual. This will allow them to trust that we are here to help, improving their living situation to provide a safe and healthy environment again. Once they are comfortable with us entering their home, we will work with them to remove all unnecessary items.
All of the following procedures are covered during our hoarding cleanup services:
Immediate Response and Clear Communication: As we understand that the individual is at risk due to their situation, we will arrive right away, providing open communication at all times. Upon the first visit, our goal is to establish a professional relationship with them so we can start the cleanup process as soon as possible.
Removing Unnecessary Items: After a relationship has been established, we will begin sorting the items into separate categories and prepare them for proper disposal. We will then put the individual in charge of the process, not throwing away anything without their approval.
Complete Cleaning and Restoration: After all unwanted items have been donated or thrown away, our technicians will then start cleaning all areas within the home. We will also remediate any cases of mold, restore water damage, remove biohazardous materials, and deodorize the property.
Assistance with Documentation: Our technicians will assist with any trusts, attorneys, or government agencies to allow the affected individual some peace of mind during the transition.
Call Us for a Free Estimate
In order to resolve their situations, it is important to establish a unique bond with the individual who has been affected by hoarding. As they will require patience and understanding, a professional hoarding cleanup team must work with respect when providing the service. ServiceMaster by Metzler puts this rule in the highest regards when helping the individual overcome their situation. We will ensure that their property will provide a safe and sanitary living condition once again while working with a sense of compassion.
If you have a loved one who has been affected by hoarding in the Des Plaines, IL area, call ServiceMaster by Metzler at (847)380-7888 for professional cleanup services.
Related Hoarding Cleaning Services
Professional Hoarding Cleaning Services in Elk Grove Village, IL
Experienced Hoarding Cleanup Services in Mt. Prospect, IL
Hoarding Cleaning Professionals in Rosemont, IL
Hoarding Cleanup Company in Prospect Heights, IL
Trusted Hoarding Cleaning in Chicago, IL
---
Recent Reviews
---