Millions of Americans are affected both directly and directly by hoarding each year; therefore, the consequences of hoarding can have a drastic effect on the individual and their family. Hoarding is a mental disorder that disallows the individual to part with their personal items. Over time, these belongings will accumulate throughout the home, blocking access to emergency exits. They can also harbor the perfect environment for mold growth.
However, NuEra Restoration and Remodeling provides professional hoarding cleaning services to remove all unnecessary items as well as sanitize the home in Mt. Prospect, IL. As we understand that this is a stressful time for the affected individual, we take a compassionate approach to the situation, establishing a relationship before starting the cleanup process.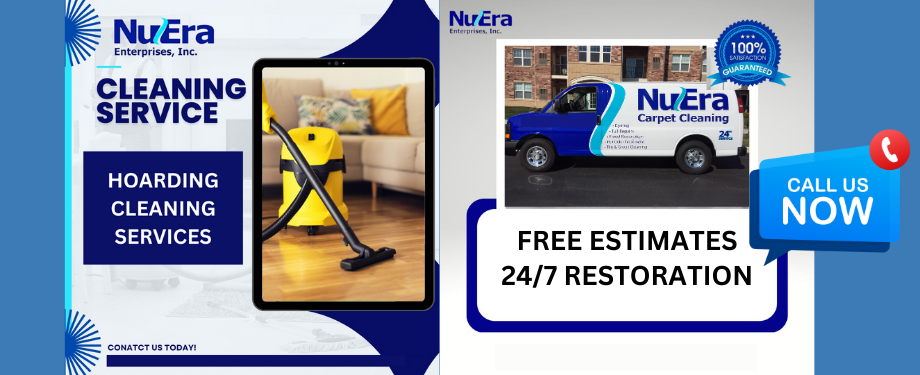 Taking a Compassionate Approach to Hoarding
Hoarding is a delicate situation; the affected individual is suffering from a mental disorder. Often times they are also embarrassed by the mess they have created in their homes; therefore, a close friend or family member must reach out to them and talk about the situation. After discussing the need for hoarding cleaning services, NuEra Restoration and Remodeling will establish a relationship with the individual upon arrival. We will then put him/her in charge of the cleaning process, not throwing away anything without his/her approval.
As each hoarding case is unique, the hoarded belongings can include a wide variety of items, include: books, newspapers, knick-knacks, antiques, furniture, and even animals.  Our technicians handle hoarding cleaning projects of all sizes. After all of the unnecessary items have been removed, we will remove any mold and disinfect all damaged building materials and remaining content. We will also deodorize the property, removing any odors that may still linger from the hoarded items. Ultimately, the highest quality cleaning products and equipment are used to ensure that the home is cleaned and restored to provide a safe living condition once again.
You can expect the following with our hoarding cleaning services:
Saving of valuable personal items such as money and jewelry.
Removal of unwanted clutter and hoarded items.
Assistance with the disposal or recycling of hoarded items that are removed.
Donation of specific items to a nonprofit of choice.
Distribution of kept items to family members or friends.
Assistance with filling out paperwork from government agencies, lawyers, and trusts.
Deodorization of the property
For more information on disinfection services, watch RestorationMaster video
3 Phase Hoarding Cleaning Approach
Some that struggle with hoarding may be overwhelmed by the cleaning process, which is why it is important to approach the situation with compassion and respect.  NuEra Restoration and Remodeling takes a 3-phase approach to hoarding that includes building a personal relationship with the affected individual and earning their trust before entering the home.  This approach is divided into the following three phases:
Phase 1: Establishing a Personal Connection
The details of the cleaning process are discussed with the individual and their family. If needed, we will refer them to a therapist or social service professional.
A foundation of trust and respect is established with the individual.
Phase 2: Creation of the Cleaning Plan
A cleaning plan that involves the removal of hoarded items as well as cleaning and sanitizing the home.
The remaining items are reorganized.
The items that are removed are thrown away, recycled, or donated; the individual will make the final decision.
The property will be cleaned, sanitized, deodorized, and remediated of mold and mildew.
Phase 3: Follow Up
A cleaning plan is created to maintain the condition of the home.
A phone call is made to review the individual's progress, providing additional services if needed.
Contact Us for Hoarding Cleaning Services in Mt. Prospect, IL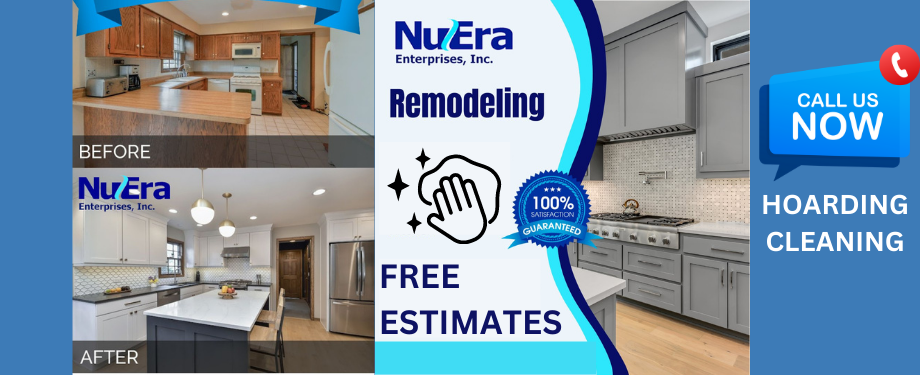 If you have a loved one that struggles with hoarding, it is crucial to reach out to them as their situation can pose negative health and safety risks.  These can include the risk of fire, mold, slip-and-trip, and more. NuEra Restoration and Remodeling is available 24/7 at (630) 656-9915 to provide full hoarding cleaning services in Mt. Prospect, IL.
---
Related Hoarding Cleaning Services
Certified Hoarding Cleaning Technicians in Elk Grove Village, IL
Professional Hoarder Clean Up in Downers Grove, IL
Hoarder Cleaning Services in Hoffman Estates, IL
Licensed Hoarder Cleanup Professionals in Des Plaines, IL
Experienced Hoarder Cleaning Team in Schaumburg, IL
---
Recent Reviews
Review by Kiara Robinson
Rating

"Professionalism, Punctuality, Quality, Responsiveness, Value Clint and his team were AWESOME!!! He was very considerate of my time and space. I was very frustrated when he arrived & when he left I felt happy and relieved that my issue was resolved! He made sure to clean everything with non-toxic chemicals so that my kids would be safe, he explained everything he was doing and executed it perfectly. I had a leak in my ceiling and sewage water everywhere. He put in the time and hard work to disinfect, clean, and dry everything throughly. He was quick, efficient, and respectful! I would definitely recommend his services to anyone who has an issue in their space. Thank you Clint."
---
Review by Sara Ofenloch
Rating

"Our technician Alec came in and re-padded the carpet that had been torn up last week due to water damage. He was so friendly and talkative, and worked very quickly to get the job done! In and out within 30 minutes so that I could get on with my day. Would definitely recommend. Thanks Alec!"
---
Review by Saima I
Rating

"After our apartment flooded on Chirstmas Eve, we were worried about dry wall repairs and patches, and disgusted by the stench. NuEra handled our dry wall replacement and patching and our carpets. We didn't get a business card from the man who worked on our walls and ceilings, but he did so without his partner that day. We are so grateful! After the drywall repairs, our carpets were cleaned so thoroughly and efficiently. Alex treated the carpet and scrubbed it out well before applying the deodorizer and scrubbing that in. He even got out a bright yellow stain from the water that had leaked in. It's such a relief to no longer live in a stinky apartment! Alex and Nick were wonderful! Thank you so much!"
---
See All Reviews