Hoarding Services
Hoarding is a complex issue that affects more than just one individual; the consequences of hoarding behaviors can be very dangerous for those affected and their families.  Classified as a mental disorder, hoarding stems from deep anxiety that causes the individual to develop an inability to part with anything in their home.
This results in a hoard of items that can restrict access within the home, increase the risk of fires, and allow for the growth of mold and other hazardous substances.  ServiceMaster by Metzler provides hoarding cleaning services to help clean and restore homes affected by hoarding in Elk Grove Village, IL.  We approach the situation with a sense of compassion for the affected individual, not discarding any items until they have given the approval.
Dangers of Hoarding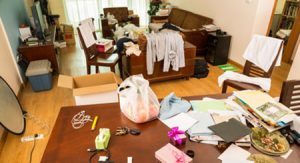 Approaching a hoarder is a sensitive issue as they are often embarrassed by the condition of their home.  A trusted friend or family member must approach the hoarder to help them understand that there is no need to feel any embarrassment; therefore, it is important for them to know that the home will be cleaned for their health and safety.
Hoarding often results in unnecessary clutter as those affected keep a variety of items, including: knick-knacks, antiques, furniture, appliances, newspapers, and more. Our technicians will efficiently remove all unnecessary items. They will also clean and disinfect the home once these items are removed to restore safe, sanitary living conditions.
Our hoarding cleaning services include the following:
Saving of jewelry, money, and other valuable items.
Total removal of clutter and unwanted hoarded items.
Disposal or recycling of all items removed.
Assistance donating unwanted items.
Help delivering saved items to friends and family members.
Assistance with paperwork from lawyers, trusts, and government agencies.
3-Phase Hoarding Cleaning Approach
It is important to remember that hoarding is a sensitive issue; therefore, the affected individual must be treated with respect and included in the cleaning process at all times. Our technicians take a 3-phase approach to hoarding cleaning, first connecting with the individual before the cleaning begins:
Phase 1: Establishment of Relationship
The home will first be inspected by our hoarding cleaning professionals.
A relationship is established with the affected individual, letting them know that they will be in control throughout the entire process.
Phase 2: Development and Implementation of the Cleaning Plan
A comprehensive hoarding cleanup plan is developed to remove all unwanted hoarded items and disinfect the home.
All unnecessary items will be removed from the home while the remaining belongings are professionally organized and the house is sanitized.
Our technicians will coordinate the disposal, donation, or recycling of unwanted items.
Phase 3: Follow Up
A cleaning plan will be developed for the individual to follow.
A phone call follow up is made to check in with the progress. Additional visits can be made if needed.
If you have a loved one that is struggling with a severe hoarding disorder, it is imperative that you reach out to them right away in order to restore a safe living environment for them again.  The professionals of ServiceMaster by Metzler provide effective hoarding cleaning services as the affected individual is treated with compassion and respect.
We are available 24/7 in the Elk Grove Village, IL area at (847) 380-7888 to provide professional hoarding cleaning services.
Related Hoarding Cleaning Services
Professional Hoarding Cleaning Services in Chicago, IL
Experienced Hoarding Cleanup in Prospect Heights, IL
Hoarding Cleaning Services in Mt. Prospect, IL
Hoarding Cleanup Company in Rosemont, IL
Professional Hoarding Cleaning in Des Plaines, IL
---
Recent Reviews
---