Frozen Pipes in Illinois
In Elk Grove Village, IL, and the surrounding areas, winters can be harsh, featuring a lot of snow and severely cold temperatures. Because of this weather, there's a good chance for frozen pipes to occur. With cold enough temperatures, water that is inside the pipes will freeze into ice, expanding in size. This expansion places pressure on the pipes. With enough pressure, the ice will burst open the pipe, spread water throughout the property, and result in water damage.
ServiceMaster by Metzler can help those in Elk Grove Village, IL, and the surrounding areas with such damage with the frozen pipe damage restoration services we provide. Our professionals clean up the mess burst pipes create and restore the damaged property it has affected. To do this, we first extract water, dry the area, and then work on restoring the damaged materials.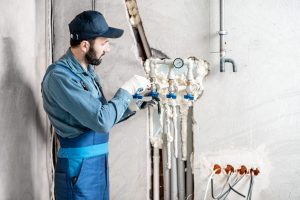 Knowing how low temperatures can get during the winter in the Elk Grove Village area, it is crucial to look out for any frozen pipes in your home or building, because frozen pipes often burst and cause serious water damage on your property.
If you do experience a pipe burst on your property, the first thing you should do is shut the water off. After that, get in touch with us for our frozen pipe damage restoration services. It is important to act right away, because water damage worsens with time. With our advanced equipment, we will eliminate any standing water and excess moisture from affected materials. Then, we will restore the damaged areas and check for mold growth.
Preventing Frozen Pipes
You can't stop freezing temperatures in the winter, but you can prevent frozen pipes. If you follow these steps, you can reduce the risk of frozen pipes and avoid pipe bursts on your property:
Turn on your faucets to drip water. The constant movement within the pipes will help prevent the water from freezing.
To keep pipes beneath sinks warm enough, open the cabinet doors so that the heat enters.
To insulate pipes that are in vulnerable places, use pipe insulation or electrical tape.
As long as it's deemed safe, heat uninsulated pipes by placing a space heater in the area.
During the winter, bring your garden hoses inside, and turn off the outside water supply.
Thawing Frozen Pipes
Low water pressure and icy or frosty pipes are indicators that a pipe has frozen. To find and thaw the frozen pipe, follow these steps:
Locate the line with the frozen pipe.
Locate the frozen section by following the pipe line.
Check for ice, frost, or bulges on the pipes.
Use a hair dryer or heat lamp to thaw the pipe. Don't use any kind of open flame to thaw it.
If you need to, remove drywall to access the frozen pipe.
At the end of the pipe line with the frozen pipe, turn the faucet on to a trickle.
You don't want to deal with the mess and damage that ensues when a frozen pipe bursts, so be proactive, and do what you need to do to prevent frozen pipes. If a pipe has burst in your property, act immediately, and shut off your water supply.
Emergency Response
Call ServiceMaster by Metzler at (847) 380-7888 for our frozen pipe damage restoration services in Elk Grove Village, IL, and the surrounding areas.
---
Related Services
Frozen Pipes Water Damage Mitigation in Mt. Prospect, IL
Frozen Pipes Water Damage Cleanup in Park Ridge, IL
---
Recent Reviews
---