ServiceMaster by Metzler
The risk for frozen pipes in the Park Ridge, IL, area is high because of the severely cold temperatures of our harsh winters. These freezing temperatures can freeze the water inside the pipes within your home which can lead to problems. When water turns into ice, it expands in size. In this case, the ice will put pressure on the pipes, and enough pressure can lead to a pipe burst. When frozen pipes burst, serious water damage can result because the burst spreads water throughout your property.
Properties in the Park Ridge, IL, area that have been affected by burst pipes can seek help from ServiceMaster by Metzler with our frozen pipe damage restoration services. We help by performing water extraction, thorough drying, and complete restoration of the damaged property.
Frozen Pipes in Illinois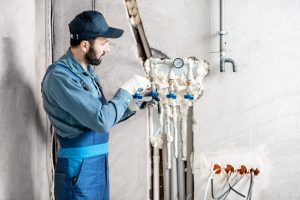 Winters in Park Ridge, IL and the surrounding areas often feature freezing temperatures that lead to frozen pipes. Frozen pipes usually end up bursting and causing water damage to your property, so make sure to look out for any frozen pipes in your home or business.
When a frozen pipe has burst on your property, you need to shut off the water supply immediately. Then, reach out to us for our frozen pipe damage restoration services. Immediate action is crucial because, with more time, water continues to spread and cause more damage.
Within our services, our professional technicians extract standing water and excess moisture from wood, drywall, furnishings, and other damaged materials by using specialized equipment. After water/moisture extraction is complete, we start the restoration process for affected areas and inspect for mold growth.
Preventing Frozen Pipes
You can't prevent winter's severely cold temperatures, but you can prevent frozen pipes on your property. By preventing frozen pipes, you also prevent the pipes from ever bursting. Follow these tips to help prevent your property's pipes from freezing:
When there's constant water movement in your pipes, they won't freeze up, so turn on your faucets to a drip.
With proper air circulation, the pipes underneath sinks will warm up. You can improve the ventilation by opening up the cabinet doors beneath the sink.
If you have pipes that are vulnerable to freezing, then you need to insulate them with pipe insulation or electrical tape.
If you have pipes that aren't insulated, you can keep them warm by using a space heater in that area. Make sure you use the space heater safely.
During the winter season, if you have garden hoses, bring them inside. You should also shut off the outside water supply.
Thawing Frozen Pipes
Some signs of a frozen pipe include frosty/icy pipes and low water pressure. To figure out where the frozen pipe is located and to thaw it, follow these steps:
Find out which pipe line contains the frozen pipe.
Find out where the frozen area of the pipe is by following the line.
Look for any ice, frost, or bulging on the pipe.
Take a hair dryer or heat lamp to the frozen section to thaw it, but don't use any kind of open flame.
For the line affected by the frozen pipe, turn its faucet on to a trickle.
Take the steps you can to prevent frozen pipes on your property; otherwise, you may need to deal with a great amount of damage.
Contact Us
If your home or business has a pipe burst, act promptly by turning the water supply off and calling (847) 380-7888 for ServiceMaster by Metzler's frozen pipe damage restoration services in the Park Ridge, IL, area.
---
Related Services
Water Restoration from Frozen Pipes in Des Plaines, IL
Flood Cleanup from Frozen Pipes in Elk Grove Village, IL
---
Recent Reviews
---