ServiceMaster by Metzler
After having reconstruction or remodeling services, it can be a huge hassle to discover your property left in dirt and debris. However, the condition of the home or building can also be dangerous to re-enter as it may contain sawdust, nails, and other construction materials left on the floors.
ServiceMaster by Metzler offers post construction cleanup services to remove all traces of the debris from a construction site in Park Ridge, IL. Finally, we will restore a safe and clean environment for you and your family or employees to return to.
Post Construction Cleanup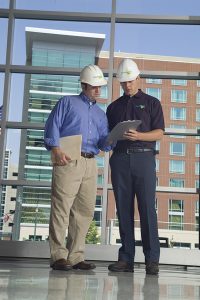 While sweeping up a small pile of sawdust may not difficult to handle, removing the aftermath can quickly seem overwhelming. In addition to the construction materials left behind, the workers may have tracked in mud and dust, running the risk for mold and bacteria to develop. Screws and nails may also be lying on the floor, creating a safety hazard for everyone on the property. Sawdust can also provoke allergy and respiratory problems if there is an abundance in a particular area. Any floating particles can become trapped within the ventilation system of the home, becoming clogged from an abundance of dust.
This will all require a professional cleaning service to be removed properly. However, ServiceMaster by Metzler ensures that all debris will be effectively removed while working in accordance with local guidelines and insurance providers to ease the stress during the claims process.
Our post construction cleanup services include all of the following procedures:
Dusting air diffusers
Cleaning restroom furniture and fixtures
Sweeping and mopping of hard surface floors
Spot cleaning of interior glass and walls
Removal of paint overspray
Spot treatment and vacuuming
As soon as the construction process is complete, the property may be left in dirt and debris that will eventually affect the building materials. In addition, they can even create health and safety risks as debris can become inhaled and nails are left on the floor. This is why ServiceMaster by Metzler will work with you to develop a custom plan that is most effective and efficient for your property. While we will send a trained field supervisor to ensure that all measures have been taken to have your property properly restored to a clean and safe environment, we will also work with your insurance provider throughout the claims process.
If you have recently hired reconstruction or remodeling services in the Park Ridge, IL area, be sure to call ServiceMaster by Metzler for post construction cleaning services. We are available 24/7 at (847) 380-7888.
Related Post Construction Cleanup Services
Post Construction Cleanup Services in Elk Grove Village, IL
Experienced Post Construction Cleaning in Des Plaines, IL
Post Construction Cleanup Experts in Mt. Prospect, IL
Post Construction Cleaning Company in Prospect Heights, IL
Professional Post Construction Cleaning Services in Chicago, IL
---
Recent Reviews
---