It can be overwhelming to discover that there is a huge mess on your property after having remodeling, renovation, or reconstruction services. While this sight is not only unpleasant, it can also be dangerous as construction materials including sawdust and nails can be left on the floors. In addition, the workers may have tracked in mud and dirt all over the new floors.
However, ServiceMaster by Metzler offers post construction cleanup services in Chicago, IL to remove all debris left behind from a construction site. Ultimately, our technicians will ensure that you will be returning to a clean and safe property once again.
Post Construction Problems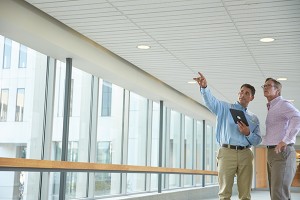 While minor cleanups after a Chicago construction job may not seem hard to handle, cleaning up all of the aftermath from the property can easily be overwhelming. In addition, any water that may have been tracked in from the foot traffic may produce mold if it is not removed quickly. In addition, the property may be dangerous to re-enter as screws and nails will cause a safety hazard for everyone.
Finally, any sawdust lingering within the air can trigger allergies and even asthma problems. They can also become trapped within the ventilation system, creating blockages that will prevent clean air from being distributed throughout the property. The only solution for these issues is to have professional post construction cleanup services remove all dust and dirt from the property. ServiceMaster by Metzler will guarantee the cleaning of the entire home or building, even deodorizing the home to remove any lingering odors.
The following procedures are taken during our post construction cleanup services:
Removal of paint overspray
Spot treatment and vacuuming
Spot cleaning of walls and glass
Dusting air diffusers
Restroom cleaning of furniture and fixtures
Hard floor sweeping and mopping
While it can be exciting to return to a home or building after having reconstruction or remodeling services, it can be a hassle to take on the cleanup process yourself. As dirt and dust will affect the building materials and HVAC system over time, it is best to hire professional services to ensure that the aftermath does not cause problems in the future.
Professional Post Construction Cleaning
ServiceMaster by Metzler will work with you to address all areas of the property, establishing an effective plan to have your home or building effectively restored in a timely manner. A professional field supervisor will also be assigned oversee the entire process and inform you of all progress during the time of service. Finally, we will work with your insurance provider to allow the claims process to run as smooth for you as possible.
If your property is covered in aftermath from reconstruction, remodeling, or renovation services, it is important call professional cleanup services. ServiceMaster by Metzler is available at (224) 585-0580 for post construction cleanup services in the Chicago, IL area.
Related Post Construction Cleanup Services
Professional Post Construction Cleaning Company in Elk Grove Village, IL
Experienced Post Construction Cleanup Services in Mt. Prospect, IL
Trusted Post Construction Cleaning Company in Rosemont, IL
Post Construction Cleanup in Prospect Heights, IL
Post Construction Cleaning in Des Plaines, IL
---
Recent Reviews
---