At ServiceMaster by Metzler, we provide odor removal services to residents of Chicago, IL, in order to remove lingering odors from their properties. Property damage often leads to these unpleasant smells, but there are a variety of other ways in which they can arise.
Through our deodorization services, we utilize advanced odor removal equipment, techniques, and technologies to not only deodorize affected materials, but clean your air spaces, as well. At the end of the day, we will leave your home or office space smelling fresh and new.
Common Causes of Odors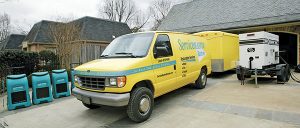 In residential and commercial settings, there are a number of scenarios that can lead to lingering odors. Among the most common causes that we see include:
In some cases, the extent of the problem is confined (e.g. undetected deaths). In other cases, your entire property can be affected (e.g. fire and smoke). The reasons for this boil down to the recency and severity of the event. In some cases, porous building components (such as wood and drywall) and belongings (such as carpeting and furnishings) can trap odors. As with other disasters, a quick response can limit the spread of the problem.
Odor Removal Services
At ServiceMaster by Metzler, we respond to all cases of odors on properties. Our techniques and technologies have the ability to address all causes. Some of the advanced systems that we have at our disposal include:
High-Efficiency Particulate Air (HEPA) filters
Ozone systems
Thermal fogging
Hydroxyl generators
In addition to all of this, our technicians are experts at locating the sources of odors. This ability stems from our experience as a disaster restoration and sanitization services provider. We respond to fires, floods, mold growth, and other large-scale disasters. In each case, we have the ability to remove odors.
Our entire deodorization process goes as follows:
We locate the sources of unpleasant odors
We treat affected materials and belongings
We deodorize and clean air spaces
We seal porous surfaces
We document our work for your reference
Professional Deodorization
It is important to tackle the source of odors instead of simply masking them. This is because of the possibility of the odors getting worse or lingering for long periods of time. There is no need to live with an unpleasant odor. Our methodologies are time-tested, and will return your property to a livable condition.
To learn more about our odor removal services in Chicago, IL, or to schedule an appointment, contact our ServiceMaster by Metzler representatives at (224) 585-0580. We are happy to address any questions you have. We look forward to working with you soon.
---
Related Deodorization Services
Odor Removal Company in Elk Grove Village, IL
Deodorization Services in Mt. Prospect, IL
Odor Removal Services in Prospect Heights, IL
Professional Odor Removal Contractors in Park Ridge, IL
Experienced Deodorization Professionals in Rosemont, IL
---
Recent Reviews
---