When discovering that your business building has been severely damaged as a result of a natural disaster it can take a dangerous toll on all business activities. As they can even be placed on hold, the company also faces high costs in repairs. This can include destruction from water, fire, floods, mold, snow, and more. When this does happen, emergency restoration and reconstruction services are imperative in not only restoring but preventing additional damage.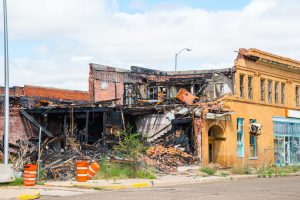 ServiceMaster by Metzler is available 24/7 to provide commercial restoration services in Chicago, IL to repair any commercial building that has been affected by a natural disaster. While our technicians have years of experience, they are able to handle building of all sizes and have them restored quickly. We will also remove any odors to provide safe and sanitary conditions for you and your staff.
Commercial Restoration from Natural Disasters
As it is important to have the damage restored as soon as possible, our technicians work in all types of environments, including office spaces, warehouses, and schools. They undergo advanced training to have the building restored to its original condition so you and your employees can return to work as soon as possible.
Upon arrival, ServiceMaster by Metzler will first assess the damage, develop a custom plan, and begin the repair process right away. We also use advanced equipment and products to guarantee the most effective and efficient restoration that will quickly put you back in business.
Our commercial disaster restoration services effectively cover all of the following properties:
Schools/colleges
Government buildings
Retail stores
Garages
Corner stores
Healthcare facilities/hospitals
Warehouses and manufacturing facilities
Restoring a Healthy Environment
While it is crucial to have the damage restored as soon as possible, it is not the first priority. As soon as a natural disaster strikes, it is most important that everyone's safety is assured first. This includes ensuring that everyone has evacuated safely and all casualties are addressed. After everyone has safely evacuated the building, call ServiceMaster by Metzler right away.
After restoring the building, we will ensure that it provides a safe and healthy working environment again. Throughout the process, we will deodorize the building to remove any odors may be lingering after the damage. We will also remove any contaminants, including mildew, mold, and other hazardous byproducts. Ultimately, through restoring a healthy and sanitary environment again, you can be sure that you are returning to a clean, odor-free environment.
Commercial Water Damage Restoration
While water damage is considered one of the most prevalent types of disasters, this is due to the fact there are many sources that can cause the damage. These include rain, flooding, burst pipes, leaking pipes, sewage backups, and more. While they can start out small, the damage can grow and spread quickly to other areas creating floods and even mold growth. This is why it is essential to call ServiceMaster by Metzler right away to not only restore the damaged commercial building but prevent water from spreading.
Our technicians will arrive immediately and eliminate the source, using professional products and equipment to restore all affected materials. Through years of experience and training, we are able to handle water damage from a small leak to a complete flood, first extracting the water and then setting up drying equipment to have all moisture removed.
Commercial Fire Damage Restoration
If a fire has started in your commercial building, ServiceMaster by Metzler must be called immediately after the fire department to save all materials that have been affected during the fire. As the flames and smoke are able to penetrate through walls and affect documents, equipment, and products, damage can quickly become permanent. This can ultimately lead to thousands of dollars in repairs, but it will be even more costly to have them all replaced.
While many individuals believe that the flames cause the most damage, it is actually the soot and smoke that settle within the materials and compromise their structure. However, this is why we arrive right away to immediately remove the smoke and soot residue within the building materials. We also provide content cleaning and pack-out services in which we will clean all affected items within the property. Finally, as long as we are called immediately, our technicians can save the items that you may have thought were unsalvageable.
Emergency Response
If you have experienced severe damage within your commercial building, it is imperative to call emergency services to have the damage restored right away. ServiceMaster by Metzler is available 24/7 at (224) 585-0580 to provide emergency commercial disaster restoration services in Chicago, IL and the surrounding areas. We will work with you every step of the way to ensure that your commercial building is effectively restored to its original condition in a timely manner.
---
Recent Reviews
---