Millions of Americans are affected each year by hoarding, both directly and indirectly. This is due to unsanitary conditions that are created for all who are residing in the home with the affected individual. As hoarding is classified as a mental disorder, they battle a strong anxiety that prevents them from parting with their household objects.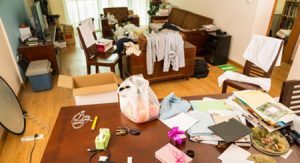 However, ServiceMaster by Metzler takes a compassionate approach when providing hoarding cleaning services to the homeowners in Chicago, IL. Our technicians have years of experience working with numerous individuals who have struggled with the disorder for years. We understand that this is a stressful time; therefore, we will work with respect when removing the unnecessary belongings.
Taking a Compassionate Approach
As a hoarding disorder causes severe anxiety, the living situation can quickly become a sensitive issue. In fact, the affected individual may be too embarrassed to call for help themselves; they will need the help of a trusted family member or friend to reach out for help.
Just be sure that you talk with them first before calling a professional hoarding cleaning company. Once they are aware they will be getting help, it is important to call ServiceMaster by Metzler right away to restore the home to provide safe and sanitary living conditions.
Safety Hazards
While the affected individual faces difficulties parting with their items, they will begin to accumulate throughout the property. This can include newspapers, magazines, antiques, furniture, books, and even animals. Over time, unsafe living conditions will develop, such as fire, slip-and-trip, and other health hazards.
The home may also contain biohazards, feces, and other byproducts, making the property dangerous to everyone residing in the home. As soon as ServiceMaster by Metzler is called, we will work with the individual to remove all unnecessary belongings. We will then deodorize and disinfect the entire property, ultimately restoring the property to provide safe and sanitary living conditions once again. We will then coordinate with the individual as to throw away, donate, or recycle the unwanted items.
Our hoarding cleanup services effectively cover the following:
Removing all unwanted items
Preserving all items of value
Water damage restoration and mold remediation
Assistance in delivering unwanted items to charities, recycling, or garbage facilities
Assistance in organizing items to be kept
Assistance with legal paperwork for trusts, government agencies, and attorneys
Deodorization and disinfection of the property, removing all biohazards
Check ins to oversee that the property is cleaned and maintained
Call for a Free Estimate
If you have a loved one who struggles with hoarding and is living in unsanitary conditions, you must talk to them right away about seeking help for cleaning. After discussing the need for services, call ServiceMaster by Metzler for professional hoarding cleaning services in the Chicago, IL are at (224) 585-0580. Our technicians are experienced and will work with compassion and respect while providing a safe and sanitary living environment for the individual.
Related Hoarding Cleaning Services
Professional Hoarding Cleanup in Elk Grove Village, IL
Experienced Hoarding Cleaning Services in Prospect Heights, IL
Hoarding Cleanup in Park Ridge, IL
Hoarding Cleanup Company in Des Plaines, IL
Rosemont, IL Hoarding Cleaning Services
---
Recent Reviews
---