While it is not an enjoyable topic to discuss, compulsive hoarding (or hoarding disorder) is a mental illness that affects a number of individuals across the nation. Affected individuals typically feel extreme anxiety and nervousness when it comes to throwing away items that they do not need, which is why belongings begin to pile up. As a result, the individuals in question, as well as their family and friends, are put in physical danger.
But at ServiceMaster by Metzler, we understand the complexities associated with hoarders' needs, as well as the health concerns stemming from their inability to clean their living space. Through this we offer full hoarding cleaning services in Rosemont, IL and more.
The Dangers of Hoarding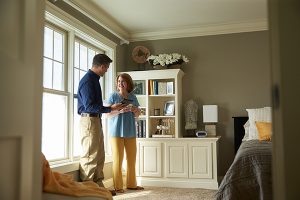 The primary danger associated with hoarding is the restriction of access throughout the home. Essentially, if there is ever a disaster, such as a fire, flood, or other major event, individuals within the home will be less able to escape.
Additionally, those living in the home are subject to hazards from items falling on them, as well as anything that might grow or thrive beneath hoarded belongings, such as mold and pests. At the end of the day, if you or a loved one is affected by hoarding tendencies, it is critical that you seek professional assistance.
Trusted, Compassionate, and Effective Hoarding Cleaning Services
ServiceMaster by Metzler understands the complexities associated with hoarding tendencies. The feelings of extreme anxiety, embarrassment, and nervousness that come about when approached about hoarding habits are a major roadblock to many. This is why it is important for trusted friends and family members to approach the hoarder, and help them understand the need to seek assistance. The major selling point should always be the safety factor, as many tragedies regularly result from hoarding situations.
In addition to our cleaning services, we go the extra mile to remain compassionate and understanding in these situations. ServiceMaster by Metzler is fully aware of the psychological pressures at play, and always work to establish trust before beginning our cleaning services.
Once trust is established, you can expect the following from our hoarding cleaning services:
The complete removal of clutter and unwanted/unneeded items.
Retention of valuables, such as jewelry and money.
Proper disposal, or recycling, of removed items.
Assistance with donating unwanted belongings, as well as distributing important items to family members and friends.
Help with paperwork from lawyers, government agencies, and trusts.
Sanitization of affected areas, and full restoration services.
To put it another way, our hoarding cleaning services here at ServiceMaster by Metzler can be broken down into a comprehensive, 3-step approach.
Our 3 Step Approach to Hoarding Cleaning
Establish a Relationship: We will inspect your home to determine the level of cleaning services needed, but work to establish a trusted relationship with affected individuals before beginning our cleaning. They will be in control throughout the process.
Develop and Implement a Cleaning Strategy: We will develop a comprehensive cleaning strategy to remove all unwanted and unneeded items from your home, and fully disinfect affected areas. Items to be kept will be cleaned, as well, and our technicians will properly dispose of, donate, or recycle everything else.
Follow Up: Lastly, and perhaps most critically, we will leave a cleaning plan behind for affected individuals to follow, and we will personally follow up to check in on their progress. This can be done over the phone or in person depending on what is deemed necessary by both parties.
Free Estimate
If you or a loved one is affected by hoarding tendencies, don't hesitate to give us a call. ServiceMaster by Metzler's hoarding cleanup services have improved the quality of life for countless individuals, and we hope to help you, too.
We can be reached at (847) 380-7888, and proudly service those in the Rosemont, IL, area.
Related Hoarding Cleaning Services
Professional Hoarding Cleaning in Elk Grove Village, IL
Hoarding Cleaning Services in Prospect Heights, IL
Hoarding Cleanup Company in Mt. Prospect, IL
Hoarding Cleaning Professionals in Des Plaines, IL
Professional Hoarding Cleanup in Chicago, IL
---
Recent Reviews
---