Fires have the potential to become a serious health and safety risk in the moment they occur. This is why you should dial 911 right away and ensure that all of your family, friends, or co-workers are safe.
Once this is done, call ServiceMaster by Metzler right away for fire damage restoration if you live or work in the Rosemont, IL area. While flames can cause quite a bit of damage, the resulting smoke, soot, and other corrosive byproducts can leave behind a wake of destruction, as well. Through our swift and effective services, our technicians will sanitize, deodorize, and restore your property and belongings to the fullest extent possible.
Smoke and Soot Cleanup
Permanent damage can set in quickly in the event of a fire. Th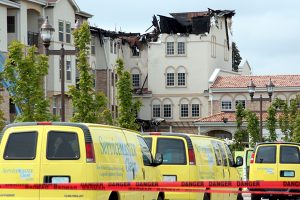 is damage ranges from discoloration and charring to etching and more. As time goes on, the damage will worsen as smoke, soot, and other corrosive byproducts spread and settle. Structural elements, flooring, walls, furniture, ceilings, carpeting, and personal items are all at risk.
This is why a timely response is so important. ServiceMaster by Metzler is available 24 hours a day to respond to your call in Rosemont, IL. At the end of the day, we understand that minutes can make the difference between permanent damage and a full restoration.
Fire Damage Restoration – Check Out This Video
For fire and smoke damage restoration in Rosemont, IL, call ServiceMaster by Metzler at (847) 380-7888.
 Fire Damage Restoration
In addition to a rapid response, a certain level of expertise and training is needed to give your property and personal items the greatest odds of a full restoration. Our highly trained technicians are outfitted with the best cleaning equipment, sanitization products, and restoration methodologies in the industry, and have experience repairing structural elements, furnishings, all manner of personal belongings, and more.
For greater detail on our industry-best fire damage restoration services, please read below:
Swift Response and Initial Inspection: We are available 24 hours a day, and respond to fire damage emergencies as quickly as possible. When we arrive, our technicians will inspect your property to determine the appropriate course of action.
Emergency Pre-Cleaning: To give your property and belongings the greatest odds of avoiding permanent damage, we will provide emergency pre-cleaning services.
Content Cleaning and Pack-Out: We will clean, deodorize, and restore your personal belongings on-site or at one of our secure, climate controlled facilities.
Wall and Ceiling Cleaning: We will clean and restore your floors, walls, ceilings, and everything in between.
Restoration: We will restore affected areas to their original condition.
Deodorization: Smoke, soot, and other byproducts of a fire can leave behind a lingering odor. We will clean and deodorize your air spaces and belongings.
In the tragic event that your property has been affected by a fire, there are several steps you can take to be proactive.
Smoke Mitigation – What to Do:
Call us here at ServiceMaster by Metzler as soon as possible if the property is located in Rosemont, IL. We can be reached at (847) 380-7888.
Increase air circulation throughout your property and belongings.
Tape two layers of damp cheesecloth over supply and return registers to prevent soot from settling into the materials.
Dispose of damaged food, and clean your refrigerator.
Change your HVAC filter.
Send affected clothing and fabrics to a professional restoration dry cleaner.
Wipe off materials made of porcelain, Formica, chrome, and aluminum in order to prevent etching.
Wipe off leaves of plants.
If you are concerned about doing additional harm to your affected property and belongings, please take our advice on what not to do, as well. Many of these tips are also for your safety.
Smoke Mitigation – What NOT to Do:
Do not touch anything without wearing gloves, as the oil from your skin can cause additional damage.
Do not clean damaged materials by yourself, as many will require special care to prevent further damage.
Do not use any electrical appliances until they have been properly inspected.
Do not turn on ceiling fans or fixtures if the ceiling is/was wet or damp due to the fire being put out.
Immediate Response
ServiceMaster by Metzler is available 24 hours a day, and proudly services home and business owners affected by fires.
If your home or building has been severely affected by fire and/or smoke, don't hesitate to give us a call at (847)380-7888 for emergency fire damage restoration services in the Rosemont, IL area.
---
Related Smoke Mitigation Services
Fire Damage Cleanup in Elk Grove Village, IL
Smoke Damage Restoration in Park Ridge, IL
Fire Damage Repair in Des Plaines, IL
Smoke Damage Cleanup in Prospect Heights, IL
Smoke Mitigation in Chicago, IL
---
Recent Reviews
---