There a number of ways in which sewage and other forms of contaminated water can enter your property in Rosemont, IL. At ServiceMaster by Metzler, we address them all through our sewage cleaning services.
No matter the scale or severity of the issue, we will remove these harmful contaminants in a safe and effective manner, and decontaminate exposed surfaces and belongings. We do this through specialized equipment and certified techniques that have been proven as successful over the years. We offer these services on a 24-hour, emergency-response basis to limit the extent of the damage, and return your property to a livable condition as swiftly as possible.
Contaminated Water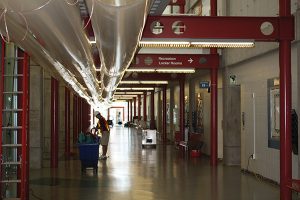 Sewage is simply one form of contaminated water that can result in problems on your property. Because of the population density and weather patterns of Rosemont, IL, residents are exposed to a number of other potential sources. In essence, there is always a possibility that outside water that enters your property is contaminated. This is more likely when a high volume of cars, people, and industries are present in the community because of the substances that can get washed up by floods and storms.
When your property is exposed to any levels of free-flowing water where it should not be, there is an inherent risk to your building and belongings. Structural components of your building can become compromised, and personal items can be destroyed. When contaminated water and sewage are involved, this likelihood increases. This is because these elements contain harmful pathogens that can result in various diseases and illnesses being contracted by exposed individuals. For all of these reasons, it is critical that you address sewage backups, and similar events, as quickly as you can.
Removing Sewage and Contaminated Water
At ServiceMaster by Metzler, we offer the services of highly trained and experienced sewage cleanup specialists. They understand the inherent risks of handling these substances, and know how they behave. They also have the skills necessary to operate complex water extraction equipment, and provide appropriate sanitization solutions.
When you choose to leverage our 24-hour sewage cleaning services, you can expect the following:
A rapid response to limit the extent of the damage
The extraction of sewage, contaminated water, and other fluids
The fixing of the source of the problem
Decontamination services
Deodorization services
The drying and dehumidification of your property
A final, quality-assurance inspection
Emergency Response for Sewage Cleanup Services
Whenever a biohazard material is present on your property, it is important to remove it in a rapid, but safe way. Our ServiceMaster by Metzler technicians adhere to proper removal and disposal procedures through our sewage cleaning services.
To take advantage of these 24/7 services, simply contact our representatives at (847) 380-7888. We operate in the Rosemont, IL, area, and will return your property to a safe condition swiftly.
---
Related Sewage Cleanup Services
Sewage Backup Cleaning Company in Elk Grove Village, IL
Park Ridge, IL Sewage Cleanup Services
Sewage Cleaning Services in Chicago, IL
Sewage Cleanup Company in Mt. Prospect, IL
Des Plaines, IL Sewage Contamination Cleaning Company
---
Recent Reviews
---