As nearly every home and business owner knows, carpeting can make or break the appearance of a room depending on its condition. While a well maintained, crisp look can leave a positive impression, a torn, tattered, or discolored carpet can do quite the opposite. If you do not get your carpet professionally cleaned from time to time, the latter will likely unfold due to frequent foot traffic, embedded debris, and other factors.
For these reasons and more, ServiceMaster by Metzler offers full carpet cleaning services for both residential and commercial settings in Rosemont, IL.
Trusted Residential Carpet Cleaning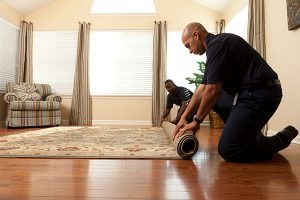 Homes may not experience as heavy of foot traffic as commercial buildings, but they are generally more prone to accidents. Children and pets can make their marks by tracking in dirt, mud, and debris, as well as by running around. Spills are also common, which can obviously leave stains if not properly addressed. While the possibilities are nearly endless, the most common causes of discoloration and deterioration stem from embedded debris. This debris gets lodged deep within the fibers of fabric, does not come out when household vacuums are used, and acts like sandpaper.
ServiceMaster by Metzler uses professional cleaning solutions, equipment, and techniques to dislodge embedded debris, treat seemingly untreatable stains, and leave your carpets looking as good as new.
You can expect the following within our carpet cleaning services:
A thorough inspection of damaged areas.
Pre-treatment and vacuuming to remove/dampen stains and loosen dirt, dust, and debris.
Utilization of our hot water extraction method.

This method makes use of specialized equipment that deposits a mild, hot water cleaning solution deep into the fibers of your carpets. Embedded debris is then loosened and extracted.

Post-treatment of any lingering stains.
Grooming of your carpets' fibers for a more presentable look.
Insertion of pads beneath the legs of furnishings to protect your carpeting.
A comprehensive final inspection to ensure that your carpets look as good as new.
Effective Commercial Carpet Cleaning
While most businesses do not need to worry about children, pets, and spills as often as many homeowners do, they do need to be concerned about heavier foot traffic and longer-lasting impressions. In commercial settings, debris that gets embedded within carpeting can wreak havoc in a hurry as it tears fibers and discolors fabrics. To prevent this, ServiceMaster by Metzler highly recommends making use of our regularly scheduled carpet cleaning services.
Our carpet cleaning services also provide the following benefits:
A crisp and maintained carpet color and texture.
The complete removal of dirt and debris.
The frequent treatment of stains and spills.
An extended carpet life.
If your carpeting is beginning to fade, or if you simply want to preserve the fresh look of a newer carpet, we encourage you to give us a call regarding our carpet cleaning services. Our technicians are among the best in the industry, and our representatives are available 24 hours a day.
ServiceMaster by Metzler can be reached at (847) 380-7888, proudly providing home and business owners with carpet cleaning services in the Rosemont, IL, area.
---
Related Carpet Cleaning Services
Carpet Cleaning Company in Elk Grove Village, IL
Experienced Carpet Cleaning in Prospect Heights, IL
Carpet Cleaning Services in Chicago, IL
Professional Carpet Cleaning Services in Park Ridge, IL
Experienced Carpet Cleaning Company in Des Plaines, IL
---
Recent Reviews
---