In both residential and commercial settings, mold growth can quickly turn into a serious problem. Major health risks, as well as structural damage to your property, are possible consequences if proper sanitization and remediation procedures are not taken. ServiceMaster by Metzler offers this and more through our mold removal services to property owners in Rosemont, IL.
The Dangers of Mold Growth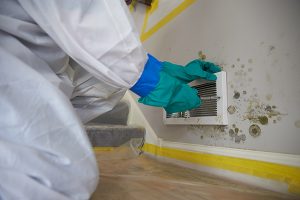 If you are a property owner, it is important to understand how easy it is for mold to take hold and spread. This is an unfortunate reality because all mold needs in order to grow is an organic food source and excess moisture, and many common building materials (such as wood, insulation, and drywall) naturally contain cellulose, a food source for mold. As a result, mold can quickly spread once it finds an initial footing.
In addition to structural elements of your property, any inhabitants exposed to the mold can be in danger, as well. Mold is notorious for triggering allergic reactions, respiratory infections, and even worse complications. In essence, it pays to address any mold growth on your Rosemont, IL property as quickly as possible.
Mold Removal – Check Out this Video
For mold remediation services in Rosemont, IL, call ServiceMaster by Metzler at (847) 380-7888.
Mold Remediation
ServiceMaster by Metzler's technicians are specifically trained and certified to remove mold from a variety of surfaces, and restore affected areas. We do this through our accurate mold removal methodologies and restoration process.
For a greater understanding of our mold restoration procedures, please read below:
Rapid Response and Evaluation: We are available by phone 24 hours a day at (847) 380-7888 in the Rosemont, IL area and will get a team of technicians to your property as quickly as possible. When we arrive, we will perform an initial evaluation to detect sources of mold, and analyze the extent of the damage.
Compliance with Insurance Companies: For your convenience, we will send a report of our evaluation to your insurance company.
Containment: Because mold spreads so easily, we first work to contain it.
Develop a Plan: Based off of our initial evaluation, we will determine an appropriate mold removal strategy.
Mold Remediation: We will remove all mold from your property based off of our findings.
Restoration: We will restore affected areas and items.
If you find or suspect mold growth on your property, there are several action items that you can follow to be proactive.
Mold Removal – What to Do
Contact ServiceMaster by Metzler as quickly as possible if the property is located in Rosemont, IL. We can be reached at (847) 380-7888.
Dry off walls that have condensation or excess moisture on them, but do not wipe moldy surfaces.
Utilize dehumidifiers, and/or turn on the A/C, to limit moisture levels.
Inspect your HVAC system.
Wear hand, eye, and respiratory protection when around mold.
Air out your home or office space if outside conditions permit.
Contrary to the items above, there are specific actions that you should avoid doing, as well.
Mold Removal – What NOT to Do:
Do not come into contact with mold, as any improper cleaning methodologies can increase damage and cause the mold to spread.
Do not paint or caulk over moldy surfaces.
Do not touch moldy surfaces, as the mold can release its spores and pose a health risk.
Get a Free Estimate
If you notice or suspect mold growth on your property, don't hesitate to give us a call for our full mold remediation services and will get a team of technicians to your property as quickly as we can.
The experts at ServiceMaster by Metzler are among the best in the industry for mold removal, and can be reached 24 hours a day at (847) 380-7888 in the Rosemont, IL area.
---
Related Mold Restoration Services
Mold Remediation in Park Ridge, IL
Mold Remediation Company in Elk Grove Village, IL
Mold Removal Company in Mt. Prospect, IL
Mold Damage Repair in Des Plaines, IL
---
Recent Reviews
---