There are many reasons why you may have needed to get construction work done on your property. In many cases, some level of property damage was caused by a major event, such as a fire, flood, or severe storm. In other scenarios, you may simply be upgrading a portion of your home or office space. Either way, some construction companies will finish their work, but leave you wondering why so much dust, dirt, and debris is left over from the project.
When this happens, don't hesitate to contact ServiceMaster by Metzler regarding our post construction cleanup services in the Rosemont, IL area. We have years of experience when it comes to cleaning up after construction and restoration projects, and will leave your property in a safe and suitable condition.
Trusted and Complete Post Construction Cleaning Services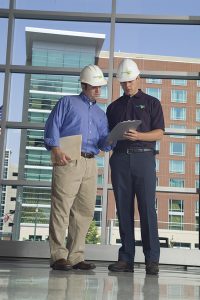 In this day and age, it can be surprising to see the amount of debris left behind by some construction workers, carpenters, handymen, etc. However, it often stems from the fact that a lot of materials need to be cut, dirt is sometimes tracked in, and a potentially large number of people are needed to get the job done. At the end of the day, many companies will clean up after themselves to some extent, but odors, debris, and other unwanted items can be left behind.
We take care of all of this and more in order to fully sanitize affected areas, eliminate any health or safety hazards, and truly make your property look as good as new. While many construction and restoration projects are unique, our post construction cleaning services can address them all.
You can expect the following processes and procedures within our post construction cleanup services
A thorough inspection of affected areas
Pressure washing
Air duct cleaning
Leather care and fabric panel cleaning
Deodorization of structural elements, personal belongings, and air spaces
Content cleaning and pack-out services
Carpet and upholstery cleaning
Sanitization of bathrooms, kitchens, and other important areas
Cleaning of lights, walls, windows, and fixtures
ServiceMaster by Metzler has assisted home and business owners alike in the Rosemont, IL, area for years, and are proud to continue our highly trusted services to better the community. Our methodologies are always designed in accordance with OSHA and USDA standards, and we do what we can to work around your schedule for greater convenience.
We are available 24 hours a day, and will get a highly trained team of technicians to your property in short order. We are proud to continue offering our services to all manner of property owners.
If you would like to utilize our industry-best post construction cleaning services, then please feel free to give us a call at (847) 380-7888 in the Rosemont, IL area.
Related Post Construction Cleanup Services
Post Construction Cleanup Services in Prospect Heights, IL
Professional Post Construction Cleaning in Chicago, IL
Post Construction Cleanup Professionals in Elk Grove Village, IL
Construction Cleanup Company in Mt. Prospect, IL
Construction Cleaning Services in Park Ridge, IL
---
Recent Reviews
---