(847) 380-7888
When a fire, a flood, burst pipes, mold growth, or other devastating events damage your property, the structural elements of your building are unfortunately only the beginning of your concerns. Priceless personal belongings, important documents, and more can be permanently affected, as well.
But ServiceMaster by Metzler provides content cleaning and pack-out services to provide your personal items the greatest chance of being fully salvaged and restored.
Content Cleaning Services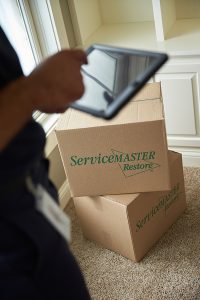 When a damaging event occurs to your property, it is critical to contact ServiceMaster by Metzler right away. In many cases, a matter of minutes can make the difference between a full restoration and permanent damage. Because of this, we make sure to be available 24 hours a day to answer your call at (847) 380-7888.
By utilizing our industry-best sanitization solutions, restoration methodologies, and deodorization procedures, we give your personal items the greatest odds of being fully restored. It does not matter if your belongings are damaged due to a fire, flood, pest infestation, or anything else. Our highly trained technicians have a wealth of experience, and will likely surprise you with the quality of their work.
Pack-Out Services
While we always aim to perform our restoration services on-site, it is sometimes to your benefit to utilize our pack-out services. These services are meant for when your property is not in a suitable condition for us to safely perform maintenance work. In essence, we will ship your belongings to one of our secure, climate controlled facilities for cleaning, and return them whenever your property is ready.
For a more detailed explanation of what to expect out of our pack-out services, please read below:
Swift Response: We are available 24 hours a day, and respond to emergency scenarios as quickly as we can. When we arrive at your property, we will determine whether or not we need to make use of our pack-out services.
Inventory: We will catalog all of your items that are shipped to our facility for cleaning for both your reference and ours. This will help all parties involved stay on the same page regarding your belongings.
Restoration: At our secure and climate controlled facility, we will clean, restore, and deodorize your personal items to the fullest extent possible.
Storage: As is often the case, if your property is not in a suitable position for us to return your belongings right away, we can store them at our facility until your property is ready.
Delivery: Once your property is safe and secure once more, we will deliver your items to your door.
After a devastating event has damaged their property, many individuals do not think about how it may have affected personal belongings that they do not use every day, but that still hold significant value. ServiceMaster by Metzler specifically addresses these items and more through our content cleaning and pack-out services.
If you would like to take advantage of these services, please call us at (847) 380-7888. We are available 24 hours a day, and proudly service home and business owners in the Rosemont, IL, area.
Related Contents Restoration and Pack Out Services
Contents Restoration and Pack Out Services in Elk Grove Village, IL
Content Cleaning and Pack Outs in Mt. Prospect, IL
Emergency Content Cleaning and Pack Out Company in Prospect Heights, IL
Contents Restoration and Pack Out Company in Chicago, IL
Content Cleaning and Pack Out Services in Des Plaines, IL
Professional Content Cleaning and Pack Out Services in Park Ridge, IL
---
Recent Reviews
---