At ServiceMaster by Metzler, we provide effective odor removal services to residential and commercial property owners in Rosemont, IL. Lingering odors can be traced back to a number of causes, and we address them all by tackling smells at their source.
Whether your property is exposed to large volumes of smoke, or you simply have pets that like to get into trouble, we will eliminate the nuisance odors that were created. We have the ability to respond to projects of any size and scale, and look forward to providing you with greater peace of mind.
Where Do Lingering Odors Come From?
While there are limitless sources of odors that can appear and linger on your property, they generally boil down to two categories:
Property-Damaging Events: This includes damage caused by fire and smoke, mold, water, sewage, and similar elements.
Biological Incidents: This includes things such as pet accidents, undetected deaths, wild animal issues, etc.
The reason that odors linger is because porous materials can actually absorb and trap these smells. Woodwork and drywall are examples of structural elements that can be affected, while couches and clothes are examples of furnishings and belongings that can be harmed. Instead of taking efforts to simply mask odors, we encourage you to eliminate them altogether. This is exactly what we do here at ServiceMaster by Metzler.
Eliminating Odors at Their Source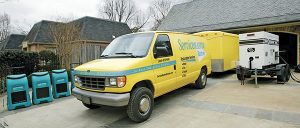 In order to fully eliminate an odor, it is necessary to attack it at its source. We do this by cleaning and deodorizing air spaces, as well as locating and treating all affected materials and belongings. The technologies and systems that we use to treat your air spaces include the following:
Thermal fogging to neutralize odors
Ozone systems to provide an oxidizing agent
High-Efficiency Particulate Air (HEPA) filters to eliminate various smells from the air
Hydroxyl generators that utilize hydroxyl radicals to remove odors
Professional Odor Removal
In order to treat affected surfaces, we make use of professional-grade solutions and equipment that eliminate odors. We also seal porous materials in order to ensure that smells do not return in the future. Once we have effectively eliminated all lingering odors from your property, and cleaned affected areas, air spaces, and belongings, we will provide you with thorough documentation of our work.
At the end of the day, we want to eliminate odors from your property altogether, not just mask them or provide temporary fixes. Our odor removal services have been proven to do this. If you have any questions about our deodorization services, or would like to schedule an appointment, we encourage you to reach out to our representatives at (847) 380-7888. We offer these services to property owners in the Rosemont, IL, area, and look forward to freshening up your building and belongings.
---
Related Odor Removal Services
Professional Odor Removal Company in Prospect Heights, IL
Deodorization Contractors in Elk Grove Village, IL
Deodorization Services in Park Ridge, IL
Experienced Odor Removal Contractors in Chicago, IL
Odor Removal Professionals in Mt. Prospect, IL
---
Recent Reviews
---