ServiceMaster by Metzler
Carpet Cleaning
A room's carpeting is considered one of most heavily-used and major furnishings; therefore, its condition can have a significant impact on the entire appearance of the room. Daily foot traffic can easily cause fading, deterioration, and discoloration of the fibers. In addition, dirt and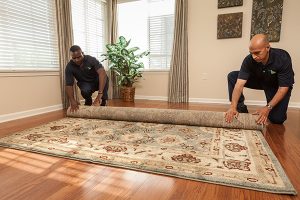 debris will become trapped within the fibers, causing it to look dirty over time. Ultimately, it can negatively impact the first impression of a guest, even deter a prospect client from doing business. This ultimately makes a deep cleaning crucial.
ServiceMaster by Metzler provides professional carpet cleaning services in the Park Ridge, IL area to not only remove all embedded dirt and debris but extend the carpet's overall lifespan.
Damaged Carpeting
While it is generally recommended to have a professional carpet cleaning once a year, some carpets will need more as a result of frequent foot traffic. While normal vacuuming may remove the majority of the dirt and debris, they can still become deeply embedded within the fibers; therefore, if it does not receive regular treatment, it will look discolored and faded. In extreme cases, it can even start to come apart at the seams. Ultimately a professional carpet cleaning is critical in order to maintain the life and look of your carpet.
Applying the Hot Water Extraction Method
In order effectively remove all dirt and dust from the fibers, ServiceMaster by Metzler uses a specialized technique called the hot water extraction method. In this procedure, a sanitizing solution is mixed with warm water to be applied deep within the fibers by a specialized cleaning wand. As the solution loosens and removes the debris, it is extracted back up into our truck-mounted tank. It is then delivered to a special facility for disposal. As this process requires 24 hours to dry, the cleaning procedure will only last the afternoon.
Our cleaning services cover all of the following steps:
Pre-inspection of the carpeting
Pre-vacuuming to extract all loose dirt and debris
Pre-spray to loosen embedded dirt from the fibers
Complete cleaning using the hot water extraction method
Post-treatment to remove all lingering stains and spills
Carpet fiber grooming to extend the lifespan of the carpet
Final inspection to guarantee your satisfaction
While a carpet in pristine condition can certainly complement the aesthetics of the room, a dirty carpet can severely deter a guest. This is why a professional carpet cleaning is necessary in order to maintain the clean and modern look of the room.
ServiceMaster by Metzler is available at (847) 380-7888 to provide effective carpet cleaning services in the Park Ridge, IL area.
---
Related Cleaning Services
Carpet Cleaning – Elk Grove Village, IL
Carpet Cleaning Company in Mt. Prospect, IL
Carpet Cleaning Services in Prospect Heights, IL
Professional Carpet Cleaning in Chicago, IL
Experienced Carpet Cleaning in Des Plaines, IL
---
Recent Reviews
---