Because property fires are known to cause the most damage out of all natural disasters, restoration services are crucial when treating the property. In addition, fires are also extremely dangerous as the smoke can cause severe coughing and breathing problems. After ensuring that everyone has evacuated safely, the fire department must be called immediately to put out the flames. But many property owners are not aware that the smoke and soot left behind from a fire will cause the most damage to the affected building materials.
This is why ServiceMaster by Metzler arrives right away to provide fire and smoke damage restoration services in Park Ridge, IL. Our technicians will first prevent the damage from spreading and then begin the restoration work, using advanced products, equipment, and techniques. As we repair all properties from fire, smoke, and soot damage, you can return to a clean safe living environment once again.
Soot and Smoke Damage
Even after the flames have been extinguished, smoke and soot left behind will cause etching and tarnishing to the affected materials. This will cause additional, if not permanent damage to the rest of your property. These include the walls, carpet, furniture, ceiling, and all personal items. The professionals of ServiceMaster by Metzler use the highest quality products and techniques in order to create complex chemical reactions to restore all affected materials. Finally, your Park Ridge, IL home or building structure can be restored to its original condition without sustaining additional damage from the products.
Content Cleaning and Pack-Outs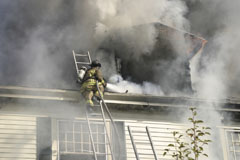 If your personal content has been affected during or after the fire, we can also provide content cleaning and pack-out services to have them effectively brought back to their original conditions.
If the condition of your property is too damaged to have them restored on-site, we will pack and restore them at our facility. They will then be delivered to your door when the restoration process on your property is complete.
Fire Damage Cleanup
While fires can cause significant damage to a property's building materials, smoke and soot are the main contributors. However, there are some materials that will sustain damage faster than others. These are known as materials, including drywall, paint, and fabrics, as their spongy materials will easily trap smoke and soot residue. ServiceMaster by Metzler will address these first as they are the most prone to sustain permanent damage.
Fire Damage Repair – Check Out this Video
For emergency fire restoration services in Park Ridge, IL, call ServiceMaster by Metzler at (847) 380-7888.
Fire Restoration – What to Do
Call ServiceMaster by Metzler right away for fire damage cleanup if you live or work in Park Ridge, IL.
If the temperature of the property exceeds 60 degrees, increase the air circulation throughout the property by opening any windows or doors.
Clean all of the following materials: Formica, porcelain, and aluminum to eliminate the spread of damage.
Replace the HVAC filter.
Cover all supply and return air registers with two layers of damp cheesecloth to trap any loose soot particles.
Place a bedsheet over all furniture to avoid floating soot particles from settling into the fabric.
Turn off the electricity before removing anything from the fridge.
Dispose of all food items that were present during the fire.
Fire Restoration – What NOT to Do
Do not touch anything that has sustained severe damage from smoke and soot. The oil from your hands can cause further damage.
Do not try to clean the smoke or soot yourself as certain chemicals can worsen the damage.
Do not try to restore any damaged furniture or upholstery.
Do not turn on any electrical appliances that have been affected during the fire.
Emergency Response
If you have experienced a property fire, do not hesitate to call ServiceMaster by Metzler immediately after the fire department.
Our technicians can save your building materials and content with 24/7 fire and smoke damage cleanup services in Park Ridge, IL and the surrounding areas at (847) 380-7888.
---
Related Smoke Removal Services
Fire Damage Restoration in Elk Grove Village, IL
Smoke Mitigation in Rosemont, IL
Fire Damage Repair in Mt. Prospect, IL
Smoke Damage Cleanup in Prospect Heights, IL
Smoke and Soot Removal in Chicago, IL
---
Recent Reviews
---