ServiceMaster by Metzler
Can I clean the damage myself?
ServiceMaster by Metzler highly recommends that you do not begin any of the cleaning yourself as any improper products and techniques used can make the situation worse. Although there are actions you can take to prevent the damage from spreading, please consult with your technician before doing so. This will ensure the most efficient and effective fire damage restoration process.
How long will it take to repair the damages?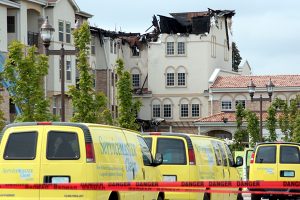 The answer will ultimately depend on the source and extent of the damage to your property. Although it is difficult to explain exactly how long the process will take, your technician will be able to provide you with an estimate after the initial inspection. They will also be able to provide you with updates along the way to keep you informed throughout the process.
Can I turn on my air conditioning or heating during the restoration process?
It really depends on the current conditions of each unit. But once they have each been inspected and cleaned thoroughly by ServiceMaster by Metzler, they will be safe to use again.
Are there any safety concerns I should be aware of?
ServiceMaster by Metzler always prioritizes the safety of its customers and technicians. In order to address these concerns, your technician will identify all safety hazards and risks during the initial inspection. They will then begin working immediately to remove the hazards, including the following: debris removal, electrical hazards, slip and trip hazards, air quality, etc. Any electrical appliances and cords that have been severely damaged will be disposed of properly, and any others that have sustained other forms of damage will be unplugged and evaluated thoroughly before approved for safe use again. Please keep in mind that the power may remain off until inspected by a licensed electrician.
How do I keep track of the items I need to throw away?
For each item that is not able to be restored, we suggest that you create an inventory of each item thrown away and provide a copy to your insurance adjuster. You can use multiple variables, including the item, quantity, cost, and year it was purchased (for non-food items).
Are there items I should keep with me?
Yes. A list has been provided below of personal possessions that should remain with you at all times during the restoration process.
Cash
Mediations/prescriptions
Valuable jewelry
Weapons/ammunition
Pets
Flammables
Gasoline cans
Checkbooks
Stamp/coin collections
Valuable artwork
Personal documents
Do I need to hire general contractors?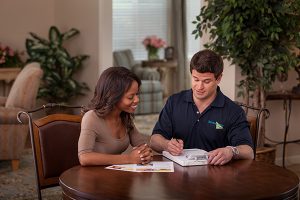 This will depend on what needs to be repaired. Please keep in mind that in some situations, it is necessary to contact sub-contractors for the following: framing/finish carpentry; door installation, electrical, plumbing, roofing, post-construction cleanup, cabinets, windows, drywall/painting, etc. Your technician will notify you if this is required for your property. If so, we will work around their schedule to allow for the most efficiency possible.
Do I need to move out of my property during the restoration process?
This is ultimately your decision. As the property owner, there are some concerns you will want to address before deciding, such as safety factors, noise from the equipment, lack of electricity and water, odors, etc. However, if you are temporarily relocating, you will want to take care of the following: forwarding mail to temporary address, suspending utilities, suspending cable/TV services, newspaper services, etc.
Do my belongings need to be moved from my property?
While we do offer pack-out services, in which we will safely pack, clean, and restore your items at our facility, this is not always necessary; this will ultimately depend upon the extent and source of the fire. However, we will work with you and your insurance adjuster, providing secure storage for these items in our climate-controlled facility.
Will I be able to access my content while it is in storage?
Absolutely. You can call the ServiceMaster by Metzler office, schedule an appointment, and access your items at a time that is convenient for you. However, please be aware that a service fee may be applied.
What about fragile items, such as heirlooms, artwork, and china?
These high-value fragile items should be cleaned by a specialist. We will work with you and your insurance adjustor to find a qualified restorer that will return these items to their original condition.
Who must pay for the service?
Ultimately, you as the property owner are responsibility for all charges incurred during the fire restoration procedures. If you have filed for an insurance claim, you are only required to pay the deductible, and the rest will be billed to your provider. Otherwise, the payment will be expected to be made in full at the time of the service. For large losses, please consider that your mortgage company and their signature may also be listed as a payee on the form.
How can I prevent fire damage in the future?
As you may have realized, experiencing a property fire can be an extremely traumatic experience. However, there are steps you can take in order to significantly decrease your chances of it happening in the future. Check out these tips on how to prevent fire and water damage to save you time and money in repair costs in the future.
---
Recent Reviews
---