Sewage Cleanup Services
Sewage and other forms of contaminated water are as dangerous to your health as they are to your building and belongings. These elements can spread diseases and viruses, as well as cause permanent damage to your personal items.
At ServiceMaster by Metzler, we offer sewage cleaning services to address these hazardous situations. Through the use of our advanced sanitization equipment and time-tested procedures, we will safely remove sewage and similar dangers, dispose of ruined materials, and sanitize salvageable areas. We offer these emergency response services on a 24 hour basis to property owners in Elk Grove Village, IL.
More Than Just Water Damage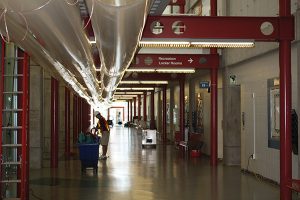 Excess water and moisture can cause quite a bit of destruction on their own. They can penetrate porous materials to cause discoloration and permanent damage. They can also lead to the growth of mold, which is a troublesome scenario in its own right. When it comes to sewage backups and other instances of uncontrolled contaminated water entering your property, the risks are far more severe.
Contaminated water and sewage can cause essentially the same issues as with typical water damage, but with added bacteria and viruses. When these materials spread, they have a much greater likelihood of completely destroying the items they come into contact with due to safety concerns. For these reasons, it is critically important to contact specialists if overflows or leaks occur on your property.
Addressing Sewage and Contaminated Water
At ServiceMaster by Metzler, we implement safe, proven, and certified procedures to return your property to a safe condition following the spread of contaminated substances. Our water extraction and drying equipment is state-of-the-art, as are our disinfectants and cleaning processes. We will eliminate any threats to your property and health, and restore affected materials to the greatest extent possible. When you choose to utilize our services, you can expect the following:
24/7 availability and a rapid response
The removal of harmful contaminants from your property
The repair of the source of the problem
Complete sanitization and decontamination services
Area drying and dehumidification
A final inspection to ensure that all problem areas have been addressed
Sewage Cleanup
Our technicians are specifically trained to handle these and similarly disastrous scenarios. We provide all of our clients with the utmost professionalism and respect. Restoring your property to its original condition is always our ultimate goal. This is true whether you are a residential or commercial property owner.
To make use of our sewage cleaning services in Elk Grove Village, IL, simply contact our ServiceMaster by Metzler representatives at (847) 380-7888. We are available 24 hours a day to answer your call, and are happy to address any questions or concerns you have. We understand that these types of situations are stressful, and do everything we can to provide you with greater peace of mind. We currently service residents of the greater Elk Grove Village, IL, area.
---
Related Sewage Cleanup Services
Sewage Removal Professionals in Chicago, IL
Sewage Backup Cleaning Experts in Prospect Heights, IL
Sewage Cleanup Services in Rosemont, IL
Sewage Contamination Cleaning in Park Ridge, IL
Sewage Backup Cleaning Company in Mt. Prospect, IL
---
Recent Reviews
---