When contaminated water enters your home or office space, a number of problems can occur. For starters, personal items and building materials can be permanently damaged, and the health of anybody exposed is automatically at risk.
At ServiceMaster by Metzler, we provide sewage cleaning services in Des Plaines, on a 24-hour basis to minimize these dangers, and restore your building to a safe and sanitary condition.
Sewage Damage and Contaminants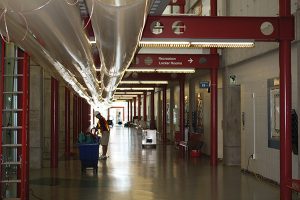 At ServiceMaster by Metzler, we offer water damage restoration and flood damage cleanup services to help with problems involving excess water and moisture that is relatively clean. In these cases, the biggest worry that property owners have is regarding the water damage that can occur to their building and its contents, as well as the possibility of mold growth due to all the excess moisture. When contaminants are involved, the situation becomes much more severe.
Sewage and contaminated water are particularly problematic because of the pathogens they carry. These viruses and bacteria can cause diseases, illnesses, and infections when individuals are exposed to them. As a result, we highly encourage you to contact professional restoration experts if you experience a sewage backup or similar event that results in contaminated water on your property. It is important that safe removal procedures are adhered to.
Safe and Effective Sewage Cleaning Services
Our ServiceMaster by Metzler technicians are among the best in the industry when it comes to safely removing harmful contaminants from properties. We take the time and effort to ensure that all of our technicians are properly trained and experienced in necessary sewage cleanup tasks before operating in the field. They must also display excellence when it comes to operating the advanced water extraction and drying equipment, and sanitization and decontamination solutions, required for the job.
The rigorous standards that we set for our technicians are designed to ensure that you only receive highly professional and effective results. Our equipment is truly state-of-the-art, and our methodologies are time-tested.
When you choose to utilize our services, you can expect the following:
24/7 emergency response capabilities
The safe removal and disposal of contaminants (this includes the fluids and permanently damaged materials)
Restoration services to address the initial cause of the problem
Decontamination and sanitation services
Dehumidification and drying of affected areas
A final inspection to guarantee an optimal result
Immediate Response for Cleanup
At ServiceMaster by Metzler, our goal is to return your property to a safe and sanitary condition, and provide you with greater peace of mind throughout the process.
To take advantage of our emergency response sewage cleaning services, you can reach our representatives at (847) 380-7888. We are available 24/7 for sewer backup emergencies.
---
Related Sewage Cleanup Services
Sewage Cleaning Services in Chicago, IL
Sewage Contamination Cleaning in Mt. Prospect, IL
Sewage Backup Cleanup Services in Elk Grove Village, IL
Sewage Backup Cleaning Company in Prospect Heights, IL
Sewage Cleanup Company in Park Ridge, IL
---
Recent Reviews
---