When winter hits the Des Plaines, IL, area, it can be harsh because of the amount of snowfall and the dangerously cold temperatures. This kind of weather provides a perfect opportunity for pipes in your home to freeze. Freezing temperatures will freeze any water inside the pipes, and the water expands in size as it turns into ice. The more the ice expands, the more pressure it places on the pipes. This pressure can then result in a pipe burst, which leads to water damage.
With our frozen pipe damage restoration services, NuEra Restoration and Remodeling helps properties affected by frozen pipe damage in Des Plaines, IL. We will clean and restore your home or building by extracting water, drying the property, and then restoring the damage.
Frozen Pipes in Illinois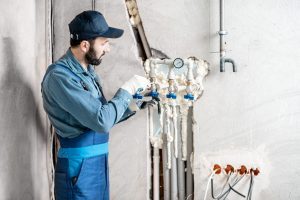 Frozen pipes usually lead to burst pipes and water damage. With the freezing temperatures common in Des Plaines and the neighboring areas, you need to watch out for any frozen pipes on your property.
If a frozen pipe bursts on your property, then you must shut off the water immediately. Once that has been done, contact us for help with our frozen pipe damage restoration services. Acting right away is crucial because the water damage will worsen with time as the water continues to spread further. Our professional technicians will use state-of-the-art equipment to conduct water and moisture extraction from drywall, wood, furnishings, and other damaged materials. Then, we continue with the restoration and make sure there's no mold growth.
Preventing Frozen Pipes
The cold temperatures you experience in the winter cannot be prevented, but you can prevent frozen pipes on your property. Use the following tips to help prevent frozen pipes:
Constant water movement in pipes prevents freezing, which can be achieved by letting your faucets drip.
Open up the cabinet doors located beneath sinks. This allows warm air to circulate near the pipes and warm them up.
Insulate vulnerable pipes with electrical tape or pipe insulation.
Heat areas with pipes that aren't insulated by using a space heater, but only if it's safe.
In the winter, shut off the water supply for the outside and take any garden hoses inside.
Thawing Frozen Pipes
If your pipes are covered in ice or frost or if there's poor water pressure, then these may be signs of a frozen pipe. In order to locate the frozen pipe and then thaw it, do the following:
You need to find which line has the pipe that is frozen.
Next, you must locate the frozen area, which you can do by tracing the pipe line.
Inspect the pipes for any bulges, frost, or ice.
To thaw the pipe, warm it by using a heat lamp or hair dryer. Do not thaw the pipe by using an open flame of any kind.
If you must, remove any drywall in order to reach the frozen pipe.
Turn on the faucet of the affected pipe line to a trickle.
No one wants to experience a pipe burst because they can result in a lot of damage. That said, do what you can to prevent frozen pipes.
Available 24/7
If a pipe does burst on your property, immediately turn off the water supply, and call (630) 656-9915 to reach NuEra Restoration and Remodeling for our frozen pipe damage restoration services in the Des Plaines, IL, area.
---
Related Services
Water Damage Cleanup from Frozen Pipes in Elk Grove Village, IL
Water Damage Restoration from Frozen Pipes in Park Ridge, IL
---
Recent Reviews
Review by Kiara Robinson
Rating

"Professionalism, Punctuality, Quality, Responsiveness, Value Clint and his team were AWESOME!!! He was very considerate of my time and space. I was very frustrated when he arrived & when he left I felt happy and relieved that my issue was resolved! He made sure to clean everything with non-toxic chemicals so that my kids would be safe, he explained everything he was doing and executed it perfectly. I had a leak in my ceiling and sewage water everywhere. He put in the time and hard work to disinfect, clean, and dry everything throughly. He was quick, efficient, and respectful! I would definitely recommend his services to anyone who has an issue in their space. Thank you Clint."
---
Review by Sara Ofenloch
Rating

"Our technician Alec came in and re-padded the carpet that had been torn up last week due to water damage. He was so friendly and talkative, and worked very quickly to get the job done! In and out within 30 minutes so that I could get on with my day. Would definitely recommend. Thanks Alec!"
---
Review by Saima I
Rating

"After our apartment flooded on Chirstmas Eve, we were worried about dry wall repairs and patches, and disgusted by the stench. NuEra handled our dry wall replacement and patching and our carpets. We didn't get a business card from the man who worked on our walls and ceilings, but he did so without his partner that day. We are so grateful! After the drywall repairs, our carpets were cleaned so thoroughly and efficiently. Alex treated the carpet and scrubbed it out well before applying the deodorizer and scrubbing that in. He even got out a bright yellow stain from the water that had leaked in. It's such a relief to no longer live in a stinky apartment! Alex and Nick were wonderful! Thank you so much!"
---
See All Reviews