ServiceMaster by Metzler
Nothing can be more damaging to a home than a fire. As we all know, they can cause devastation within a family or business, but not many individuals are aware of the details of the effects or know how to proceed after the flames are extinguished.
What Happens During and After a Fire
When a fire occurs, smoke is produced by the flames, penetrating through all building materials to affect the entire property. When this happens, it is able to cover everything in a thick, black residue that will compromise the surfaces' structure if treatment is not applied right away. Any humidity present within the home or building can also combine with smoke and cause corrosion. In addition, the damage does not stop once the flames have been put out; as long as there is still smoke lingering, it will spread to affect all surfaces until finally dissipating on its own.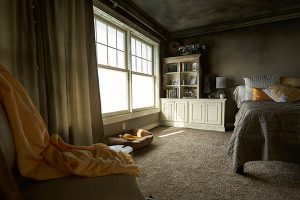 It is during this time that treatment is crucial. This is because the damage will continue to spread, causing permanent damage if not removed right away. However, ServiceMaster by Metzler is available 24/7 and is insured, licensed, and endorsed to provide fire and smoke damage restoration services. Our technicians undergo specialized training and have years of experience in fire mitigation, corrosion control, and restoration products and equipment. We also provide our specialists with advanced training to allow them remain updated on all of the latest products and cleaning techniques in order to continue providing you with the highest quality services possible.
Restoration from Property Damage
While each fire or smoke damage situation is unique, the information covered in this guide is essential and applies to the majority of all losses. On the other hand, we hope that it will provide a deeper insight and understanding of our services so you are well-informed throughout the entire process. As the property owner, you deserve clear and open communication, which is why we will also be available to answer both your questions and those of your insurance adjuster. You may also refer to our fire damage FAQ for additional help.
While it is our mission to restore as much damage conducted to your property as possible, the fire restoration procedures may require additional time and resources before completion. The determining factors will ultimately depend on the size of the fire and its source.
Replace vs. Restore Decision-Making
While it is our ultimate goal to restore as many building materials and personal items as possible, sometimes it is more cost-effective to have them replaced. Please also consider that there are some materials that cannot be fixed and replacement would be necessary. However, we will advise you and your insurance adjustor of each item that we recommend to have replaced in order to keep you informed at all times. As for the rest of the materials, we will work efficiently to have them effectively restored in a timely manner.
---
Recent Reviews
---