ServiceMaster by Metzler is a leading provider of sewage cleaning services in the Park Ridge, IL, area. Our technicians are thoroughly trained in removing hazardous materials in a safe and effective manner.
Additionally, our experience as a disaster restoration and cleaning services provider allows us to leverage advanced sanitization and restoration equipment and processes. In both residential and commercial environments, the end result is a safe, decontaminated property. We salvage as many damaged personal belongings as we can, as well.
Sewage Damage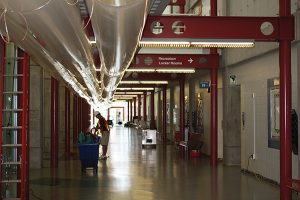 If you've worked with us in the past, you may know that we offer water damage restoration and flood cleanup services. These services are highly relatable because of the excess water and moisture involved.
Even in the case of sewage backups and leaks that involve contaminated water, you must remain mindful of the damage that water alone can cause. Porous building materials (such as wood and drywall), furnishings, and belongings can all be ruined. This damage can range from warping and discoloration to corrosion and more.
Harmful Contaminants from Sewage Backups
What makes sewage and contaminated water so dangerous are the harmful bacteria and pathogens within them; viruses, diseases, illnesses, and infections can all result from exposure to these substances. If you experience a sewage backup on your property, or face a situation that involves contaminated water, it is important that you do not attempt to clean it yourself, and that you do contact restoration experts. This is for both your short-term and long-term safety.
Sewage Cleaning Services
Our ServiceMaster by Metzler technicians are experts when it comes to removing harmful substances from properties. Through our sewage cleanup services, we utilize advanced water extraction and drying equipment, as well as procedures that are specifically designed to remove harmful contaminants in a safe way. Once these materials have been removed, we will disinfect your building and belongings, and restore affected materials to the fullest extent possible. We will dispose of elements that could not be salvaged.
For a better understanding of our complete sewage cleanup process, and what to expect overall, please read below:
24/7 emergency response capabilities
The removal of water, sewage, and other dangerous contaminants
Repair services that address the cause of the problem
The decontamination and sanitization of affected surfaces and materials
Disposal of permanently damaged surfaces and materials
Complete drying and dehumidification services to prevent future issues
A final inspection for quality assurance
Any events that involve free-flowing sewage or contaminated water are troubling. At ServiceMaster by Metzler, we do everything possible to provide you with greater peace of mind.
To leverage our sewage cleaning services, contact our representatives at (847) 380-7888. We are available 24/7 to assist property owners in Park Ridge, IL.
---
Related Sewage Cleanup Services
Sewage Removal Professionals in Chicago, IL
Sewage Backup Cleaning Experts in Prospect Heights, IL
Sewage Cleanup Services in Rosemont, IL
Sewage Contamination Cleaning in Elk Grove Village, IL
Sewage Backup Cleaning Company in Mt. Prospect, IL
---
Recent Reviews
---