(847) 380-7888
In Prospect Heights, IL, a variety of events can lead to sewage or other forms of contaminated water entering your property.
Through our sewage cleaning services here at ServiceMaster by Metzler, we utilize advanced water extraction and drying equipment, specialized sanitization solutions, and time-tested procedures to address them.
We are available 24 hours a day, 7 days a week, in order to respond rapidly and return your property to a safe condition as swiftly and effectively as possible.
Damage and Danger from Sewage Water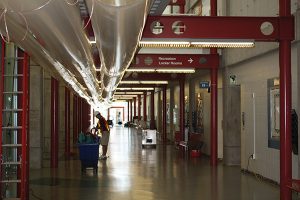 Sewage backups are the primary cause of free-flowing sewage that we address, but there are other ways in which contaminated water can put your property at risk. For example, if outside water from a flood or storm penetrates your property, there is a chance that it can already be contaminated before it enters. This is more likely in populated areas because of more cars, people, and other elements that produce various types of waste. When these situations unfold, the property is at risk of suffering from water damage, and the health of everybody inside is compromised.
The reason for the latter risk is that sewage and other forms of contaminated water are classified as biohazard material. This is because they contain pathogens that can spread diseases, viruses, infections, illnesses, and similarly troubling complications. For this reason, and because of the levels of damage your building and belongings can suffer, we highly encourage you to contact our sewage cleanup specialists.
Professional Sewage Removal Services
At ServiceMaster by Metzler, we specifically train our technicians to provide efficient, effective, and safe sewage removal procedures. This is on top of their training and experience as water damage restoration experts. This means that they are among the best in the industry at operating and applying complex water extraction and drying equipment, powerful disinfectants, and our proven methodologies. We eliminate lingering threats, and salvage as many affected areas and belongings as is safely possible.
There are a lot of components that go into a successful sewage cleanup effort. Our processes include the following:
24/7 availability to limit the extent of the damage, and return your property to a stable condition swiftly
Sewage and water extraction
The repair of the original problem
Sanitization and disinfection services to decontaminate affected areas and items
Complete odor removal services
The drying and dehumidification of your property to lower the risk of future complications
A final inspection to ensure an optimal result
Dealing with free-flowing sewage and contaminated water on your property can be extremely hazardous. We encourage you to leverage our sewage cleaning services here at ServiceMaster by Metzler. Our representatives can be reached at (847) 380-7888. We are available 24 hours a day to assist property owners in Prospect Heights, IL for professional sewage cleanup.
---
Related Sewage Cleanup Services
Sewage Cleaning Services in Elk Grove Village, IL
Sewage Cleanup Company in Mt. Prospect, IL
Sewage Cleaning Company in Rosemont, IL
Sewage Cleanup Services in Chicago, IL
Sewage Removal Services in Des Plaines, IL
---
Recent Reviews
---