Water Damage Related Info
Water is the leading cause of property damage due to the numerous amount of potential sources. Whether the damage was caused by leaking pipes, flash flooding, or overflowing sinks, it can quickly spread to affect other materials. Soaking into porous surfaces like wood, drywall, and insulation, the time and money spent in repairs continues to rise by the minute. As the humidity levels rise, mold will also start to grow and cause damage of its own.
That's why it is important to call ServiceMaster By Metzler as soon as you notice the damage. Our experienced technicians are available in the Prospect Heights, IL area and will remove all traces of excess water, repair and restore building materials, and prevent mold growth.
Water Damage Cleanup
Although water damage is common in Prospect Heights, IL, it must be taken seriously. It may evaporate but the damage left behind can ruin your property structure. But the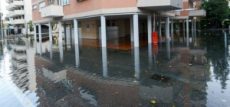 longer it is allowed to soak into building materials, the more they will rot, eventually to the point of collapse. This turns a simple cleanup project into a complicated reconstruction job.
But the experts at ServiceMaster By Metzler use advanced water extraction methods and equipment to remove all traces of excess water from homes and businesses before additional damage occurs. We contain the water to prevent it from spreading further while drying building materials and contents before developing mold growth.
Water Damage Restoration – Check Out Our Video
Call ServiceMaster by Metzler at (847) 380-7888 for water damage cleanup in Prospect Heights, IL.
Our water extraction process includes all of the following:
Assessing the extent of the damage
Finding and repairing the original source of moisture/water
Structural drying and dehumidification
Antimicrobial applications
Mold inspections and remediation (if necessary)
Water Damage Restoration – What to Do:
Call ServiceMaster by Metzler immediately if the affected property is located in or around Prospect Heights, IL.
Mop up or blot as much water as you can.
Remove photos, art, and other valuables to a safe location.
Wipe down furniture and prop up cushions to allow air to circulate.
Place aluminum foil under furniture legs to protect them from the water.
Leave books on shelves, but be sure they're packed in tightly.
If possible, open doors and windows to allow air circulation.
Slide curtain ends through coat hangers and hang them from the rods. Use clothespins or binder clips to hold up skirts on furniture.
Water Damage Cleanup – What NOT to Do:
Don't enter a room that has standing water if the electricity hasn't been turned off.
Don't touch visible mold with bare hands. It's very easy to spread the spores.
Don't remove tacked down floor coverings like carpet. Professionals can remove it without damaging the carpet or padding.
Don't use a regular household vacuum cleaner to remove standing water. It's designed to remove dry items like dust and dirt.
As water can quickly pass through a building structure, don't hesitate to call ServiceMaster By Metzler  for immediate water damage restoration services. Our highly trained professionals will arrive quickly, stop the spread of the water, and begin the drying and restoration process. This will save both time and money in the process, preventing additional damage as well as mold growth.
ServiceMaster By Metzler is available 24 hours a day, 7 days a week at (847)380-7888 in Prospect Heights, IL for emergency water damage restoration services. We also work with insurance.
---
Related Flood Cleanup Services
Water Damage Repair in Elk Grove Village, IL
Flood Extraction in Park Ridge, IL
Water Damage Mitigation in Rosemont, IL
Water Damage Cleanup in Des Plaines, IL
Flood Cleanup in Mt. Prospect, IL
---
Recent Reviews
---