ServiceMaster by Metzler
Water Damage Related Info
ServiceMaster by Metzler would first like to thank you for choosing us during a time of emergency. While we are forever grateful to have a strong reputation in the Elk Grove Village, IL area, we take pride in providing quality services by technicians that are specially trained and experienced.
We also treat every water and fire damage job as an emergency in order to prevent the damage from spreading and have the property restored as quickly as possible. While this may be your first major water loss, the experienced technicians have been providing water damage cleanup services for over 25 years.
Our Water Restoration Services
As we take each job incredibly seriously, we handle commercial and residential properties of all sizes in order to provide some relief for business and home owners. With our services, we guarantee that the home or building will be restored to its original condition as soon as possible. Below you can find the list of procedures that are included in our water damage restoration service while each area of your property will be inspected thoroughly to determine if any of the following are needed.
Of course, your property may not require all services listed; however, for the ones that are needed, we have provided a brief description of each to allow for a better understanding of the service. If you would like additional information about the required service, please do not hesitate to consult with your technician as they have years of experience in performing these services. During non-business hours, feel free to check out our water cleanup FAQ page listed above to have all general questions answered regarding our services.
Identifying the Source and Preventing Water Damage from Spreading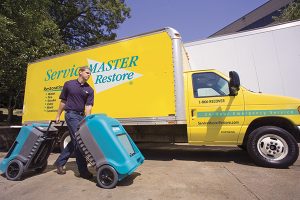 Upon the arrival of your technician, they will begin the services with a thorough examination of each affected area of your property, preventing the damage from spreading any further. You can also check out how to prevent water damage in the future by taking simple steps to greatly reduce your chances of experiencing this problem in the future. But once all of the affected areas have been properly identified and secured, your technician will find the source of the water damage using the following tools: sensors, moisture-detection meters, and probes.
A custom plan will then be developed in order to restore your property as quickly and efficiently as possible. If an insurance claim was filed, please keep in mind that we cannot begin any work until we have received clearance from them that they have gathered all evidence.
Flood Cleanup Checklist
√ Inspect the attic. As roofs may have leaks every now and then, you may not have noticed water damage until it has spread to cause severe damage within the building materials. Any wet insulation will need to be removed and replaced while the technician works to restore the structure.
√ Inspect the basement. While it may be hard to miss water damage in the basement, any water from rain or thunderstorms may have seeped within the foundation and caused water damage. The technician will inspect all cracks and openings thoroughly.
√ Inspect the air duct system. While the ducts of your home or building may contain dust and debris, if they become wet, severe damage and blockages can occur within your system. Your water damage technician will inspect them thoroughly to determine if they have been damaged.
√ Inspect the crawlspace. Known for being a great storage space, water is easily able to seep in and cause significant damage to the walls, floor, ceiling, and even your belongings. The technician will inspect this area thoroughly.
√ Preventing damage to household belongings. If needed, ServiceMaster by Metzler will provide content cleaning services in addition to water restoration services to ensure that your belongings are cleaned and do not sustain permanent damage. We will also provide pack-out services in which we will transport and clean your belongings at our facility if the condition of your property does not allow for proper restoration.
√ Water mitigation. Once all areas have been inspected, all excess water will be extracted into our truck-mounted system. Then our advanced drying equipment will be set up to enhance the drying process and remove any remaining moisture.
Flooring Material Examination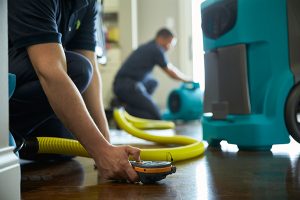 √ Tile. Dry in place or replace (the material has been too greatly damaged to be repaired (a replacement is necessary).
√ Laminate. Dry in place or replace (the material has been too greatly damaged to be repaired (a replacement is necessary).
√ Vinyl. Dry in place or replace (the material has been too greatly damaged to be repaired (a replacement is necessary).
Cabinet, Wall, and Ceiling Inspection
√ Inspect the cabinets. Because there is no insulation within cabinets, they can easily become damaged by water. They will be inspected thoroughly by your water damage technician. If they do need to be restored, we may drill holes to allow for proper air circulation.
√ Remove the doors from the hinges. In order to allow for better air flow, the door may need to be taken off its hinges temporarily.
√ Remove the drywall/sheetrock. This is a porous material, meaning that it contains tiny holes that allow water to soak in and cause severe damage. The drywall may need to be replaced, depending on the extent of the damage.
√ Drill holes in sheetrock/walls/ceilings for proper air flow. In order to prohibit microbial and mold growth within these materials, it may be required to drill holes to allow for better air circulation.
√ Remove the baseboards. Depending on the type of the building material, it may be necessary to remove the baseboards in order to allow the wall behind it to dry thoroughly.
√ Apply anti-microbial spray. While the advanced drying equipment will speed up the drying process, microbial growth may still be present within the drying materials. In order to eliminate them completely, ServiceMaster by Metzler will apply an anti-microbial chemical.
√ Deodorization. Although this is not to be confused with mold, there may be a strange smell coming from the drying building materials. If this bothers you, we can apply deodorizers to have it removed; however, it should go away on its own.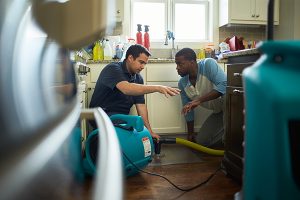 √ Install high-velocity air movers (drying equipment). This machine will allow for better air flow and extract the moisture from the building materials and into the air. A few may be needed depending on the extent of the damage.
√ Install dehumidifiers. Once the high-velocity air movers have extracted the moisture into the air, this machine will evaporate it to ensure it does not damage the ceiling.
√ Additional appointment schedule. In order to monitor the drying process thoroughly, additional appointments may be needed, depending on the extent of the damage. This will include: monitoring the drying equipment and temperature and moisture levels, re-positioning the equipment, and inspecting the progress of the drying materials. You can call our facility to schedule additional appointments for your technician to return during business hours.
√ Other.
Carpet Examination
√ In place drying. The carpet has not received significant damage, so it does not need to be removed to be dried properly.
√ Opening of seams. Remove the carpet and threshold from the tack strip. If the carpet has been significantly damaged, it may need to be removed in order to dry faster and allow for proper air flow to the padding underneath.
√ Remove the padding. If the carpet pad has been severely affected, it may need to be removed. This will prevent microbial growth during the drying process.
√ Remove unsalvageable carpeting. If the carpet has been greatly damaged, it cannot be restored effectively. A replacement would be necessary and even more affordable.
---
Recent Reviews
---