ServiceMaster by Metzler
Water Damage Related Info
If you have experienced significant water damage or flooding within your home or building, you must call ServiceMaster by Metzler right away in order prevent the damage from spreading and have it restored effectively. When water affects the building materials, it will always flow to the areas of least resistance, which is usually between the floorboards.
Your subfloors and baseboards will then become damaged and it will be difficult to dry them completely, unless they are restored right away. However, if they are not treated quickly, they will become delaminated at the seams, swelled, and discolored. Over time, they will even start to dissolve, spreading to other areas, including the ceiling when the moisture evaporates into the air.
Installation of Advanced Drying Equipment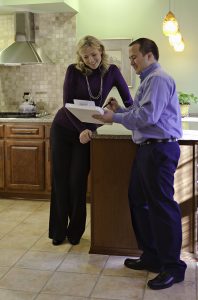 The technicians at ServiceMaster by Metzler have years of experience and training when it comes to completely drying out the building structure. In addition, we use a combination of high-velocity air movers and dehumidifiers in order to thoroughly dry out all materials. We also hold frequent training sessions in which our technicians remain updated on the latest cleaning and restoration methods in the industry. This is to maintain the quality of our services and continue providing clients with some peace of mind. As your satisfaction is our ultimate goal, we strive to continue providing high quality water damage restoration services in the Elk Grove Village, IL area.
The information provided in this description of our drying process will not include details for specific cases, rather, focus on the breakdown of the process as a whole. If you have any questions regarding our water cleanup service, please refer to our water damage repair FAQ page to have any general questions answered that are related to water damage.
Finally, our drying process consists of 4 main steps when it comes to removing all excess moisture within your building materials.
Step 1: Emergency Service
When ServiceMaster by Metzler arrives after the first call, your technician will first provide you with an Authorization of Services form. This is a formal agreement between you and ServiceMaster by Metzler that explains the performance of our services in exchange for your payment. After it has been signed, the technicians will begin working immediately to assess the damage of the building materials. All areas will be identified upon the first visit, determining whether they should be dried in place or removed for enhanced drying. Please keep in mind that we will try to restore all materials; however, it may be more cost-effective to have them replaced. When this occurs, we will order a similar unit of the same quality, size, and thickness. For thick carpeting that is able to be restored, it still may need to be removed in order to enhance the drying process.
In the case that the materials have been contaminated by sewage water, all porous materials, including insulation, carpeting, wood, and drywall will be disposed of immediately. All other hard surfaces will be sanitized and restored after the sewage water has been extracted.
Examination of the Affected Building Materials
When guaranteeing maximum effectiveness and efficiency, additional appointments may be necessary in order to monitor the moisture and temperature levels as well as the drying equipment. You can schedule appointments with the ServiceMaster by Metzler office to set up appointments during business hours that accommodate your schedule.
Step 2: Reinstallation/Repairs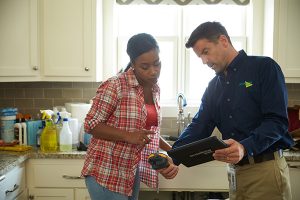 When it is time for the carpet to be reinstalled, the padding may need to be replaced. It will need to be: restretched, attached to the tack strip, repaired at the seam, and the threshold will need to be replaced. In order to prevent the growth of microbials and other bacteria, it will be effectively deodorized and sanitized when dried in place. The drying equipment will then be removed when this is finished.
Step 3: Building Material Restoration
When the building materials have been severely damaged by water, they will first be assessed by the technician. Please keep in mind that some materials, such as the baseboards, doors, and furniture may need to be removed temporarily in order to enhance the drying process of the underlying materials. For more information about the restoration of building materials, please visit our water restoration checklist to see a complete list of the procedures that need to be performed.
Step 4: Water Damage Prevention
While this step is not required, it can save thousands of dollars by preventing a large loss from occurring in the future. Please check out our guide to learn how you can prevent water damage in the future in order to save time, money, and a huge headache down the road.
---
Recent Reviews
---