ServiceMaster by Metzler
Water Damage Related Info
What will happen to my wet contents and furniture?
Any wet contents will be restored using our content cleaning services. If the condition of your property does not allow for the proper restoration on-site, they will be safely packed and transported to our facility for complete cleaning. But for any belongings that are unsalvageable, our technician will work with you and your insurance claims agent in finding a replacement.
Should I move elsewhere during the restoration process?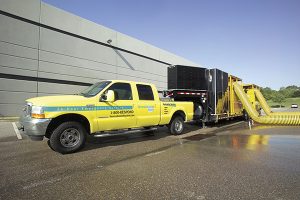 While there are inconveniences presented by the drying equipment, it is not required for you to move out of your property. Although there are conditions that you will want to consider that will be affected by your decision. If you decide to stay in your property, please be mindful that the drying equipment may be noisy and create drafty conditions. In addition, the drying materials will naturally produce a strange odor, although it is not to be confused with mold. If you decide to relocate, consider the following: suspending newspaper, cable, and other utility services as well as forwarding mail to your temporary address.
How long will it take my materials to dry?
Typically, the process will last between 3 and 5 days; however, for larger properties and severe damage, the process may last up to 2 weeks. For a complete breakdown and description of our procedures, please visit our water restoration checklist. The duration of the services will depend upon a variety of factors:
Current weather conditions
Duration of water extraction services
Extent of the damage
Location of the damage
Although our specialists have years of experience in restoring building materials, please understand that they need time in order to have all building materials returned to their original conditions. Also keep in mind that while some surfaces may feel dry to the touch, they may still be wet underneath. Our measuring equipment will allow the technician to determine when everything has been effectively dried.
How will I know when everything is dry?
Our advanced drying equipment and measurement tools have allowed our technicians to determine when exactly everything is dry underneath all surfaces. Keep in mind that although everything may feel dry to the touch, the building materials underneath may still contain excess moisture. While drying times ultimately depend on the current condition of your property, it is important to leave the drying equipment on at all times. If it does turn off for any reason, please notify ServiceMaster by Metzler right away.
Will increasing the temperature speed up the drying process?
Not necessarily. The technician will create the perfect environment for drying within your home or building and will have already set optimal temperatures. Our drying equipment and products will also enhance the drying process. However, we do ask that all units remain unchanged during this time to allow for the fastest drying time possible.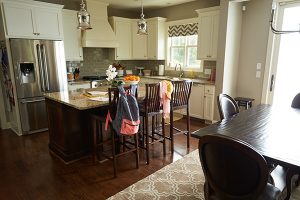 If my ceilings are wet, how can they be restored?
A section of the ceiling may need to be removed to allow for proper air flow throughout the space. Also, any wet insulation will need to be removed and replaced.
What is that smell?
Odors are a natural part of the drying process. While they are not to be confused with mold, they will dissipate on their own; however, your technicians can apply a deodorizer if this is bothering you.
Is it OK to walk on wet carpet while it is drying?
If you do need to walk on it, please wear shoes to prevent any negative health effects from occurring. However, we recommend keeping all foot traffic on this area to a minimum.
Should I open the windows to allow for proper drying conditions?
Your ServiceMaster by Metzler technician will let you know if this will help the drying process. Although it may not be raining outside, any humidity may bring in additional moisture and prolong the drying process.
What is the cost of running the equipment?
This will ultimately depend on your electrical company. Typically, the cost to run the drying equipment is $1 per day per machine. But if you would like to see exact rates, you can contact your local electric provider.
Sewage Contamination
What do I do if my materials have been contaminated by sewage water?
All hard surfaces and non-porous materials will be cleaned and sanitized effectively. Any porous materials, including sheetrock, wood, fabric, and insulation will be removed and thrown away during the initial visit. Replacements will then be ordered and installed by your technician.
Floor Coverings and Carpeting
Who will install the drying equipment?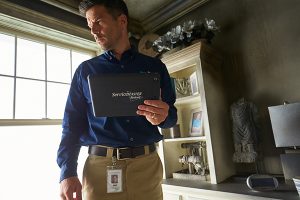 Your technician is responsible for installing the advanced drying equipment in addition to creating the perfect conditions that will enhance the drying process. They may also need to come back to monitor the progress. You can schedule additional appointments with our facility at times that work best for you.
Can my carpet be restored or replaced?
It will ultimately depend on the condition of the flooring. Please consider that a replacement may be required if your carpet has incurred any of the following damages:
Delamination
Permanent stains (food, dirt, red wine, etc.)
Loss of adhesion (excessive exposure to water or the carpet is old)
The carpeting is covering water-damage wood flooring (to restore the flooring)
What will happen to my specialty floors?
Your technician will do a complete inspection of the specialty floors and decide whether or not they will be restored or replaced. In the event that they can be restored, our high-velocity air movers and dehumidifiers will enhance the drying process when returning them to their pre-existing conditions. However, wood floors with a urethane finish can last up to 3 weeks in order to be effectively dried. If the situation is sensitive to cost, the technician will work with you and your insurance claims agent and help you decide whether restoration or replacement is best.
Payment of Services
Who is responsible for the payment of the services?
You as the owner of the property are primarily responsible for the payment of the services. If an insurance claim was filed, the deductible will be due during the service and the rest will be sent to your insurance company. Otherwise, the full payment will be expected at the time of the service. In the case of a large loss, your mortgage company may also be listed as a payee on the form. Their signature will also be required before the technicians can begin any work.
Water Damage Prevention
Is there anything I can do to prevent this from happening in the future?
Of course. ServiceMaster by Metzler has created a guide containing simple steps that can be taken in order to save thousands of dollars and hours in repairs in the future. Please visit our water damage prevention guide.
---
Recent Reviews
---