Water damage should always be treated as an emergency situation because it has the potential to spread undetected and cause extensive structural damage or mold growth.  There are many factors within a home that can lead to water damage such as plumbing leaks, sump pump overflows, and burst pipes in addition to weather conditions including heavy rain and flooding.  NuEra Restoration and Remodeling provides water damage restoration services in Schaumburg, IL to extract excess water and moisture from homes and businesses as well as clean up and restore the resulting damage.  Each of our technicians is IICRC certified to handle all levels of water damage using the best extraction and drying equipment in the industry.
Once excess water or moisture gets inside, it continuously spreads throughout the home or building by traveling through porous building materials such as drywall, wood, and insulation.  This allows water to penetrate floors, walls, and ceilings which results in significant structural damage including swelling, delamination of flooring, and discoloration.  Property damage is not the only consequence of excess water or moisture, it also creates the right conditions for mold or mildew growth which can cause additional damage and negative health reactions.
Water Damage Cleanup and Repair
The technicians of NuEra Restoration and Remodeling have the certification, experience, and equipment to provide effective water damage restoration services with the following steps:
Initial Inspection and Assessment: We start by doing a walkthrough of your property to determine the extent of the water damage and how deeply the water has been absorbed using non-invasive moisture meters. We will also take pictures of the damage and save any broken parts that may have caused the damage for you and your insurance company.  After determining the type of water damage, we will create an appropriate restoration plan.
Water Extraction: Our technicians remove excess water and moisture by extraction which is faster and more effective than dehumidification. We make sure to extract all water from the structural elements and furnishings in your home or building to salvage as much as possible, and we may also have to remove materials such as baseboards and carpet padding for more efficient drying.
Installation of Drying Equipment: We strategically place air movers throughout the home or building to evaporate excess moisture as well as dehumidifiers to extract moisture from the air. This is a very important part of the restoration process to prevent mold growth and further damage and it takes about 2 to 3 days.
Monitoring of Drying Equipment: After placing the air movers and dehumidifiers in your home or building, we will return each day to check the progress. We take moisture readings which is a common insurance requirement and rearrange the drying equipment if necessary to ensure proper drying.
Residential and Commerical Water Damage Restoration Projects that we cover:
Frozen And Burst Pipes
Ceiling And Wall Water Cleanup
Sewage Cleanup
Sump Pump Cleanup
Crawlspace Encapsulation
Storm Recovery
Flood Damage Cleanup
Water Extraction & Drying
Flooded Basement Restoration And Cleanup
Any other Water Damage Cleanup requests
Watch RestorationMaster Video for more information on water damage repair
What to Do for Water Damage
Try and find the source of the water or moisture and stop it if you can. For plumbing leaks or burst pipes, you may need to shut off your water supply.
Mop or blot dry affected areas to remove water.
Put drapes through a coat hanger and put the hanger on the rod to keep them off the wet floor. You should also remove wet area rugs and other non-permanent flooring.
Wipe excess water from your wet furniture and put aluminum foil under furniture legs to protect your flooring.
Put paintings, photos, and other similar objects somewhere dry and safe.
Take pictures of all damaged property for insurance purposes.
What NOT to Do for Water Damage
Do not try to remove water with a regular vacuum cleaner.
Do not use electrical appliances if you are standing on a wet floor.
Do not walk into rooms with standing water unless the power has been shut off.
Do not try to remove permanent carpeting, this is better left to professionals.
Water Damage Insurance Claim
In the event of an unfortunate disaster like a flood or sewage overflow, you have the opportunity to file an insurance claim, and our experts will provide comprehensive assistance throughout the entire procedure. Nonetheless, if you find yourself without current home insurance, NuEra is here to offer aid through our zero-interest financing solution. This distinctive option provides significant perks and advantages to every one of our clients. Our adaptable payment plans are designed to suit diverse budgets, transforming a worrisome situation into a reassured state of mind.
Contact NuEra Restoration for Water Damage Restoration in Schaumburg, IL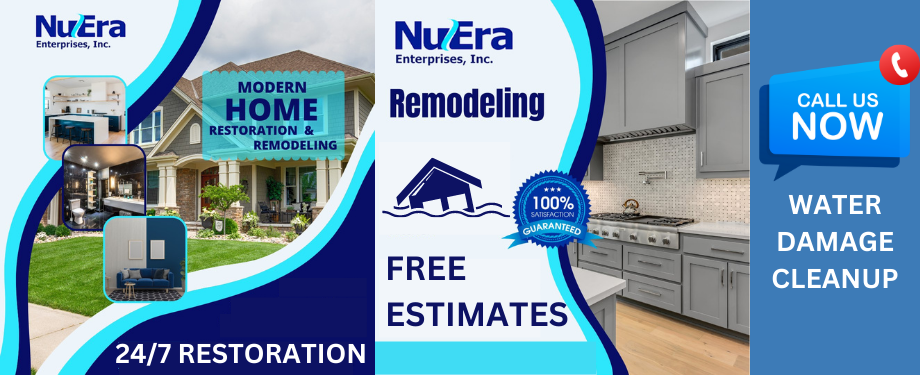 If you experience water damage in your home or building in Schaumburg, IL, you must contact NuEra Restoration and Remodeling immediately to prevent significant damage or mold growth from its spread.  We will effectively contain the damage and remove excess water and moisture using the best water extraction and drying equipment available.  You can call us 24 hours a day at (630) 656-9915 for water damage restoration services in Schaumburg, IL.
---
Related Water Damage Repair Services
Flood Mitigation in Des Plaines, IL
Water Damage Extraction  in Downers Grove, IL
Water Damage Repair in Mt. Prospect, IL
Water Damage Cleanup Team in Elk Grove Village, IL
---
Information and Tips on Water Damage
IICRC Certification (Institute of Inspection Cleaning and Restoration Certification) is a certification for water damage professionals. Water damage restoration is a significant undertaking, and you would want to entrust it to a qualified water damage cleanup expert. NuEra Restoration and Remodeling is an IICRC-certified water damage restoration company. This certification ensures that the chosen expert adheres to industry standards and possesses the necessary skills and expertise to handle the complexities of water damage restoration. The benefits of hiring an IICR-certified water damage repair experts include:
Their ability to work under pressure
Their Knowledge of handling advanced equipment
Their capability to handle large-scale projects
Their open communication
Their ability to answer all your questions
Water damage poses a significant threat to any property, as it has the potential to cause widespread and substantial harm. While certain individuals might believe they can address minor instances of water damage independently, it's important to recognize the severity of the situation. This recognition becomes even more critical when the water damage involves sewage. In such cases, attempting to handle the damage on your own is strongly discouraged due to the inherent risks associated with sewage-contaminated water.
In light of the ongoing flooding incidents in the Midwestern regions, it becomes imperative to adopt a comprehensive approach to flood prevention. Thanks to the availability of advanced technology, we now possess the means to anticipate and detect floods before they occur. This prompts us to delve into the mechanisms behind flood measurement and the assessment of its potential severity. To gain a deeper understanding of these aspects, consider exploring these tips.
---
What causes water damage in homes or commercial properties?
Roof and Wall Leaks: If your roof or ceiling is old, or there are construction errors, the rainwater can penetrate and seep into the structure causing water damage.
Flooding, Groundwater & Sewage: Severe weather, rising groundwater, or sewage backups can lead to flooding, causing substantial water damage.
Appliance Leaks: Malfunctioning appliances like dishwashers or washing machines can leak water, damaging floors and nearby structures.
Plumbing Leaks: Damaged pipes, corroded fittings, or burst plumbing can result in leaks, leading to water damage in your kitchen and bathrooms.
HVAC Failures: When heating, ventilation, and air conditioning systems fail, they can release excess moisture, contributing to water damage in the building.
How quickly should water damage be addressed to prevent further damage?
The sooner the better. It is best to have the water damage restored by a professional within the first 24 to 48 hours. NuEra Restoration and Remodeling can completely dry out your property and remove all types of damage even if it is old water damage that has been left unresolved.
What are the common signs of water damage in a property?
Stains on the Walls and Ceilings: Water stains appear as discolored patches on walls and ceilings, indicating prior or ongoing moisture issues.
Flaking or Peeling Paint: Paint that peels or flakes off may be a result of water penetrating the surface, compromising the adhesion.
Soft or Swollen Drywall: A drywall that feels soft or appears swollen is a clear sign of water absorption and potential structural damage.
Warped Walls: Walls that exhibit unusual curves or distortions may be warped due to water exposure.
A Strange or Musty Smell in the House: A musty or unpleasant odor in your home can suggest hidden water damage and mold growth.
Mold on Your Baseboards and Walls: The presence of mold on baseboards and walls is a strong indication of excess moisture, which can lead to further damage and health concerns.
Why and How People Choose a Professional Contractor After a Home Disaster?
---
Recent Reviews
Review by Kiara Robinson
Rating

"Professionalism, Punctuality, Quality, Responsiveness, Value Clint and his team were AWESOME!!! He was very considerate of my time and space. I was very frustrated when he arrived & when he left I felt happy and relieved that my issue was resolved! He made sure to clean everything with non-toxic chemicals so that my kids would be safe, he explained everything he was doing and executed it perfectly. I had a leak in my ceiling and sewage water everywhere. He put in the time and hard work to disinfect, clean, and dry everything throughly. He was quick, efficient, and respectful! I would definitely recommend his services to anyone who has an issue in their space. Thank you Clint."
---
Review by Sara Ofenloch
Rating

"Our technician Alec came in and re-padded the carpet that had been torn up last week due to water damage. He was so friendly and talkative, and worked very quickly to get the job done! In and out within 30 minutes so that I could get on with my day. Would definitely recommend. Thanks Alec!"
---
Review by Saima I
Rating

"After our apartment flooded on Chirstmas Eve, we were worried about dry wall repairs and patches, and disgusted by the stench. NuEra handled our dry wall replacement and patching and our carpets. We didn't get a business card from the man who worked on our walls and ceilings, but he did so without his partner that day. We are so grateful! After the drywall repairs, our carpets were cleaned so thoroughly and efficiently. Alex treated the carpet and scrubbed it out well before applying the deodorizer and scrubbing that in. He even got out a bright yellow stain from the water that had leaked in. It's such a relief to no longer live in a stinky apartment! Alex and Nick were wonderful! Thank you so much!"
---
See All Reviews