(847) 983-7400
Water damage should always be treated as an emergency situation because it has the potential to spread undetected and cause extensive structural damage or mold growth.  There are many factors within a home that can lead to water damage such as plumbing leaks, sump pump overflows, and burst pipes in addition to weather conditions including heavy rain and flooding.  ServiceMaster DAK provides water damage restoration services in Schaumburg, IL to extract excess water and moisture from homes and business as well as clean up and restore the resulting damage.  Each of our technicians are IICRC certified to handle all levels of water damage using the best extraction and drying equipment of the industry.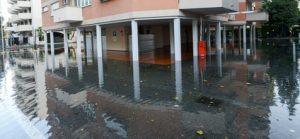 Once excess water or moisture gets inside, it continuously spreads throughout the home or building by traveling through porous building materials such as drywall, wood, and insulation.  This allows water to penetrate floors, walls, and ceilings which results in significant structural damage including swelling, delamination of flooring, and discoloration.  Property damage is not the only consequence of excess water or moisture, it also creates the right conditions for mold or mildew growth which can cause additional damage and negative health reactions.
The technicians of ServiceMaster DAK have the certification, experience, and equipment to provide effective water damage restoration services with the following steps:
Initial Inspection and Assessment: We start by doing a walkthrough of your property to determine the extent of the water damage and how deeply the water has been absorbed using non-invasive moisture meters. We will also take pictures of the damage and save any broken parts that may have caused the damage for you and your insurance company.  After determining the type of water damage, we will create an appropriate restoration plan.
Water Extraction: Our technicians remove excess water and moisture by extraction which is faster and more effective than dehumidification. We make sure to extract all water from the structural elements and furnishings in your home or building to salvage as much as possible, and we may also have to remove materials such as baseboards and carpet padding for more efficient drying.
Installation of Drying Equipment: We strategically place air movers throughout the home or building to evaporate excess moisture as well as dehumidifiers to extract moisture from the air. This is a very important part of the restoration process to prevent mold growth and further damage and it takes about 2 to 3 days.
Monitoring of Drying Equipment: After placing the air movers and dehumidifiers in your home or building, we will return each day to check the progress. We take moisture readings which is a common insurance requirement and rearrange the drying equipment if necessary to ensure proper drying.
What to Do for Water Damage
Try and find the source of the water or moisture and stop it if you can. For plumbing leaks or burst pipes, you may need to shut off your water supply.
Mop or blot dry affected areas to remove water.
Put drapes through a coat hanger and put the hanger on the rod to keep them off the wet floor. You should also remove wet area rugs and other non-permanent flooring.
Wipe excess water from your wet furniture and put aluminum foil under furniture legs to protect your flooring.
Put paintings, photos, and other similar objects somewhere dry and safe.
Take pictures of all damaged property for insurance purposes.
What NOT to Do
Do not try to remove water with a regular vacuum cleaner.
Do not use electrical appliances if you are standing on a wet floor.
Do not walk into rooms with standing water unless the power has been shut off.
Do not try to remove permanent carpeting, this is better left to professionals.
If you experience water damage in your home or building in Schaumburg, IL, you must contact ServiceMaster DAK immediately to prevent significant damage or mold growth from its spread.  We will effectively contain the damage and remove excess water and moisture using the best water extraction and drying equipment available.  You can call us 24 hours a day at (847) 983-7400 for water damage restoration services in Schaumburg, IL.
---
Recent Reviews
January 7, 2020
Very thorough clean up! The men were very professional and competent! They arrived on time for 5 days and were very pleasant and respectful of my home always wearing "booties" when entering. The room was left immaculate and debris removed in plastic bags day 1. The fans were checked daily until the room was dry. Very good service! Recommending Brian Brown and Gabriel who did a great job!
---