(847) 983-7400
Hoarding is a complicated issue that can have very serious effects for the hoarder as well as their family and friends.  It is considered a mental disorder that is caused by underlying anxiety issues and in most cases, those affected lose the ability to throw away or part with any item they have collected in their home.  This allows for an accumulation of hoarded items that will block areas of the home, increase the risk of fire, and create conditions for mold and mildew to grow which can have negative health effects.  ServiceMaster DAK provides hoarding cleaning services to help remove hoarded items as well as clean and restore the homes of those who struggle with hoarding in Schaumburg, IL.  We can help the individual make decisions regarding what items to keep and we will disinfect and rearrange the home to restore clean, safe living conditions.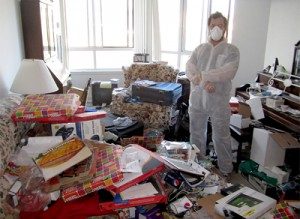 People who are affected by hoarding allow all types of objects including newspapers, food products, and sometimes animals to collect in their homes because the anxiety behind hoarding behaviors prevents them from throwing anything away.  This creates a mess in the home that is often embarrassing to the affected individual and hazardous for the health and safety of those within.  Hoarded items and other debris create the right conditions for mold, bacteria, and other harmful materials to thrive which can cause allergic reactions or illnesses among those who are exposed.  This makes it crucial to reach out to someone who struggles with hoarding issues to help them restore the home before the situation becomes too dangerous.  Individuals who struggle with hoarding do not normally reach out for help on their own and often need a close friend or family member to intervene.
At ServiceMaster DAK, our technicians have the certification and equipment to fully clean and restore the homes of hoarders, regardless of the condition of the home.  We will remove unwanted objects and debris while saving valuable items as well as completely clean and sanitize the home to restore safe living conditions.  We understand that hoarding is a sensitive issue and we make sure to build a personal connection with the affected individual based on trust and involve the individual in the cleaning process.  Our hoarding cleaning services include the following basic steps:
Salvaging jewelry, photos, and other valuable or sentimental objects
Assistance with decisions on whether to keep, throw away, donate, or recycle hoarded items
Disposal or donation of unwanted items
Help delivering unwanted items to friends or family members
Help with necessary paperwork from attorneys, trusts, and government agencies
Hoarding Cleaning Services from ServiceMaster DAK
ServiceMaster DAK uses a new approach to hoarding cleaning that was created by ServiceMaster Restore and the host of Hoarders Matt Paxton.  The point of this approach is to establish a personal connection with the affected individual to earn their trust and then create and implement a cleaning plan with their help and participation.  This three phase hoarding cleaning approach includes the following steps:
Phase 1: Building a Personal Connection
We attempt to understand the scope of the problem before actually entering the home.
We build a personal connection with the individual to earn their trust and respect.
We begin forming a cleaning plan with the individual and their family. If necessary, we will refer the individual to a professional counselor at this stage.
Phase 2: Implementation of the Cleaning Plan
We finalize the cleaning plan with the individual.
We will remove unwanted items and debris and rearrange what is left in the home.
We will provide assistance with the decision of what to do with each item while leaving the final say to the individual.
Phase 3: Follow Up
We help create a cleaning plan that the individual can follow after we finish to keep their home clean.
We do phone call follow ups to check and see if the cleaning plan is being followed. Our technicians will return to the home if more cleaning is needed.
We keep the individual involved and in control of the process.
Hoarding is a difficult issue to deal with and it has very dangerous consequences for those affected and their families.  If someone you know in the Schaumburg, IL area is affected by hoarding, reach out to them and call ServiceMaster DAK for our hoarding cleaning services.  We can effectively clean out and disinfect the home while keeping the individual involved in the process.  You can call us anytime at (847) 983-7400 to learn more about our hoarding cleaning process.
---
Recent Reviews
January 7, 2020
Very thorough clean up! The men were very professional and competent! They arrived on time for 5 days and were very pleasant and respectful of my home always wearing "booties" when entering. The room was left immaculate and debris removed in plastic bags day 1. The fans were checked daily until the room was dry. Very good service! Recommending Brian Brown and Gabriel who did a great job!
---