(630) 656-9915
In a home or office, the carpeting and furniture make up a large part of the appearance of the space and when the carpet or upholstery becomes dirty or worn out, it can affect the look of the room.  The carpet fibers and upholstery fabric can trap debris such as dirt, dust, odors, and other microorganisms in the fabric that not only diminish its look, but also contribute to deterioration.  Regular vacuuming of your carpet and furniture helps to reduce this debris but cannot remove the most deeply embedded debris.  NuEra Restoration and Remodeling provides professional carpet and upholstery cleaning services to clean and restore furniture and carpeting in homes and businesses in Schaumburg, IL.  We use advanced cleaning methods and equipment to safely and effectively deep clean all types of carpeting and upholstery fabric.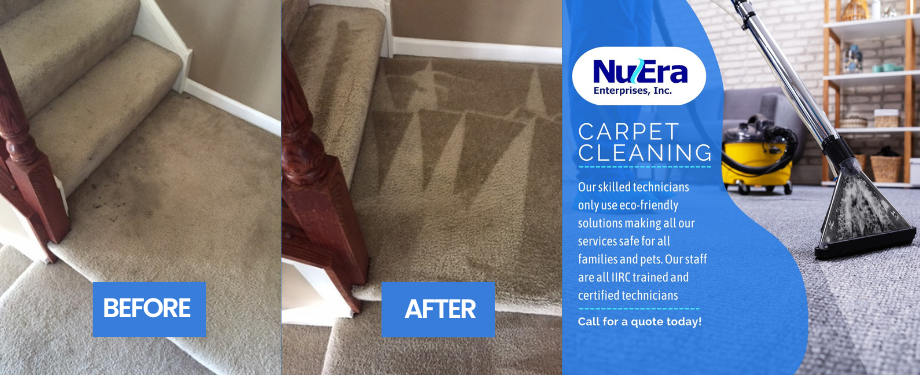 Professional Carpet Cleaning
The carpet experiences the most use and abuse of any of your furnishings as daily foot traffic results in a consistent accumulation of dirt and debris in the fibers.  High traffic areas are especially susceptible to excessive wear and tear and failure to adequately maintain the carpet could lead to deterioration.  We start by treating all spots and stains with our cleaning products and then clean the entire carpet using the hot water extraction method.
Hot water extraction is done with truck-mounted cleaning equipment in which a solution of hot water and detergent is applied directly to the carpet through a cleaning wand and immediately extracted back out, removing embedded dirt and debris with it.  This solution is deposited into a holding tank on the truck through a hose.  After completing the cleaning process, we will groom the fibers to help it dry better and apply Scotchgard protection if requested.  The hot water extraction method is very effective for removing deeply embedded debris and it can also restore the original look of the carpet.
Upholstery Cleaning Services
The upholstery fabric on the furniture in an office or commercial space experiences consistent direct contact that causes it to gather dirt and debris in the fabric.  The embedded dirt and debris can drastically affect the look of the furniture and solid debris can be abrasive against the upholstery fabric with direct contact which contributes to deterioration.  We use the hot water extraction method to fully clean and restore all types of upholstery fabric for furniture in homes and commercial settings.  This cleaning method is safe for all upholstery types and has a fast drying time so you can use your furniture again within one day of the cleaning.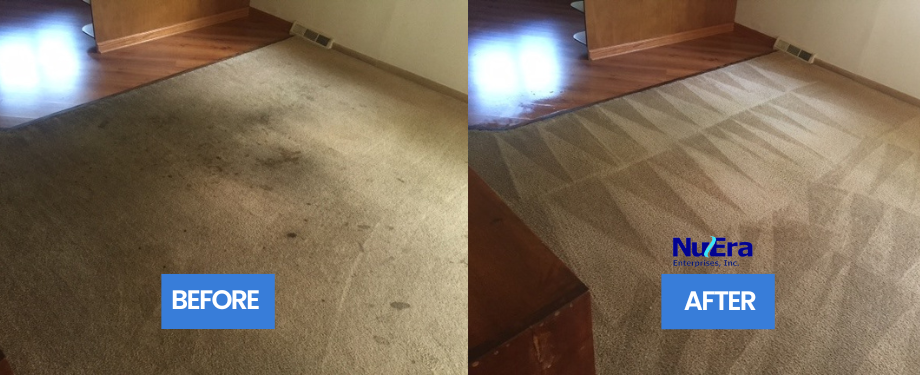 Call Now for Carpet and Upholstery Cleaning in Schaumburg, IL
If the carpeting or upholstery in your home or office in Schaumburg, IL appears dirty or worn out, make sure you contact NuEra Restoration and Remodeling for professional carpet and upholstery cleaning services.  We can effectively clean all types of carpeting and upholstery with our advanced cleaning methods which will revitalize its look and help give it a longer life.  You can call us 24 hours a day at (630) 656-9915 to learn more about these services or to schedule an appointment.
---
Related Carpet Cleaning Services
Carpet Cleaning Company in Elk Grove Village, IL
Mt. Prospect, IL Experienced Carpet Cleaning
Rug and Upholstery Cleaning in Des Plaines, IL
---
Frequently Asked Questions about Carpet Cleaning
Should I vacuum after carpet cleaning?
You should only vacuum if your carpet is completely dried out. If you vacuum the carpet while it is still wet, the dirt and debris from the vacuum may transfer to the carpet.
What not to do after carpet cleaning?
After carpet cleaning, you should not:
Walk on the carpet with dirty feet
Vacuum the carpet while it is still wet
Close all the windows. It is better to increase the ventilation
Have food and drink on the carpet since there may be a high chance of a spill
How can I dry my carpet faster after cleaning?
The best way to is to open all the doors and windows to increase ventilation, invite the natural sun to your house, and turn on all the fans to speed up the carpet drying process.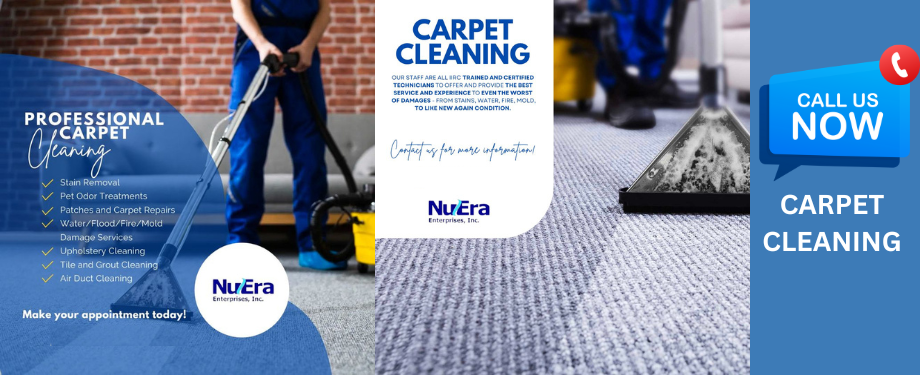 ---
Recent Reviews
Review by Kiara Robinson
Rating

"Professionalism, Punctuality, Quality, Responsiveness, Value Clint and his team were AWESOME!!! He was very considerate of my time and space. I was very frustrated when he arrived & when he left I felt happy and relieved that my issue was resolved! He made sure to clean everything with non-toxic chemicals so that my kids would be safe, he explained everything he was doing and executed it perfectly. I had a leak in my ceiling and sewage water everywhere. He put in the time and hard work to disinfect, clean, and dry everything throughly. He was quick, efficient, and respectful! I would definitely recommend his services to anyone who has an issue in their space. Thank you Clint."
---
Review by Sara Ofenloch
Rating

"Our technician Alec came in and re-padded the carpet that had been torn up last week due to water damage. He was so friendly and talkative, and worked very quickly to get the job done! In and out within 30 minutes so that I could get on with my day. Would definitely recommend. Thanks Alec!"
---
Review by Saima I
Rating

"After our apartment flooded on Chirstmas Eve, we were worried about dry wall repairs and patches, and disgusted by the stench. NuEra handled our dry wall replacement and patching and our carpets. We didn't get a business card from the man who worked on our walls and ceilings, but he did so without his partner that day. We are so grateful! After the drywall repairs, our carpets were cleaned so thoroughly and efficiently. Alex treated the carpet and scrubbed it out well before applying the deodorizer and scrubbing that in. He even got out a bright yellow stain from the water that had leaked in. It's such a relief to no longer live in a stinky apartment! Alex and Nick were wonderful! Thank you so much!"
---
See All Reviews