Fires often occur with little or no warning and they result in many layers of damage that can be devastating for a home or building.  It is not just the fire that causes damage, but also the smoke as it leaves behind soot, residue, and odors that can continue to affect exposed surfaces well after the fire has been extinguished.  Much of the post-fire damage caused by soot and corrosive byproducts can also become permanent unless it is effectively restored.  NuEra Restoration and Remodeling provides fire damage restoration services to help restore and repair homes and businesses in Schaumburg, IL that have been affected by a fire.  We respond quickly to minimize the damage and begin the restoration services before damage caused by soot and corrosive byproducts becomes permanent.
Just because a fire is out, that does not mean the damage is done spreading.  Synthetic materials produce chemical emissions and smoke residue when burned that can cause tarnishing and etching to various surfaces after the fire has been extinguished.  The affected items can become permanently damaged within just a couple days, making it important to begin the fire damage restoration without hesitation.  At NuEra Restoration and Remodeling, our technicians use advanced cleaning products and chemical combinations to effectively remove damage cause by soot and corrosive byproducts from a variety of delicate surfaces including aluminum, brass, marble, tile, chrome, and carpeting and upholstery.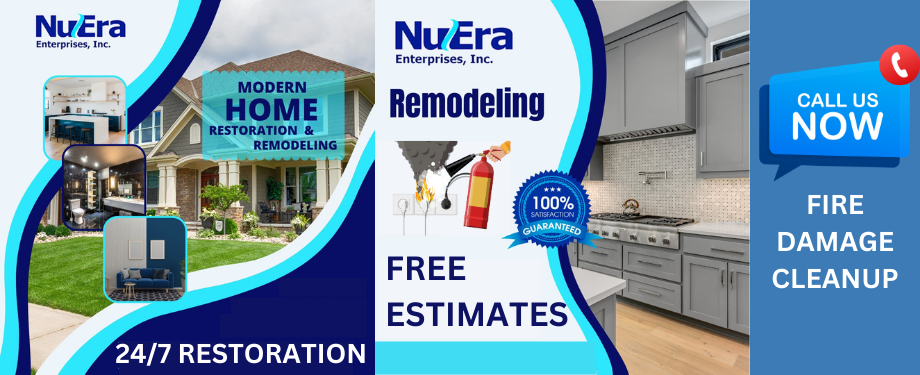 The fire damage restoration services we provide include these basic steps:
Emergency pre-cleaning or at-risk surfaces
Content cleaning
Content pack-out
Wall, ceiling, and HVAC cleaning
Odor removal
Watch RestorationMaster for more information on fire damage restoration
Fire damage restoration must be done by certified professionals because attempting to clean up fire damage without the proper cleaning products or equipment can actually make it worse and cause permanent damage.  Our technicians will provide the following with our fire damage restoration services:
Protection: Our technicians work to provide protection for you and your family as well as your property from further damage. We will evaluate your home to determine which areas are unsafe and then work to create safer conditions before beginning the restoration.
Securing of the Building: We will stabilize and secure your home or building with board-up and tarping services. This will temporarily protect your home as we complete the restoration.
Source Removal: We start by removing debris found at the source which also helps take care of the odor.
Water Damage: Water damage may occur as a result of the fire department extinguishing the fire. We make sure to dry your property to prevent water damage or mold growth.
Pack-Outs: If your personal content is also damaged, we can remove these items with our pack-out services and take them to our facility for cleaning and storage. Pack-outs make it easier to restore your content more thoroughly and better repair the damage to your home.  We make sure to include each item in the pack-out in a detailed inventory list and we can keep them stored in our facility after the cleaning and restoration until your home is ready.
Cleaning: We clean affected furnishings and structures in your home by first removing the loose soot and then cleaning and deodorizing the surface. Our cleaning techniques are designed to efficiently clean these surfaces without removing the paint to save you the cost of repainting.
Deodorization: We provide several different methods of deodorization to effectively remove lingering odors from the smoke.
Structural Repairs: If your home or building sustains serious structural damage, we can repair the damage with construction services. Our construction specialist will inspect your home to find and repair hidden damage.
Contact Us  for Fire Damage Restoration in Schaumburg, IL
If your home or building in Schaumburg, IL has been damaged in a fire, do not hesitate to call NuEra Restoration and Remodeling for fire damage restoration services.  Our technicians are well trained and equipped to handle all matters of fire damage including soot removal, structural repair, content cleaning, and deodorization.  You can reach us 24 hours a day at (630) 656-9915 for emergency fire damage restoration in Schaumburg, IL and the surrounding areas.
---
Related Fire and Smoke Damage Repair Services:
Fire  Damage Restoration Experts  in Elk Grove,  IL
Fire Damage Cleanup and Repair in Mt. Prospect, IL
Fire  Damage Cleaning Technicians in Downers Grove, IL
Fire Damage Restoration Company in Des Plaines, IL
---
What are the immediate steps to take after a fire has occurred?
Safety for Yourself and Your Family: Ensure the safety and well-being of you and your family members by evacuating the premises and seeking medical attention if necessary.
Inspect the Damage: Assess the extent of the fire damage in your property, but only do so once it's safe, and authorities have granted access.
Contact Your Insurance Provider: Notify your insurance company to initiate the claims process and get guidance on the coverage and assistance available.
Contact a Fire Damage Restoration Expert: Get in touch with a professional fire damage restoration company to start the cleanup and restoration process promptly.
Document the Restoration Process: Keep detailed records and photographs of the restoration work, expenses, and any communication with insurance and restoration professionals.
Find Support from Family and Friends: Seek emotional support from loved ones to help cope with the aftermath of a fire and the challenges ahead.
How does a fire damage assessment process work?
Your insurance company can send a claims adjuster to your property to assess the damage. It is more beneficial for you to work with a fire damage restoration professional like NuEra Restoration and Remodeling to inspect the damage and connect with your insurance to make sure that your restoration cost will be fully covered.  The fire damage assessment will evaluate the damage to structural integrity and superficial damage like the loss of your valuable personal belongings.
What are the potential health risks associated with fire-damaged structures?
The aftermath of a fire can lead to enduring health hazards, such as an increased risk of strokes and heart attacks. Throughout a fire, substances containing diverse chemical components do not combust cleanly. This category of items encompasses materials that contain asbestos. Therefore, it is important to hire a fire damage repair and smoke damage restoration expert like NuEra Restoration and Remodeling to make sure your property is clear of smoke components and safe to continue living in for years to come.
---
Recent Reviews
Review by Kiara Robinson
Rating

"Professionalism, Punctuality, Quality, Responsiveness, Value Clint and his team were AWESOME!!! He was very considerate of my time and space. I was very frustrated when he arrived & when he left I felt happy and relieved that my issue was resolved! He made sure to clean everything with non-toxic chemicals so that my kids would be safe, he explained everything he was doing and executed it perfectly. I had a leak in my ceiling and sewage water everywhere. He put in the time and hard work to disinfect, clean, and dry everything throughly. He was quick, efficient, and respectful! I would definitely recommend his services to anyone who has an issue in their space. Thank you Clint."
---
Review by Sara Ofenloch
Rating

"Our technician Alec came in and re-padded the carpet that had been torn up last week due to water damage. He was so friendly and talkative, and worked very quickly to get the job done! In and out within 30 minutes so that I could get on with my day. Would definitely recommend. Thanks Alec!"
---
Review by Saima I
Rating

"After our apartment flooded on Chirstmas Eve, we were worried about dry wall repairs and patches, and disgusted by the stench. NuEra handled our dry wall replacement and patching and our carpets. We didn't get a business card from the man who worked on our walls and ceilings, but he did so without his partner that day. We are so grateful! After the drywall repairs, our carpets were cleaned so thoroughly and efficiently. Alex treated the carpet and scrubbed it out well before applying the deodorizer and scrubbing that in. He even got out a bright yellow stain from the water that had leaked in. It's such a relief to no longer live in a stinky apartment! Alex and Nick were wonderful! Thank you so much!"
---
See All Reviews