(847) 983-7400
Fires often occur with little or no warning and they result in many layers of damage that can be devastating for a home or building.  It is not just the fire that causes damage, but also the smoke as it leaves behind soot, residue, and odors that can continue to affect exposed surfaces well after the fire has been extinguished.  Much of the post-fire damage caused by soot and corrosive byproducts can also become permanent unless it is effectively restored.  ServiceMaster DAK provides fire damage restoration services to help restore and repair homes and businesses in Schaumburg, IL that have been affected by a fire.  We respond quickly to minimize the damage and begin the restoration services before damage caused by soot and corrosive byproducts becomes permanent.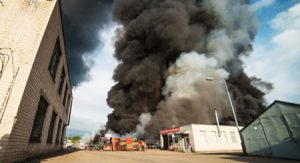 Just because a fire is out, that does not mean the damage is done spreading.  Synthetic materials produce chemical emissions and smoke residue when burned that can cause tarnishing and etching to various surfaces after the fire has been extinguished.  The affected items can become permanently damaged within just a couple days, making it important to begin the fire damage restoration without hesitation.  At ServiceMaster DAK, our technicians use advanced cleaning products and chemical combinations to effectively remove damage cause by soot and corrosive byproducts from a variety of delicate surfaces including aluminum, brass, marble, tile, chrome, and carpeting and upholstery.
The fire damage restoration services we provide include these basic steps:
Emergency pre-cleaning or at-risk surfaces
Content cleaning
Content pack-out
Wall, ceiling, and HVAC cleaning
Odor removal
Fire damage restoration must be done by certified professionals because attempting to clean up fire damage without the proper cleaning products or equipment can actually make it worse and cause permanent damage.  Our technicians will provide the following with our fire damage restoration services:
Protection: Our technicians work to provide protection for you and your family as well as your property from further damage. We will evaluate your home to determine which areas are unsafe and then work to create safer conditions before beginning the restoration.
Securing of the Building: We will stabilize and secure your home or building with board-up and tarping services. This will temporarily protect your home as we complete the restoration.
Source Removal: We start by removing debris found at the source which also helps take care of the odor.
Water Damage: Water damage may occur as a result of the fire department extinguishing the fire. We make sure to dry your property to prevent water damage or mold growth.
Pack-Outs: If your personal content is also damaged, we can remove these items with our pack-out services and take them to our facility for cleaning and storage. Pack-outs make it easier to restore your content more thoroughly and better repair the damage to your home.  We make sure to include each item in the pack-out in a detailed inventory list and we can keep them stored in our facility after the cleaning and restoration until your home is ready.
Cleaning: We clean affected furnishings and structures in your home by first removing the loose soot and then cleaning and deodorizing the surface. Our cleaning techniques are designed to efficiently clean these surfaces without removing the paint to save you the cost of repainting.
Deodorization: We provide several different methods of deodorization to effectively remove lingering odors from the smoke.
Structural Repairs: If your home or building sustains serious structural damage, we can repair the damage with construction services. Our construction specialist will inspect your home to find and repair hidden damage.
If your home or building in Schaumburg, IL has been damaged in a fire, do not hesitate to call ServiceMaster DAK for fire damage restoration services.  Our technicians are well trained and equipped to handle all matters of fire damage including soot removal, structural repair, content cleaning, and deodorization.  You can reach us 24 hours a day at (847) 983-7400 for emergency fire damage restoration in Schaumburg, IL and the surrounding areas.
---
Recent Reviews
January 7, 2020
Very thorough clean up! The men were very professional and competent! They arrived on time for 5 days and were very pleasant and respectful of my home always wearing "booties" when entering. The room was left immaculate and debris removed in plastic bags day 1. The fans were checked daily until the room was dry. Very good service! Recommending Brian Brown and Gabriel who did a great job!
---