The Effects of Smoke and Soot Damage to a Home
Homes are often regarded as a place of sanctuary where people can be comfortable and relaxed. After all, there's a reason people use the phrase "home sweet home." However, if a disaster strikes, your home can be in jeopardy, because there's a chance it can cause significant smoke damage.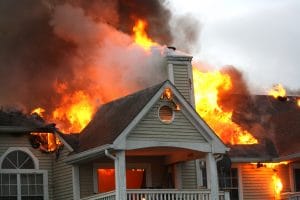 Depending on the type of disaster and the extent of the damage, what was once a cozy place for you and your family can become a hazardous, unstable structure that requires extensive restoration work. This can often be the case if a fire broke out and damaged your home.
Dangers of Home Fires
Fires are known to be among the most destructive of all disasters because of just how much damage they can cause. Their flames will burn anything in their way and can weaken your home's structure enough to leave it in an unstable condition. To minimize the amount of damage done, it's crucial to have the fire extinguished as soon as possible.
Knowing the dangers of a fire, homeowners often feel a sense of relief when the fire is finally out. However, the flames themselves are just one component of the fire that you need to be concerned about, because the damage doesn't stop there. That's just the first level of damage.
When there's a fire, you also need to worry about smoke damage and soot damage. When the flames burn synthetic materials, this produces smoke. When fossil fuels get burned but do not combust completely, the fire will produce soot. These substances will remain present even after the fire is out. Furthermore, smoke and soot cause their own secondary damage, and it can be even more harmful than the initial damage done by the flames.
Keep reading to learn more about smoke damage, soot damage, and how to clean these types of damage.
How Do Soot and Smoke Damage Homes?
Smoke Odor
Although an invisible and intangible thing, smoke odor can be a huge problem in your home following a fire. The odor can continue to linger well after the fire has been extinguished. This is because the smoke particles settle onto objects and materials, becoming embedded in them.
For example, if you have carpeting or upholstery that still remains after the fire, it's likely that their fabrics have absorbed smoke particles, thus giving off the smell of smoke. The odor particles are deep within the materials, so simply using an air freshener will not rid of the smell but just temporarily mask it instead.
Discolored Walls and Stained Objects
When smoke and soot come into contact with walls and other objects, they can cause discoloration and/or stains. Walls and floors, however, do not always show immediate signs of discoloration. It can take a few days for your home's walls and floors to change color.
The staining caused by smoke and soot can become permanent if not cleaned in a timely manner. The damage can also become permanent if it's cleaned incorrectly.
Corroded Objects
Soot can be either a powdery, dry substance or a sticky substance. It depends on the nature of the fire. But when soot comes into contact with metals, it can cause them to corrode. Such an occurrence can happen because soot residue can be very acidic.
This can be particularly concerning if soot makes its way into your home's HVAC system. The soot can cause the metal parts to become corroded, which can then lead to a malfunctioning HVAC system. Even worse, there's a chance that it could cause a fire.
Soot can also cause etching and tarnishing to affected objects. This damage, too, can become permanent if not addressed right away.
How Can I Clean Soot and Smoke Damage from My Home?
Restoring smoke damage isn't simple, because you don't want to make any of it worse. Proper methods must be taken and can vary based on the product and material it's made up of. Because of this, it can be easy to make things worse when cleaning smoke damage.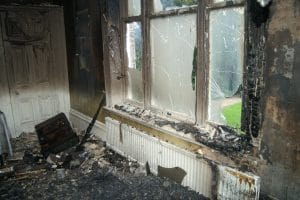 However, you also need to act quickly to ensure that the damage suffered doesn't become permanent. It only takes 72 hours for the damage to become irreversible, so immediate action is crucial. Additionally, the smoke and soot can harm people's health as well.
While there are various home remedies that can be used in such a situation, your best bet for smoke and soot damage restoration is to get professional help.
If your home was the site of a fire and has suffered smoke and soot damage, then get in touch with a professional smoke damage restoration service. With these services, any and all smoke and soot damage will be cleaned properly by professional technicians who have the necessary training, equipment, and products to complete the job. That said, you won't need to worry about whether the job is done correctly.