How are Floods Measured?
With all of this flooding occurring in the Midwestern areas, it is important to take as many flood prevention measures as possible. But as we are fortunate to have advanced technology that detects the flood before it happens, it makes us wonder just how floods are measured and how to determine its severity before it happens. Check out these tips to learn more.
Measuring Floods
Floods are measured by stream gauges that are installed in bodies of water located near populated areas. They are installed and operated by the United States Geological Survey (USGS), collecting all data before sending it to the National Weather Service (NWS). These gauges are constantly monitoring water levels and sending this data through a satellite or phone telemetry to be analyzed properly.
While there are many different types of stream gauges, one that is most commonly used is called the Automated Local Evaluation in Real-Time (ALERT) and is designed to determine the risk of flooding and distribute warnings in specific areas. If the water level rises dramatically in a specific area, the ALERT gauge sends the warning through a satellite to be analyzed immediately.
Sending Out Flood Warnings
The River and Flood program of the NWS is legally responsible for issuing flood warnings to the community based on the data collected by the USGS. They strive for accuracy when delivering these warnings to notify citizens as early as possible and reduce the risk of flood damage.
How Floods are Measured
When the NWS reports flood warnings, they measure the overall water line of the river, marking specific points as "stages." While these stages will vary upon normal elevations above sea level of different locations, the measurements are converted into hazard levels if they reach specific elevations. These levels include the pre-flood "action stage," where the NWS must prepare to send the warning, as well as the minor, moderate, and major "flood stages."
Frequency of Monitoring Flood Levels
Flood level data is constantly being sent to the NWS by the USGS to inform citizens as early as possible before a flood hits their specified area.
Working Together During a Flood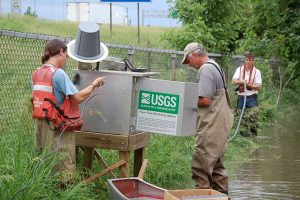 When a flood occurs, both the USGS and NWS work together, exchanging and analyzing updated hydrologic data. The NWS will collect the local precipitation data while the USGS focuses on information derived from the stream gauges. Finally, the data from both organizations is combined to determine the overall risk of flooding.
What Happens During the Risk of Flood
Once the NWS and USGS have identified the potential for a flood to occur, the NWS will send alerts to the local, state, and federal decision-makers. These individuals must then take action in practicing prevention methods to limit as much damage as possible from the floodwaters.
These methods can include flood-proofing, flood-fighting, evacuation orders, or the entire shutdown of specific buildings and the amount of time given to the community to take action.
Reacting to Flood Warnings
While the NWS and USGS take all measures possible to provide the most accurate, up-to-date warnings, it is up to you to take action and protect your property from flood damage. While many situations allow you to prepare by taking prevention methods, you must consider your safety as the number one priority in an emergency situation. As soon as you have been notified for a flood warning in your area and are advised for immediate evacuation, do not hesitate to leave your property as soon as possible.
In the event that you have returned to your home and your property has sustained severe flood damage, do not hesitate to contact a flood cleanup professional. As soon as you have ensured the safety of you and your loved ones, consider calling a local disaster restoration companies. Their technicians are available 24/7, trained, and experienced to arrive right away and begin extracting the water out of all affected areas. They will work effectively and efficiently to return your home to its previous condition in a timely manner.